Four Drivers in Intense Battle to Make Playoffs at IMS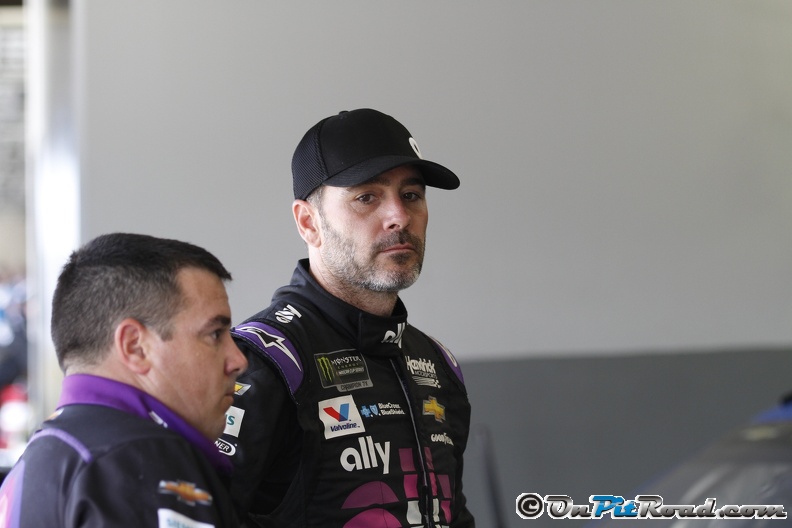 The Brickyard 400 at Indianapolis Motor Speedway serves as the final regular season race for the Monster Energy NASCAR Cup Series. Four drivers; Clint Bowyer, Daniel Suarez, Ryan Newman, and Jimmie Johnson are battling to secure their spot in the playoffs based on points.
Entering the event on Sunday, Bowyer, and Suarez are positioned inside the cutoff. Bowyer is currently 15th eight points ahead of Suarez.
Newman is tied with Suarez on points but is positioned in 17th due to tiebreakers. Johnson has the most significant challenge and currently sits 18 points behind Newman and is in danger of missing the playoffs for the first time since the inception of the format in 2004.
Either driver could secure a spot with a win, but given neither has visited victory lane so far this season, most would argue a win is a longshot. Bowyer's last win came at Michigan last season. Newman hasn't won since Phoenix in 2017 while driving for Richard Childress Racing. Johnson has not visited victory lane since the Spring Dover race in 2017. And, Suarez has never won in the MENCS.
Bowyer is in the best position to make it and has some momentum coming off a solid sixth place finish at Darlington. Bowyer is focused on ignoring the pressure and just have fun. "It is a lot of fun to be able to come here. It is stressful. There are a lot of implications. It is important to me and my race team to be a part of the playoffs," said Bowyer. "It is important to our organization at Stewart-Haas Racing and certainly our manufacturer with Ford. It is fun though. It is fun to feel this way. You don't have this opportunity to feel this way under this pressure and have that bearing on yourself every weekend. You just don't. But it is kind of fun to test yourself and rise to the occasion and try to have some fun as well."
Further enhancing the tight battle between Suarez and Newman is the fact they had an on-track altercation at Darlington. Both drivers have stated it was just hard racing, and have indicated respect for each other. "It was just racing. By the way, there was not contact. But yeah it was just a racing deal. It happened to be him but it could have happened with anyone, said Suarez. "Newman, I have a lot of respect for him. He is a very aggressive driver. One of the most aggressive. People know that. Sometimes we race hard and sometimes you know what the limits are and sometimes we push a little bit hard. It was just a racing deal. I didn't mean to spin him out. I didn't mean to wreck him. But I wanted to pass him. Unfortunately he spun out but there was not contact and it was just racing like we do every week. That is part of it."
Newman echoed the comments of Suarez saying, "That is just racing. That is what I said afterwards. Everything kind of cycles in our sport and what comes around goes around. It is what it is. I don't think he meant to turn me around but he did turn me around. It is just racing. I get it. Whether he plowed through me like Kenseth did to Logano or just took the air of me or whatever. It is racing. I don't have any intentions going into this race other than to do the best that I can for our team."
Johnson's experience provides him with a high level of confidence and the seven-time champion hopes it will help push him to earn a spot in the playoffs. "Yeah, for sure. Experience helps. I have been able to work through some really tough situations and come out on top over the years," said Johnson. "There are no guarantees on what happens here this weekend, but I do feel like if that opportunity presents itself, the experience I have will help me stay calm and help me do the right things in that moment. So, it helps me sleep better, absolutely, knowing what I've pulled off in the past. It helps with my confidence rolling into this weekend."
While these four drivers will essentially be competing against each other to maximize points, a win by any other driver currently outside the playoffs will shake things up even more by reducing the number of positions available via points. This would add another level of pressure.
Paul Menard could play spoiler. Menard won this event in 2011 and was fastest in final practice on Saturday.