Herta claims NTT P1 Award as title contenders qualify in top six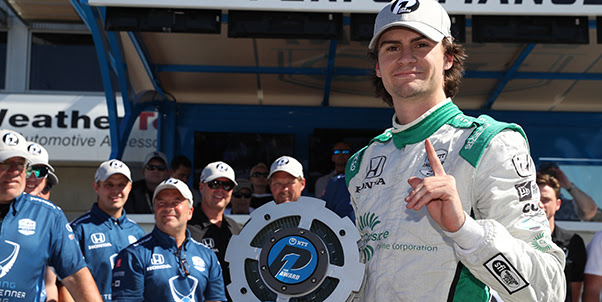 MONTEREY, Calif. (September 21, 2019) – Like father, like son at WeatherTech Raceway Laguna Seca.
Twenty years after Bryan Herta won the third of his three consecutive Indy car poles at this 11-turn, 2.238-mile permanent road course, his 19-year-old son Colton won his first Laguna Seca pole here Saturday in qualifying for Sunday's Firestone Grand Prix of Monterey.
The younger Herta, who also is trying to win the NTT IndyCar Series rookie-of-the-year award, captured his third pole of the NTT IndyCar Series season and will lead the 24-car field to the green flag.
RESULTS: Firestone Grand Prix of Monterey qualifying
Following his father's footsteps at this track clearly was meaningful to Herta, who lives with his family in Valencia, Calif.
"Yeah, it obviously means a lot with the family history," he said. "Fifty percent of (my father's) Indy car wins came here. It means a lot to kind of keep on the family tradition."
Herta showed pole-level speed throughout the weekend, yet he wasn't convinced he would capture the NTT P1 Award as practice transitioned into qualifying Saturday.
"Honestly, going into (morning practice) I thought maybe we lacked a little bit, and we didn't have quite as big of a gap (to others)," he said. "We were (seventh) and we needed to find a little bit of time, so I was going to be happy to make it into the Fast Six. That would be an improvement, but we got there and we led every (qualifying) group we were in."
Herta's pole-winning lap in the Firestone Fast Six qualifying was 1 minute, 10.1405 seconds/114.867 miles per hour, scoring him a bonus point that could be important in deciding a pair of season winners. Herta might need it to win the rookie award, a championship contender might wish he had it to claim the Astor Challenge Cup.
Herta's pole also came shortly after he was confirmed to join Andretti Harding Steinbrenner Autosport for 2020. Sunday, he will try to earn his second career NTT IndyCar Series race win after becoming the youngest winner in series history March 24 at Circuit of The Americas in Austin, Texas. He also will try to win a race here as his father did twice (1998 and '99).
Alongside Herta on the front row will be championship contender Scott Dixon of Chip Ganassi Racing (No. 9 PNC Bank Honda). But the five-time NTT IndyCar Series champion will have only a slight advantage on the other title challengers as Andretti Autosport's Alexander Rossi (No. 27 NAPA AUTO PARTS Honda) and Team Penske's Josef Newgarden (No. 2 Hitachi Chevrolet) and Simon Pagenaud (No. 22 DXC Technology Chevrolet) will start third, fourth and sixth, respectively.
Newgarden is in the driver's seat for the championship as he holds a 41-point lead over Rossi and a 42-point advantage on Pagenaud. Dixon is 85 points in arrears. Newgarden secures the title by finishing fourth or better, regardless of what the other three drivers do, in the season-closing race that awards double finishing position points.
"We're all there, we're all there ready to go," Newgarden said of the starting grid. "It's funny how that works out. They all made it (to the Firestone Fast Six), right? That's what we're supposed to do. Yeah, it'll make it interesting."
Rossi said having Newgarden close to him at the start "is not good for me, but, yeah, I guess it's good for the show. It's what probably should happen."
On the eve of the championship race, Pagenaud said everyone must "rise above."
"At the end of the day, a championship is on the line," he said.
Pagenaud and Newgarden will be shooting for their second series titles. Rossi aims for his first.
Battling Herta for top rookie honors is Dale Coyne Racing's Santino Ferrucci (No. 19 Cly-Del Manufacturing Honda) and Chip Ganassi Racing's Felix Rosenqvist (No. 10 NTT DATA Honda). Both Ferrucci and Rosenqvist had adventurous qualifying sessions.
Ferrucci advanced to the second round of the knockout format, but his car drifted into the dirt on its final run and he couldn't improve from 12th. Rosenqvist had eyes on winning the NTT P1 Award, but his car went wide in Turn 6, spun and was penalized for qualifying interference. He impeded the run by James Hinchcliffe (No. 5 Arrow Schmidt Peterson Motorsports Honda), who was trailing Rosenqvist and lost 7/10 of a second in that segment as a result. By INDYCAR rules, Rosenqvist was stripped of his two fastest laps and was not permitted to advance to the second round. He will start 14th.
Rosenqvist takes a 26-point lead over Ferrucci into Sunday's race. Herta is now 48 points back after collecting the bonus point for the pole.
Sunday's Firestone Grand Prix of Monterey, a 90-lap race, will be televised live on NBC beginning with the pre-race show at 2:30 p.m. ET (11:30 a.m. PT) with the green flag scheduled for 3:15 p.m. (12:15 p.m. PT). The race also will be broadcast on the Advance Auto Parts INDYCAR Radio Network and SiriusXM Satellite Radio (XM 205, Sirius 98).