Lanier Just Days Away From Rebirth For PASS Finale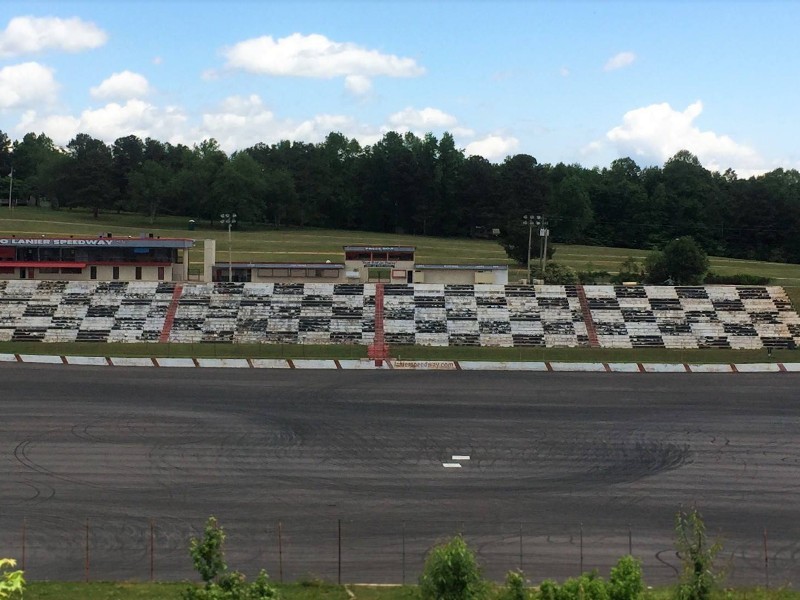 NAPLES, ME (November 7) –  In just over a week, the sounds of race engines will again permeate the hills and countryside of North Georgia when the Pro All Stars Series (PASS) Super Late Models hit the pavement at Lanier Raceplex.  Throwing back to the original name of the speedway which has been shuttered for the better part of the last decade, the Lanier National 200 will pay $6,000 to win and $1,000 just to start the feature on Saturday, November 16.  Along with the 200 lap contest, points leader, Mike Hopkins of Maine, will look to be crowned the 12th PASS National Super Late Model Champion.  Joining the PASS Super Late Models in action will be feature events for Legends Pros/Masters, Semi-Pros, and Young Lions, along with racing for Bandeleros.
Opened as a dirt track by Bud Lunsford in 1982, the .375-mile speed plant hosted the World Of Outlaws Sprint Cars six times, with open wheel legends Steve Kinser and Sammy Swindell each taking the checkered flag twice.  In 1987, Lanier National Speedway was paved and the late Darrell Brown of Alabama scored the win in the first big event there on pavement for the NASCAR Winston All-American Challenge Series.
From 1989-1992, Lanier hosted the NASCAR Busch Grand National Series with Ronald Cooper, Chuck Bown, David Green, and Bobby Labonte all taking home the checkered flags.  The track continued to host some of the biggest Super Late Model events in the country through the 1990s as short track pavement legends like Mike Garvey, Freddie Query, Billy Bigley, Jr., Wayne Willard, among others taking home wins at Lanier.  A new generation of drivers came up through the ranks at Lanier in the 2000s, including Bubba Pollard, Casey Roderick and Paul Kelley.
When PASS initially began sanctioning Super Late Model races in the south, Lanier was one of the first tracks to come on board to host an event.  Georgia native Jason Hogan won the first PASS race there in 2006, while Maine's Corey Williams took the checkered flag the most recent time PASS held a race at Lanier in 2007.
Now in its 12th season, Super Late Model racing's only true national championship will bring drivers together from all over North America to compete next weekend at Lanier Raceplex.  In addition to the grandstands being open, Lanier's famed trackside parking will be available to fans for this event for just $10.  The track was repaved and all infield buildings were torn down when the facility was transformed to host drifting events and Go-Kart racing for the public.  All race cars will be pitted outside the track so fans will be able to enjoy an unobstructed view of the action from any vantage point at the speedway.  For just $20, fans and teams can camp at the speedway as well.
Joining earlier entrants like hometown favorite Shane Chastain and former PASS champions, Derek Griffith and Tate Fogleman, Maine's Ben Ashline and Ryan Moore are entered, along with longtime fan favorite, Randy Gentry.
Lanier Raceplex officially roars back to life on Friday, November 15 with practice for PASS Super Late Models and Legends cars from 1 PM to 5 PM.  On Saturday, November 16, pit gates will open at 8 AM, followed by practice at 10 AM, heat races for PASS Super Late Models, Legends, and Bandoleros at 12:30PM, followed by the Lanier National 200 and remaining features.  Sunday, November 17 is reserved as a rain date if needed.
PASS Super Late Model, Legends, and Bandolero entry forms and the complete weekend schedule for Lanier Raceplex are available at ProAllStarsSeries.com