Erik Jones Survives Chaotic Race to Score the Win in the Busch Clash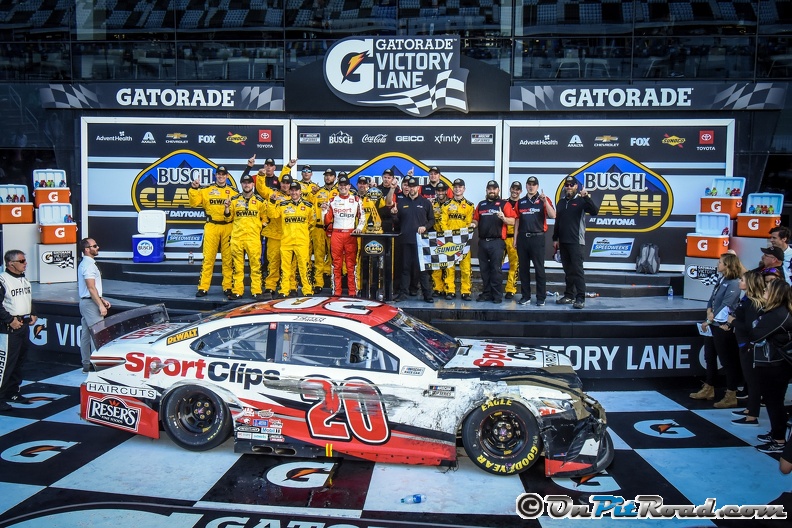 DAYTONA BEACH, Fla. (Feb. 9, 2020) – It was the longest Busch Clash At DAYTONA in the 42-year history of the race. And it may well have been the wildest. When it was done Sunday afternoon, after three "NASCAR Overtimes," Erik Jones had a well-deserved but seemingly improbable victory.
Improbable, because Jones' No. 20 Sport Clips Toyota was beaten and battered, its hood flapping in the wind during the tension-filled 88th and final lap around the 2.5-mile Daytona International Speedway tri-oval. Jones was in fifth place when the white flag flew but immediate drafting help from Joe Gibbs Racing teammate Denny Hamlin – his No. 11 FedEx Express Toyota was a lap down and out of contention – pushed him past leader Ryan Newman (No. 6 Koch Industries Ford) and on to the checkered flag.
The 88-lap total was 13 laps more than the scheduled distance for the annual all-star, preseason race for NASCAR Cup Series teams. The Clash had been just that, with a series of multi-car cautions making it a classic battle of attrition and forcing three attempts at two-lap/green-white-checkered OT finishes.
For Jones, it was a second victory at Daytona International Speedway. He won the Coke Zero Sugar 400 in 2018.
"It was an awesome race and I have to give a huge thanks to Denny there because he stuck with us the whole last lap," Jones said. "It (the No. 20) wasn't the fastest car, I don't think, in the race but we brought it home. So I really owe him one for that."
Jones crossed the stripe 0.697 seconds ahead of former DAYTONA 500 champion Austin Dillon (No. 3 Symbicort/Rig Up Chevrolet). Clint Bowyer (No. 14 Mobil 1 Ford) came home third.