Grant Enfinger Wins 21st Annual NextEra Energy 250 in 'NASCAR Overtime'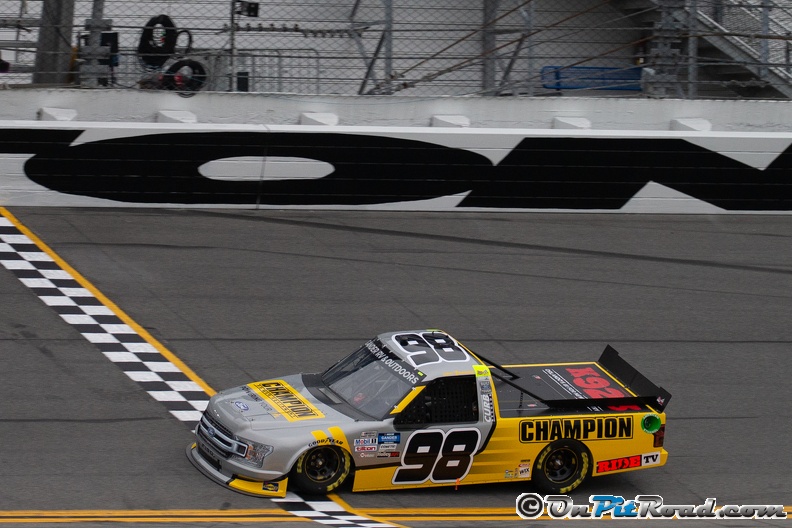 DAYTONA BEACH, Fla. (Feb. 14, 2020) – In a dramatic three-wide, fender-banging finish to open the NASCAR Gander RV & Outdoors Truck Series season, Grant Enfinger won Friday night's 21st annual NextEra Energy 250 at Daytona International Speedway in "NASCAR Overtime."
A multi-car incident on Lap 98 of the scheduled 100-lap/250-mile race caused an extended caution period that forced the race beyond the scheduled distance. The restart came on Lap 105 to start a two-lap overtime.
On the final lap, it came down to Enfinger, Jordan Anderson and Codie Rohrbaugh. Approaching the finish, Enfinger's No. 98 Champion/Curb Records Ford was in the middle, sandwiched between Anderson (No. 3 K-Seal/Bommarito.com Chevrolet) and Rohrbaugh (No. 9 GCM/CR7 Motorsports Chevrolet), with Enfinger and Anderson doing as much rubbing as racing.
It was close – Enfinger edged Anderson by only 0.010 seconds, giving Ford their 100th victory in NASCAR Gander Trucks competition. Third-place Rohrbaugh finished 0.070 back. Derek Kraus and Natalie Decker rounded out the top five. With the fifth-place finish, Decker becomes the highest-finishing woman in series history.
"It's an unbelievable feeling," Enfinger said. "The biggest thing is we had a really good Ford F-150 to do it with. God has blessed us with a great opportunity to come out here and we were able to pull it off tonight. "
Overtime was not a surprise. The popular NASCAR Gander Trucks are typically raucous at Daytona. A reminder of that appeared quickly on Lap 16, when nine trucks were involved in a Turn 1 incident that sent rookie Ty Majeski's No. 45 Plan B Sales Chevrolet flipping and landing on its roof. Majeski's machine skidded down the track before coming to a halt. During the ensuing red-flag period, safety workers got the truck right-side up and Majeski emerged unscathed.
"[Being upside down] is obviously not a very good feeling," Majeski said. "But I'm not hurt … just my pride."