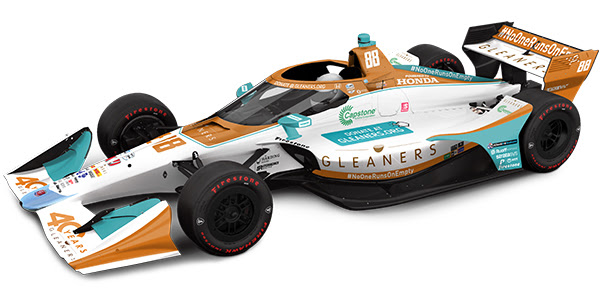 INDIANAPOLIS (July 2, 2020) – The NTT INDYCAR SERIES moves to a road course for the first time this season with the GMR Grand Prix at Indianapolis Motor Speedway on Saturday, July 4 at noon ET on NBC.
Scott Dixon won the 2020 opener at Texas Motor Speedway June 6, and Saturday's race will be the first of five races over the next three weekends.
CLICK HERE: Entry List | Spotter Guide | Pre-Race Video Conference Recording
The 26 drivers entered in Saturday's event will compete with a condensed schedule. The two-day show will feature a one-hour, 30-minute practice session on Friday, followed by NTT P1 Award knockout qualifying on Friday. With a warmup and 80-lap race, trimmed from the scheduled 85 laps.
Here are "5 Things To Look For" heading into Saturday's GMR Grand Prix:
Herta's car to Accelerate Awareness for Gleaners
Andretti Harding Steinbrenner Autosport Honda will carry a new look in this weekend's GMR Grand Prix and the Indianapolis 500 in August. And it's for a good reason – to accelerate awareness of food insecurity throughout Central Indiana.

Colton Herta's No. 88 car will carry the Gleaners Food Bank of Indiana and its new No One Runs on Empty initiative to highlight the awareness strategy and drive the community to donate at www.gleaners.org.

Gleaners President/CEO John Elliott said food insecurity affects many aspects of life, even for those who may not face the issue themselves.

"Food insecurity is a higher indicator than income for the prevalence of the top-10 chronic diseases and conditions facing Americans today," Elliott said."But it doesn't stop there. A food-insecure child can have attendance issues and learning difficulties. A hungry adult may have productivity and attendance issues at work. Hunger can lead to crime, job loss, increased health costs, homelessness and more. We can positively impact both hunger and health outcomes by investing in the healthiest, most nutritious variety of food possible and combining our efforts with health system providers."

There were more than 1 million Hoosiers who are food insecure, with an unacceptable 150 million meal-per-year gap before COVID-19. Based on data from Feeding America, the current food insecurity rate in Indiana is 20 percent , up from 13.3 percent. No One Runs on Empty is a call to action to educate and engage Hoosiers by raising awareness of the faces of hunger – including those who are newly in need. Since mid-March, Gleaners has been distributing nearly 1.5 million meals each week.

"We are really happy to provide a platform for the launch of this campaign," said Andretti Autosport CEO Michael Andretti. "We were very proud to be able to join Gleaners recently at IMS for the Mega Fresh Mobile Pantry event and saw the importance of their work firsthand. This is a key time in our community, and we hope to join Gleaners in doing our part to help create greater awareness and make sure that NO ONE RUNS ON EMPTY."
Meyer Shank Racing Doubles Down on Fourth of July
Meyer Shank Racing is ready to celebrate the Fourth of July race weekend in a big way.

After years of developing its racing programs in both sports cars and the NTT INDYCAR SERIES, the team will race this weekend at two legendary tracks—on the same day.

The Ohio-based team will enter its first doubleheader race weekend with the INDYCAR GMR Grand Prix at Indianapolis Motor Speedway (July 4, NBC, noon ET) and the IMSA WeatherTech 240 at Daytona (July 4, NBCSN, 6 pm ET).

The double-race day marks another significant step for the team, which is fielding its first-ever full season INDYCAR campaign in parallel with its IMSA WeatherTech Championship-defending two-car Acura NSX GTD program.

Nearly 30 full-time employees and two separate crews support a total of five drivers for the 2020 INDYCAR and IMSA programs under the MSR banner. While both teams run independently, there is just one overlap between the two programs— team co-owner Mike Shank.

Shank will attend the INDYCAR GMR Grand Prix, where he will call the race for Jack Harvey, and then will fly to Daytona shortly after the checkered flag falls at Indianapolis to call the IMSA race for the No. 57 Heinricher Racing with Meyer Shank Racing Acura NSX GT3.
Dixon Seeks First Win on IMS Road Course
Scott Dixon's list of accomplishments in a racing career could fill a book. But he's still looking for a first this weekend.

Dixon, who won the NTT INDYCAR SERIES season-opening Genesys 300 on June 6 on the Texas Motor Speedway oval, ranks third on the all-time Indy car victory list with 47 wins, but he has yet to win on the Indianapolis Motor Speedway road course.

In fact, he hasn't visited Victory Lane at IMS since his 2008 win in the Indianapolis 500. But that doesn't mean the five-time champion isn't among the favorites to win Saturday.

Dixon has finished second in the GMR Grand Prix in the last three seasons and has only failed to finish in the top-10 once in the inaugural race in 2014.

"I think we'll definitely keep pushing and keep snatching these wins if we can," he said.

Fifth Third Bank Extends with Rahal Letterman Lanigan Racing

Rahal Letterman Lanigan Racing's cars will carry the familiar colors of Fifth Third Bank for the next three NTT INDYCAR SERIES seasons.

The bank has extended its relationship with RLLR through the 2022 NTT INDYCAR SERIES season and will be the primary sponsor of the No. 15 entry for Graham Rahal at the GMR Grand Prix at Indianapolis Motor Speedway, Race 2 of the REV Group Grand Prix at Road America and the Honda Indy 200 at Mid-Ohio Sports Car Course.

"Motorsports is such a vital part of the Indianapolis culture, and as a corporate citizen Fifth Third Bank believes greatly in supporting the sport at the very heart of our state," said Kevin Hipskind, Fifth Third Bank regional president. "Our partnership with the elite Rahal Letterman Lanigan team continues to create even more opportunity for long-term community impact and meaningful business relationships for the bank. We look forward to three more heart-racing years of collaboration and an exciting NTT INDYCAR SERIES ahead."

Fifth Third Bank will also have an enhanced associate sponsor presence in other key NTT INDYCAR SERIES race markets throughout each season, including at the Indianapolis 500, and in Monterey, California and St. Petersburg, Florida. Fifth Third Bank first joined the team in 2016 as an associate sponsor, and the partnership has grown as the two organizations have continued to build upon and pursue new collaborative business-to-business opportunities.

"When this relationship began, I already had the utmost respect for Fifth Third Bank as a company," said Bobby Rahal, co-owner of Rahal Letterman Lanigan Racing with David Letterman and Mike Lanigan. "As each year progresses, we continue to be inspired not only by how they conduct their business but also how they support the communities in which they serve. Fifth Third Bank can uniquely leverage the partnership with RLL to enhance their commercial banking position with clients across the INDYCAR paddock."
Fifth Third Bank Extends with Rahal Letterman Lanigan Racing
Rahal Letterman Lanigan Racing's cars will carry the familiar colors of Fifth Third Bank for the next three NTT INDYCAR SERIES seasons.

The bank has extended its relationship with RLLR through the 2022 NTT INDYCAR SERIES season and will be the primary sponsor of the No. 15 entry for Graham Rahal at the GMR Grand Prix at Indianapolis Motor Speedway, Race 2 of the REV Group Grand Prix at Road America and the Honda Indy 200 at Mid-Ohio Sports Car Course.

"Motorsports is such a vital part of the Indianapolis culture, and as a corporate citizen Fifth Third Bank believes greatly in supporting the sport at the very heart of our state," said Kevin Hipskind, Fifth Third Bank regional president. "Our partnership with the elite Rahal Letterman Lanigan team continues to create even more opportunity for long-term community impact and meaningful business relationships for the bank. We look forward to three more heart-racing years of collaboration and an exciting NTT INDYCAR SERIES ahead."

Fifth Third Bank will also have an enhanced associate sponsor presence in other key NTT INDYCAR SERIES race markets throughout each season, including at the Indianapolis 500, and in Monterey, California and St. Petersburg, Florida. Fifth Third Bank first joined the team in 2016 as an associate sponsor, and the partnership has grown as the two organizations have continued to build upon and pursue new collaborative business-to-business opportunities.

"When this relationship began, I already had the utmost respect for Fifth Third Bank as a company," said Bobby Rahal, co-owner of Rahal Letterman Lanigan Racing with David Letterman and Mike Lanigan. "As each year progresses, we continue to be inspired not only by how they conduct their business but also how they support the communities in which they serve. Fifth Third Bank can uniquely leverage the partnership with RLL to enhance their commercial banking position with clients across the INDYCAR paddock."
Andretti Herta Autosport w/ Marco Andretti & Curb-Agajanian is honoring long-time partner, Mike Curb and his Curb-Agajanian Performance Group for 55 years of success in the motorsport industry. Mike Curb and Cary Agajanian have been in partnership with Bryan Herta Autosport since 2011 and joined Andretti Herta Autosport in 2016 with inception of the partnership.

The Curb logo will appear on the rear wing of Marco Andretti's No. 98 U.S. Concrete / Curb Honda at starting with Saturday's GMR Grand Prix on the road course at Indianapolis Motor Speedway.

"Mike Curb has done more to support teams and drivers in every imaginable level of motorsports competition than anyone I know." Bryan Herta said. "He, along with Cary Agajanian, have been cornerstone partners to our team and been part of every major success we have enjoyed in the last decade. We are proud to honor Mike and everything he and Cary have accomplished in 55 years of entering and supporting cars, teams, and drivers."