Myatt Snider Gets First Career Win in Contender Boats 250 at Homestead-Miami Speedway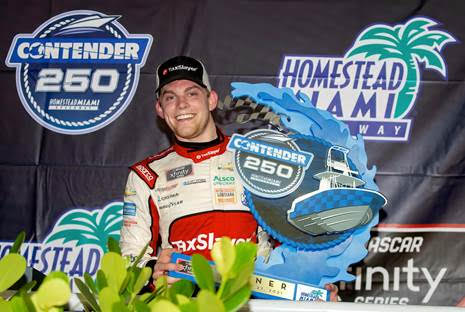 HOMESTEAD, Fla (February 27, 2021) – Myatt Snider got his first NASCAR Xfinity Series victory.
Noah Gragson got another heartache at Homestead.
With perfect execution from the inside lane on his second chance at an overtime restart, Snider held off charging Tyler Reddick to win Saturday's Contender Boats 250 at Homestead-Miami Speedway.
For his third straight race at the 1.5-mile track, Gragson was close enough to taste victory, but it was his ill-fated crash with just over two laps left in regulation that set up overtime and Snider's victory.
On the first attempt at extra laps, Snider spun his tires, and Reddick grabbed the lead before AJ Allmendinger spun toward the infield grass in Turn 1 to cause the eighth and final caution.
In the second overtime, Reddick returned the favor, and Snider pulled clear in the bottom lane. With a determined charge on the final lap, Reddick gained ground, but he was .085 seconds in arrears when Snider crossed the finish line in the No. 2 Richard Childress Racing Chevrolet.
"Yeah, I guess I learned my lesson on that first restart, 'cause I spun the wheels," said Snider, who won in his 36th start in the series. "Then I saw Tyler spin the wheels on the next one, and I knew I might have a chance.
"Just a shout-out to all these RCR guys, (sponsor) Taxslayer, all these people that supported me over the years. It's been a rough journey, but we're here with a win, and I can't complain."
Reddick, who drives full-time for RCR in the NASCAR Cup Series, was moonlighting with RSS Racing on Saturday, making his first Xfinity start since winning his second straight series title at Homestead in 2019. The end result didn't last long, however, as the No. 23 was disqualified during post-race inspection for failing rear heights.
Gragson was just over two laps away from a redemptive victory when the No. 13 Ford of David Starr — the last driver on the lead lap — blew a right front tire and shot up the track into the outside wall and right into Gragson's path.
Gragson, who led 83 and 81 laps in last year's two Homestead races but failed to win either, couldn't avoid the collision that destroyed his No. 9 JR Motorsports Chevrolet. At the time, Gragson led second-place Reddick by more than eight seconds.
"What are you going to do," Gragson said after a visit to the infield care center. "We dominated the last three races here, including this one, and have stuff like that (happen). We were saving fuel. I was half-throttle the last 30 laps, and we were still pulling away."
The first stage of the race was eventful—but not primarily for Stefan Parsons spin in Turn 4 on Lap 26 or for Daniel Hemric missing his pit stall under the resulting caution and knocking his tire carrier to the pavement.
What Stage 1 demonstrated with jarring clarity was the enormous value of fresh tires on the abrasive asphalt surface. Allmendinger restarted 25th on fresh tires with 10 laps left in the stage and grabbed the lead from Kaulig Racing teammate Justin Haley eight laps later.
Allmendinger won the stage with Haley second after restarting 20th and moving into the lead on Lap 33 before surrendering the top spot to his teammate. Reigning series champion Cindric, on the other hand, stayed out during the caution, restarted in the lead on old tires and fell to 14th by the end of the 10-lap run.
Stage 2 was the mirror image of Stage 1. When fluid from Parsons' car necessitated the third caution of the race on Lap 68, drivers who had stayed out under the Lap 26 caution to save a set of tires came to pit road—Cindric among them.
Allmendinger led the field to the restart with six laps left in the second stage. Cindric restarted 22nd, and in less than three laps took the lead on the way to a stage win and a Playoff point.
Pit stops followed at the end of the stage, on Lap 83, leaving almost all drivers on equal rubber for the final run, with two sets of sticker tires left in the pits. But in terms of track position, the exchange favored those who had pitted late in Stage 2 and charged to the front.
First off pit road during the fourth caution, Cindric led the field to green on Lap 89. But neither Cindric nor Allmendinger was a major player in the overtime. As a result of Reddick's disqualification, Brandon Jones was second, followed by Hemric, Jeb Burton and Cindric. Haley, Brett Moffitt, Ryan Sieg, Jeremy Clements and Josh Berry completed the top 10.
Xfinity stalwarts Harrison Burton and Justin Allgaier were the first two drivers out of the race, Burton with and engine failure and Allgaier after contact with the Ford of Riley Herbst on Lap 98.
The track is set to host the NASCAR Cup Series Dixie Vodka 400 tomorrow (Sunday, Feb. 28, 3:30 pm ET, FOX/MRN-Sirius XM Channel 90). Denny Hamlin starts on the Busch Pole and will vie for his fourth victory at Homestead-Miami Speedway, which would be a record. He currently is tied with Greg Biffle and Tony Stewart with three wins each.
Joey Logano starts second, followed by Christopher Bell, last week's winner on the DAYTONA Road Course, Kevin Harvick and Kurt Busch. Sixth will be DAYTONA 500 Champion Michael McDowell, followed by Brad Keselowski, Ryan Preece, Martin Truex, Jr., and Cole Custer will complete the top-10. Chase Elliott, the reigning NASCAR Cup Series Champion, rolls off 11th.
Two local football stars will have prominent roles in the race, the third of the 2021 NASCAR season.
Miami Dolphins quarterback Tua Tagovailoa will serve as the virtual Grand Marshal for the race and utter the most famous words in motorsports, "Drivers, Start Your Engines!" Miami native and former University of Miami Hurricane and Super Bowl-winning linebacker Jonathan Vilma will kick off Sunday's race, as he waves the green flag from high atop the start/finish line in the starter's stand.

Homestead-Miami Speedway will host a limited number of fans for the event. Fans attending can learn all safety protocol guidelines by visiting www.HomesteadMiamiSpeedway.com or calling 866-409-RACE (7223).
Fans can keep up with up-to-date happenings at Homestead-Miami Speedway on Twitter, Facebook and Instagram.
About Homestead-Miami Speedway
Homestead-Miami Speedway has been open since 1995 following an initiative to spur economic recovery in the aftermath of Hurricane Andrew. The Speedway, which was founded by Miami businessman, racing enthusiast and philanthropist Ralph Sanchez, is a 650-acre facility that features a 1.5-mile oval and 2.21-mile road course. The Speedway hosts on-track events nearly 300 days per year and generates more than $301 million annually for the region. NASCAR crowned champions in all three of its national series at Homestead-Miami Speedway for 18 straight years (2002-19). In 2021, the Dixie Vodka 400 moves to the third race of the NASCAR Cup season on Sunday, Feb. 28, following two weekends of action at Daytona International Speedway.
About NASCAR
The National Association for Stock Car Auto Racing (NASCAR) is the sanctioning body for the No. 1 form of motorsports in the United States and owner of 16 of the nation's major motorsports entertainment facilities. NASCAR consists of three national series (NASCAR Cup Series™, NASCAR Xfinity Series™, and NASCAR Camping World Truck Series™), four regional series (ARCA Menards Series, ARCA Menards Series East & West and the NASCAR Whelen Modified Tour), one local grassroots series (NASCAR Advance Auto Parts Weekly Series) and three international series (NASCAR Pinty's Series, NASCAR Peak Mexico Series, NASCAR Whelen Euro Series). The International Motor Sports Association™ (IMSA®) governs the IMSA WeatherTech SportsCar Championship™, the premier U.S. sports car series. NASCAR also owns Motor Racing Network, Racing Electronics and ONE DAYTONA. Based in Daytona Beach, Florida, with offices in eight cities across North America, NASCAR sanctions more than 1,200 races in more than 30 U.S. states, Canada, Mexico and Europe. For more information visit www.NASCAR.com and www.IMSA.com, and follow NASCAR on Facebook, Twitter, Instagram, and Snapchat ('NASCAR').