Kyle Busch dominates NASCAR Truck Series race at Las Vegas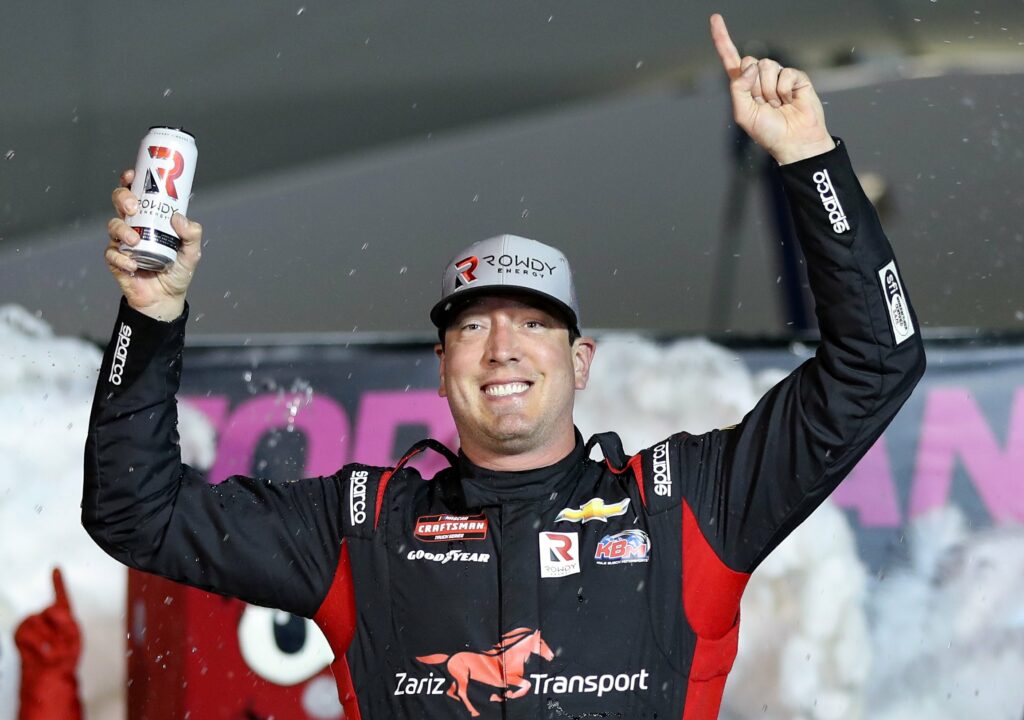 March 3, 2023
By Reid Spencer
NASCAR Wire Service
LAS VEGAS—Kyle Busch revels in changing circumstances.
Five days after winning at Auto Club Speedway in his second NASCAR Cup Series race in a Richard Childress Racing Chevrolet, Busch powered his own Kyle Busch Motorsports Chevy to victory in the NASCAR CRAFTSMAN Truck Series.
Despite a couple of twitchy moments in traffic, Busch dominated Friday night's Victoria's Voice Foundation 200 at Las Vegas Motor Speedway, leading 84 of 134 laps and beating runner-up Zane Smith to the finish line by 4.981 seconds.
The victory was Busch's first of the season, the fourth at his home track and the 63rd of his career, extending his own series record.
After a restart on Lap 66, Busch stormed into the lead two circuits later and built an advantage that, at its widest, exceeded seven seconds. It was his first race in the No. 51 truck after KBM switched from Toyota to Chevrolet for the 2023 season.
Friday's victory was the first in a potential weekend triple. Busch is competing in the NASCAR Xfinity Series on Saturday and the NASCAR Cup Series on Sunday.
"There were a couple dicey moments in traffic—not too bad—but I would have loved to have raced with Zane," said Busch, who won the pole in Friday afternoon's qualifying session. "They kind of got off strategy where we were able to cycle up , and we got clean air for most of the start of that last run.
"He came through the field and got to second, and we kind of maintained. If we'd have been able to race it out, it would have been a hell of a show. But all in all, just a great night here, to be able to win in Las Vegas again—and you've got to win the first to be able to win all three. Right?"
Smith, the reigning series champion, won the race's first stage and led eight laps.
"I'm happy with our day," Smith said. "We had a really good Speedco Ford. Happy with our stage win. Got shuffled back there in one of those late-race restarts and just kind of let Kyle get away—and it's so hard executing pit road chasing him.
"Still happy with our day—another good points day. Create some momentum and go on to the next one."
Ben Rhodes ran third, followed by Corey Heim and Ty Majeski. Christian Eckes, second stage winner Carson Hocevar, Chase Purdy, Grant Enfinger and rookie Jake Garcia completed the top 10.
Fifth-place qualifier Hailie Deegan crashed out in a backstretch wreck with John Hunter Nemechek and Ross Chastain on Lap 60 to cause the sixth and final caution of the race.
NASCAR CRAFTSMAN Truck Series Race – Victoria's Voice Foundation 200 presented by Westgate Resorts
Las Vegas Motor Speedway
Las Vegas, Nevada
Friday, March 3, 2023
(1) Kyle Busch(i), Chevrolet, 134.
(7) Zane Smith, Ford, 134.
(9) Ben Rhodes, Ford, 134.
(15) Corey Heim, Toyota, 134.
(4) Ty Majeski, Ford, 134.
(12) Christian Eckes, Chevrolet, 134.
(8) Carson Hocevar, Chevrolet, 134.
(3) Chase Purdy, Chevrolet, 134.
(17) Grant Enfinger, Chevrolet, 134.
(14) Jake Garcia #, Chevrolet, 134.
(11) Matt Crafton, Ford, 134.
(19) Matt DiBenedetto, Chevrolet, 133.
(16) Tanner Gray, Toyota, 133.
(22) Stewart Friesen, Toyota, 133.
(18) Tyler Ankrum, Toyota, 133.
(25) Dean Thompson, Toyota, 133.
(10) Kaz Grala(i), Toyota, 133.
(27) Colby Howard, Chevrolet, 133.
(20) Daniel Dye #, Chevrolet, 132.
(21) Lawless Alan, Chevrolet, 132.
(30) Max Gutierrez, Ford, 131.
(26) Timmy Hill, Toyota, 131.
(31) Spencer Boyd, Chevrolet, 130.
(23) Ross Chastain(i), Chevrolet, 130.
(29) Kaden Honeycutt, Ford, 130.
(35) Matt Mills, Chevrolet, 129.
(32) Mason Massey, Ford, 129.
(28) Kris Wright, Chevrolet, 126.
(24) Rajah Caruth #, Chevrolet, 122.
(2) Nick Sanchez #, Chevrolet, Accident, 103.
(13) John Hunter Nemechek(i), Toyota, Vibration, 98.
(5) Hailie Deegan, Ford, Accident, 59.
(34) Brennan Poole(i), Toyota, Rear Gear, 20.
(6) Bret Holmes #, Chevrolet, Accident, 16.
(33) Josh Reaume, Ford, Transmission, 4.
Average Speed of Race Winner: 118.293 mph.
Time of Race: 1 Hrs, 41 Mins, 57 Secs. Margin of Victory: 4.981 Seconds.
Caution Flags: 6 for 27 laps.
Lead Changes: 16 among 8 drivers.
Lap Leaders: K. Busch(i) 1-7;N. Sanchez # 8-11;K. Busch(i) 12-21;N. Sanchez # 22-25;Z. Smith 26-33;G. Enfinger 34-36;C. Hocevar 37-39;K. Busch(i) 40-44;C. Hocevar 45-51;B. Rhodes 52;C. Hocevar 53-57;B. Rhodes 58;C. Hocevar 59-62;K. Grala(i) 63-67;K. Busch(i) 68-105;D. Dye # 106-110;K. Busch(i) 111-134.
Leaders Summary (Driver, Times Lead, Laps Led): Kyle Busch(i) 5 times for 84 laps; Carson Hocevar 4 times for 19 laps; Nick Sanchez # 2 times for 8 laps; Zane Smith 1 time for 8 laps; Kaz Grala(i) 1 time for 5 laps; Daniel Dye # 1 time for 5 laps; Grant Enfinger 1 time for 3 laps; Ben Rhodes 2 times for 2 laps.
Stage #1 Top Ten: 38,98,25,23,24,88,99,42,41,15
Stage #2 Top Ten: 42,99,25,4,23,88,24,1,15,98