A Fight to the Finish for the No. 10 Konica Minolta Acura ARX-06 at the Mobil 1 Twelve Hours of Sebring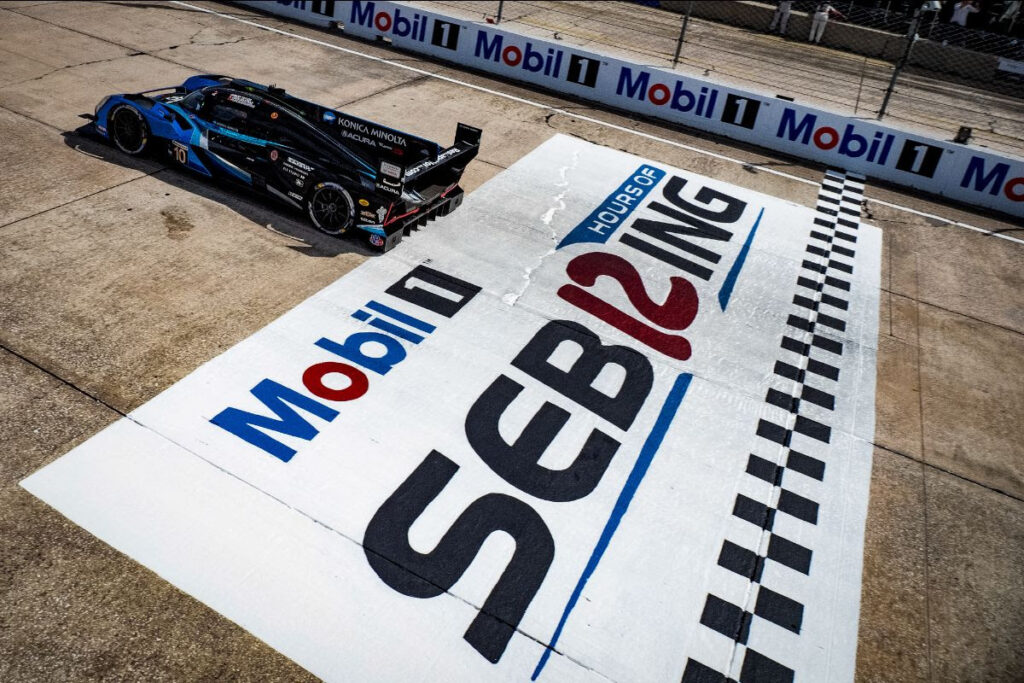 (Sebring, Fla.) March 18, 2023 — In a day that looked to be going the way of the No. 10 Konica Minolta Acura ARX-06 and Wayne Taylor Racing with Andretti Autosport (WTRAndretti) team, matters ultimately ended up finishing in disappointing fashion with a fourth-place finish. After qualifying third for the prestigious 12-hour event, Ricky Taylor piloted the No. 10 Konica Minolta Acura ARX-06 for the first three hours of the race and ensured the team were well and truly going to be a contender for victory.
After Taylor's marathon opening stint, Deletraz inherited driving duties and maintained the team's presence at the front of the field. Towards the end of Deletraz's stint, an impressive strategy call saw the team dive for the pits where Fillipe Albuquerque was able to take the controls of the No. 10 Konica Minolta Acura ARX-06 as well as the lead of the race. As the race rolled into the night and various cautions caused shuffles amongst the top of the order, Albuquerque was in the thick of the lead battle that saw a dramatic final 20 minutes of action. Unfortunately, after making some sensational passes that saw him move up to second and challenging the No. 6 Porsche for the lead, the two cars made contact that meant both cars were unable to see the checkered flag.
"I'm so disappointed for everybody on the WTRAndretti team, Acura, HPD, all our partners and the whole Andretti organization," said Wayne Taylor. "I'm so proud of everybody because they did such a good job and Filipe, what he did in those last 10 laps was incredible. I'm proud of him and thankful he is not hurt. I was expecting to come back and see the car totally destroyed, but it's not nearly as bad as I thought. Oreca built us a good, safe car. I felt we dominated most of the race today and to end like this is really disappointing. It's going to make my drive back home a lot longer, but that's racing as they say and we'll be ready to go to the next one."
"I'm super proud to be a part of this WTRAndretti team," said Ricky Taylor. "There are certain races where you'll never settle for second and this is one of those races. Here, Daytona and Petit Le Mans at the end of the year, you give everything for the win, and that's why we have Filipe on the team. We know he is always going to give us our best shot at winning the races. Today we had a very, very strong No. 10 Konica Minolta Acura ARX-06, the strategy at the end was just so complicated. Unfortunately, the Porsche had a really good pit stop and Filipe had a great attempt at the overtake, and that's just the way it ends up. Proud of the team, and we now focus on Long
Beach."
"What a sad ending," said Filipe Albuquerque. "Unfortunately, in the last pitstop, the Porsche managed to pass us. We were P3. It was kind of crazy that all my laps were in the lead and the last 20 minutes, I was behind somebody, which was weird. We knew the No. 31 had no chance because he had old tires and the fight was with the Porsche ahead of me. I think we had a little bit of an edge on them, but staying behind it was super hard to follow, so it needed to be done in traffic. The traffic came and I saw a hole, tight, but I saw it. I think he (Jaminet) moved, but I need to see the replay again because I don't want to place blame on anybody. I think I was there and then there was contact with the two of us, and the second touch threw me completely in the grass and I couldn't stop the car then I was a bowling ball, just knocking cars down. It was pretty brutal where I got hit once and then somebody hit me. I just felt like I was getting thrown from one side to another, but these cars are safe and I'm good, that's what's most important. It's sad to not get the win when we had such a strong car and for the WTRAndretti team, they put a lot of energy into this. I'm not a guy to finish P2, I give it my all and I would do the same again."
"Tough result," said Louis Deletraz, endurance driver for WTRAndretti. "We for sure wanted to win and I think it was clear from everyone that Filipe gave it his best. No hard feelings. He did really well and we're proud of him. Crashes happen. We still finished fourth. We were leading and being fast and had good strategies and good calls. The whole team did great. Great pit stops and in general everything was perfect until the last fifteen minutes. I think we're still close in the championship and thank you to everyone for it."
The No. 10 Konica Minolta Acura ARX-06 and WTRAndretti team head to the Acura Grand Prix of Long Beach for the first sprint race of the IMSA WeatherTech SportsCar Championship on April 15, 2023.
ABOUT KONICA MINOLTA
Konica Minolta Business Solutions U.S.A., Inc.'s (Konica Minolta) journey started 150 years ago, with a vision to see and do things differently. The company innovates for the good of society and the world. The same purpose that kept it moving then, keeps it moving now. Konica Minolta aims to partner with clients to Give Shape to Ideas by supporting their digital transformation through its expansive Intelligent Connected Workplace portfolio. Its business technology offerings include IT Services, intelligent information management, video security solutions and managed print services, as well as office technology and industrial and commercial print solutions. Through its ongoing work, the company is fortunate to be continuously recognized for its products and services. This includes, but is not limited to being included on CRN's MSP 500 list numerous times; named a finalist in the IT Software Category by The World Technology Awards; recognized as the #1 Brand for CustomerLoyalty in the MFP Office Copier Market by Brand Keys and presented with Keypoint Intelligence's BLI 2021 A3 Line of The Year and BLI 2021-2023 Most Color Consistent A3 Brand Awards for its bizhub i-Series.
Sustainability also continues to be a key driver for the company. As such, Konica Minolta Inc. has been named to the Dow Jones Sustainability World Index for nine consecutive years and has spent six years on the Global 100 Most Sustainable Corporations in the World list. For more information, please visit Konica Minolta online and follow its accounts on Facebook, YouTube, LinkedIn and Twitter.
The No. 10 Konica Minolta Acura ARX-06 effort and Wayne Taylor Racing with Andretti Autosport is supported by an outstanding lineup of partners including Harrison Contracting Company, Acura Motorsports, Honda Performance Development and Hammer Nutrition.