New Zealander Shane van Gisbergen wins Chicago Street Race in NASCAR debut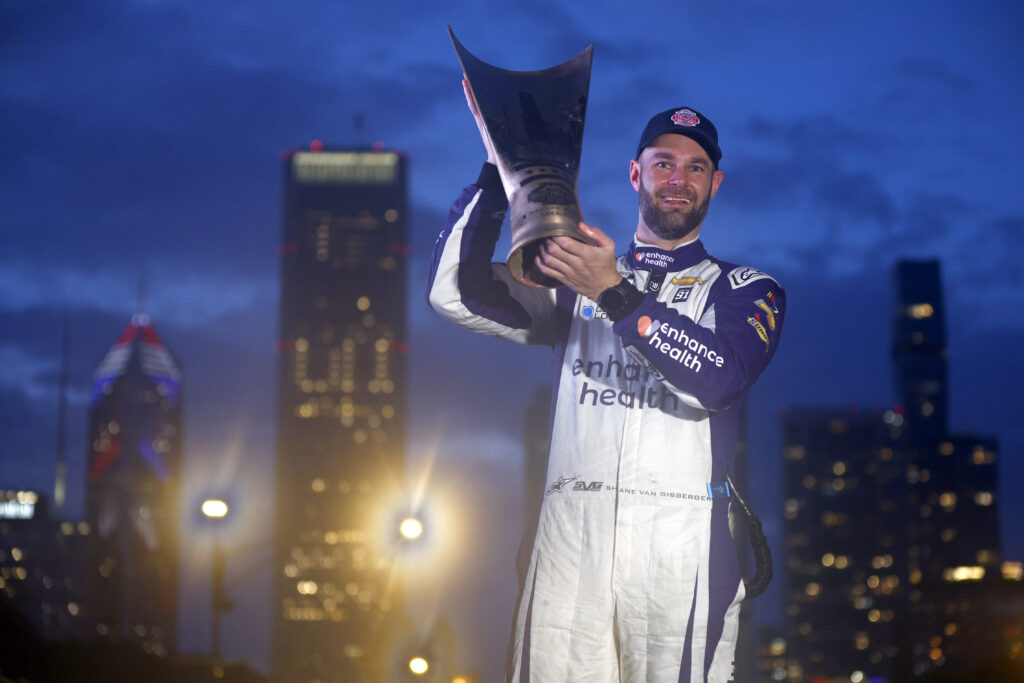 By Reid Spencer
NASCAR Wire Service
New Zealander Shane van Gisbergen wins Chicago Street Race in NASCAR debut
CHICAGO—When the Grant Park 220 turned topsy-turvy at the 49-lap mark, the change didn't slow New Zealander Shane van Gisbergen, the first driver to win a race in his first NASCAR Cup Series start since Johnny Rutherford accomplished the feat 60 years ago.
Driving the No. 91 Chevrolet under the aegis of Trackhouse Racing's Project 91 program, the three-time Supercars champion charged from eighth on a Lap 61 restart to the front of the field and won the series' first-ever street race on the Chicago Street Course in overtime.
Asked whether he thought victory was possible in his NASCAR debut, Van Gisbergen chuckled.
"No, of course not, but you always dream of it," he said. "Thank you so much to the Trackhouse team and (sponsor) Enhance Health, Project91. What an experience in the crowd out here. This was so cool. This is what you dream of. Hopefully, I can come and do more."
What changed the tenor of the race dramatically was NASCAR's decision near the midpoint of the event to shorten the race from the scheduled 100 laps to 75, putting a large group of cars that had pitted on Lap 43 inside their fuel window.
After the previously dominant cars of Christopher Bell, Kyle Larson and Tyler Reddick pitted with others for tires and fuel on Lap 47—Van Gisbergen among them—Justin Haley, Austin Dillon and Chase Elliott led the field to green on a single-file restart on Lap 49. At the time Van Gisbergen was 18th, but not for long.
"Wow, when we had that back strategy back to 18th, I started to worry a bit, but the racing was really good," said Van Gisbergen. "Everyone was respectful. It was tough, but a lot of fun."
The Kiwi passed Haley for the lead on Lap 71 and beat him to the finish line by 1.259 seconds, after the sliding car of Bubba Wallace knocked Ricky Stenhouse's Chevrolet into the Turn 1 tire barrier to cause the ninth caution on Lap 74 and force overtime.
The decision to shorten the race was a saving grace for Elliott, who had crashed his No. 9 Chevrolet during qualifying and started from the rear of the field in a backup car. Elliott held third after the final restart and finished ahead of Hendrick Motorsports teammate Kyle Larson and Kyle Busch, who were fourth and fifth, respectively.
"Once they changed that race distance, we got pretty fortunate to end up being able to make it on gas," Elliott said. "We kind of inadvertently flipped the strategy."
Haley, who started 36th after crashing in practice on Saturday, said he was beaten by a world-class driver on 16-lap better tires.
"Yeah, it was tough," Haley said. "I put it in the tire barrier yesterday and we stayed up all night. I stayed with the guys through the rain and rewrapped this thing, put a new body on it…
"Obviously congrats to Project91. It sucks, obviously, where we are right now we don't have a… we aren't in position to win every week, so coming that close obviously is not what you want.
"But just really proud of everyone at Kaulig Racing and what an awesome event. Can't wait to come back next year."
Shortening the race wasn't what Bell wanted or needed. He had overtaken Reddick for the lead on Lap 9 and won the first 20-lap stage by a comfortable margin. After a cycle of green-flag pit stops, Bell held an advantage of nearly nine seconds before Noah Gragson's third adventure into the Turn 6 tire barrier caused the third caution on Lap 29.
By then, drivers had transitioned from wet tires at the start of the event to slicks as the racing line dried out.
Bell survived two subsequent cautions and won Stage 2 under yellow after Alex Bowman stopped on the track at the exit from Turn 5 because of engine issues. By then, Larson had worked his way into the second position and was hounding Bell before the caution.
After the field flipped, Bell finished 18th, thanks to a late spin into a tire barrier.
Delayed for nearly 75 minutes by rain, the historic race was eventful from the start. As soon as the green flag waved, Reddick pulled even with pole winner Denny Hamlin. The drivers raced side-by-side until Reddick cleared Hamlin through Turn 5.
Aric Almirola spun near Turn 6 on the opening lap. Erik Jones drove too deep into Turn 6 and collected Brad Keselowski and Gragson. All three drivers extricated themselves from the tire barrier and continued.
On Lap 2, Hamlin slid sideways into the tire barrier on the outside of Turn 2 and lost 11 positions. A lap later, Busch lost control while making a move off the racing line and plowed nose-first into the tire barrier, causing the race's first caution.
After a safety crew pulled Busch's No. 8 Chevrolet from the barrier with a tether, Busch rejoined the field without losing a lap. On Lap 13, Gragson buried the nose of his No. 42 Chevy into the barrier in Turn 6, which proved an early trouble spot on the wet street course.
Hamlin never recovered from his accident and finished 11th. Busch, on the other hand, took advantage of his early pit stop to come home fifth.
Austin Cindric, Michael McDowell, Joey Logano, Ty Gibbs and Chris Buescher completed the top 10.
NASCAR Cup Series Race – Grant Park 220
Chicago Street Race
Chicago, Illinois
Sunday, July 2, 2023
(3) Shane Van Gisbergen, Chevrolet, 78.
(37) Justin Haley, Chevrolet, 78.
(26) Chase Elliott, Chevrolet, 78.
(7) Kyle Larson, Chevrolet, 78.
(18) Kyle Busch, Chevrolet, 78.
(31) Austin Cindric, Ford, 78.
(6) Michael McDowell, Ford, 78.
(9) Joey Logano, Ford, 78.
(12) Ty Gibbs #, Toyota, 78.
(15) Chris Buescher, Ford, 78.
(1) Denny Hamlin, Toyota, 78.
(24) Aric Almirola, Ford, 78.
(22) William Byron, Chevrolet, 78.
(19) Corey LaJoie, Chevrolet, 78.
(28) Ryan Preece, Ford, 78.
(21) Erik Jones, Chevrolet, 78.
(10) AJ Allmendinger, Chevrolet, 78.
(4) Christopher Bell, Toyota, 78.
(25) Todd Gilliland, Ford, 78.
(16) Chase Briscoe, Ford, 78.
(8) Jenson Button, Ford, 78.
(34) Ross Chastain, Chevrolet, 78.
(27) Josh Bilicki(i), Chevrolet, 78.
(20) Brad Keselowski, Ford, 78.
(23) Noah Gragson #, Chevrolet, 78.
(30) Andy Lally, Ford, 78.
(5) Daniel Suarez, Chevrolet, 78.
(2) Tyler Reddick, Toyota, 78.
(35) Kevin Harvick, Ford, 78.
(32) Harrison Burton, Ford, 78.
(14) Bubba Wallace, Toyota, 78.
(11) Martin Truex Jr., Toyota, 77.
(17) Ryan Blaney, Ford, 77.
(36) Ricky Stenhouse Jr., Chevrolet, 77.
(33) Ty Dillon, Chevrolet, Suspension, 67.
(29) Austin Dillon, Chevrolet, Accident, 62.
(13) Alex Bowman, Chevrolet, Accident, 40.
Average Speed of Race Winner: 60.281 mph.
Time of Race: 2 Hrs, 50 Mins, 48 Secs. Margin of Victory: 1.259 Seconds.
Caution Flags: 9 for 21 laps.
Lead Changes: 7 among 5 drivers.
Lap Leaders: D. Hamlin 0;T. Reddick 1-8;C. Bell 9-24;S. Van Gisbergen 25;T. Gibbs # 26;C. Bell 27-47;J. Haley 48-70;S. Van Gisbergen 71-78.
Leaders Summary (Driver, Times Lead, Laps Led): Christopher Bell 2 times for 37 laps; Justin Haley 1 time for 23 laps; Shane Van Gisbergen 2 times for 9 laps; Tyler Reddick 1 time for 8 laps; Ty Gibbs # 1 time for 1 lap.
Stage #1 Top Ten: 20,45,91,19,34,99,5,16,54,15
Stage #2 Top Ten: 20,5,45,91,34,54,99,19,16,14