Cole Custer declared winner of rain-shortened Chicago Xfinity race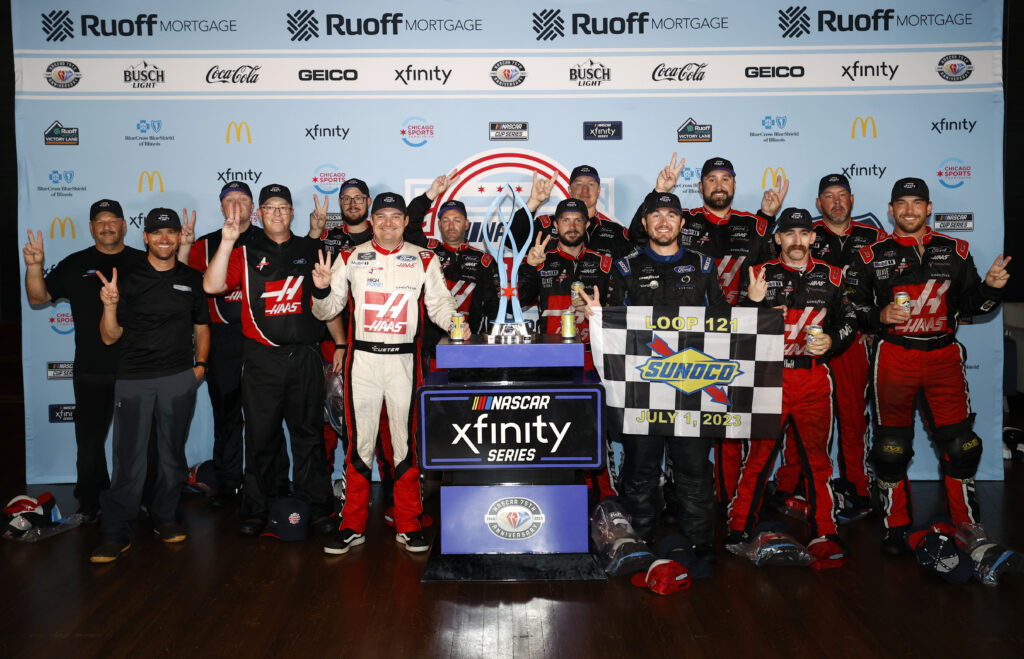 By Reid Spencer
NASCAR Wire Service
Cole Custer declared winner of rain-shortened Chicago Xfinity race
CHICAGO—Drenching rain and standing water on the Chicago Street Course forced NASCAR to declare Cole Custer the winner of The Loop 121 NASCAR Xfinity Series race three laps short of halfway and five laps short of the completion of Stage 2.
Custer had led all 25 laps of NASCAR's first-ever street course race before lightning strikes in the area on Saturday caused NASCAR to red flag the race and then to postpone completion until Sunday morning. But the rain persisted, forcing NASCAR's hand.
"It's been an awesome weekend overall," said Custer, who drives the No. 00 Stewart-Haas Racing Ford. "The whole event, the whole thing that NASCAR's put on here—the whole city—it's been pretty unreal… The course is such a blast to drive.
"Today, we definitely wish we could have run all the laps. We don't want to win it this way, but at the end of the day, we had a really fast car. I think everybody knew that."
This marks the first time NASCAR has declared a winner short of the halfway point or the end of the second stage, the two benchmarks for an official event (with the second criterion in effect starting in 2020 after the advent of stage racing, which was introduced in 2017).
NASCAR issued a statement explaining the decision to curtail the race:
"With standing water and flooding a significant issue at the race track and throughout the city, there was no option to return to racing prior to shifting to NASCAR Cup Series race operations. Throughout the entire planning process for the Chicago Street Race, our relationship with the City of Chicago has been strong and among the most valuable assets in reaching this historic weekend.
"In the spirit of that partnership, returning on Monday for the completion of a NASCAR Xfinity Series event two laps short of halfway was an option we chose not to employ. Based on several unprecedented circumstances, NASCAR has made the decision to declare Cole Custer the winner of the race."
The victory was Custer's second of the season, the 12th of his career and his 10th straight top-10 finish this season.
John Hunter Nemechek finished second and leads the series standings by 16 points over Austin Hill, who was credited with a fifth-place result. Nemechek clearly was impressed with the spectacle of NASCAR's first street race.
"Racing downtown on the streets of Chicago was pretty amazing," he said. "The whole experience, the atmosphere and how many fans were here — I give a lot of props to everyone at NASCAR. Everyone involved with the Chicago Street Course did an amazing job. Riding around under caution yesterday, being able to see all of the fans lined up three or four rows deep along the fence with no open spots was incredible. Probably one of the best attendances we've had so far this year in the Xfinity Series.
"The race went OK for us. I ran P2 from the drop of the green flag until lap 25 when they called it (Saturday). We needed a good stop to be able to make an adjustment and have a shot to contend with Cole for the win and just never had that opportunity. We'll take that second place, and we'll move on from it."
Justin Allgaier finished third and Brett Moffitt fourth. Sammy Smith, Daniel Hemric, Chandler Smith, Parker Kligerman and Kaz Grala earned positions six through 10, respectively.
–30—
NASCAR Xfinity Series Race – The Loop 121
Chicago Street Race
Chicago, Illinois
Saturday, July 1, 2023
(1) Cole Custer, Ford, 25.
(3) John Hunter Nemechek, Toyota, 25.
(6) Justin Allgaier, Chevrolet, 25.
(7) Brett Moffitt, Ford, 25.
(5) Austin Hill, Chevrolet, 25.
(8) Sammy Smith #, Toyota, 25.
(9) Daniel Hemric, Chevrolet, 25.
(16) Chandler Smith #, Chevrolet, 25.
(10) Parker Kligerman, Chevrolet, 25.
(25) Kaz Grala, Toyota, 25.
(2) Sheldon Creed, Chevrolet, 25.
(13) Preston Pardus, Chevrolet, 25.
(17) Miguel Paludo, Chevrolet, 25.
(32) Kyle Weatherman, Chevrolet, 25.
(18) Alex Guenette, Chevrolet, 25.
(26) Parker Chase, Toyota, 25.
(29) Blaine Perkins #, Chevrolet, 25.
(14) Sam Mayer, Chevrolet, 25.
(31) Jeb Burton, Chevrolet, 25.
(37) Jeremy Clements, Chevrolet, 25.
(19) Alex Labbe, Toyota, 25.
(11) Sage Karam, Chevrolet, 25.
(23) Josh Berry, Chevrolet, 25.
(15) Riley Herbst, Ford, 25.
(24) Ryan Sieg, Ford, 25.
(33) Brennan Poole, Chevrolet, 25.
(34) Anthony Alfredo, Chevrolet, 25.
(22) Spencer Pumpelly, Chevrolet, 25.
(21) Parker Retzlaff #, Chevrolet, 25.
(30) Brandon Jones, Chevrolet, 25.
(20) Ryan Ellis, Chevrolet, 25.
(27) Brad Perez, Chevrolet, 25.
(35) Joe Graf Jr., Ford, 25.
(38) Brent Sherman, Ford, 25.
(4) Connor Mosack, Toyota, 25.
(36) Josh Williams, Chevrolet, 22.
(28) Andre Castro, Chevrolet, Accident, 16.
(12) Justin Marks, Chevrolet, Engine, 3.
Average Speed of Race Winner: 52.66 mph.
Time of Race: 1 Hrs, 2 Mins, 40 Secs. Margin of Victory: Caution Seconds.
Caution Flags: 3 for 9 laps.
Lead Changes: 0 among 1 driver.
Lap Leaders: C. Custer 1-25.
Leaders Summary (Driver, Times Lead, Laps Led): Cole Custer 1 time for 25 laps.
Stage #1 Top Ten: 00,20,21,7,19,25,18,11,48,16
Stage #2 Top Ten: 00,20,7,25,21,18,11,16,48,26