Hamlin wins record seventh at Pocono Raceway in Sunday's NASCAR Cup Series HighPoint.com 400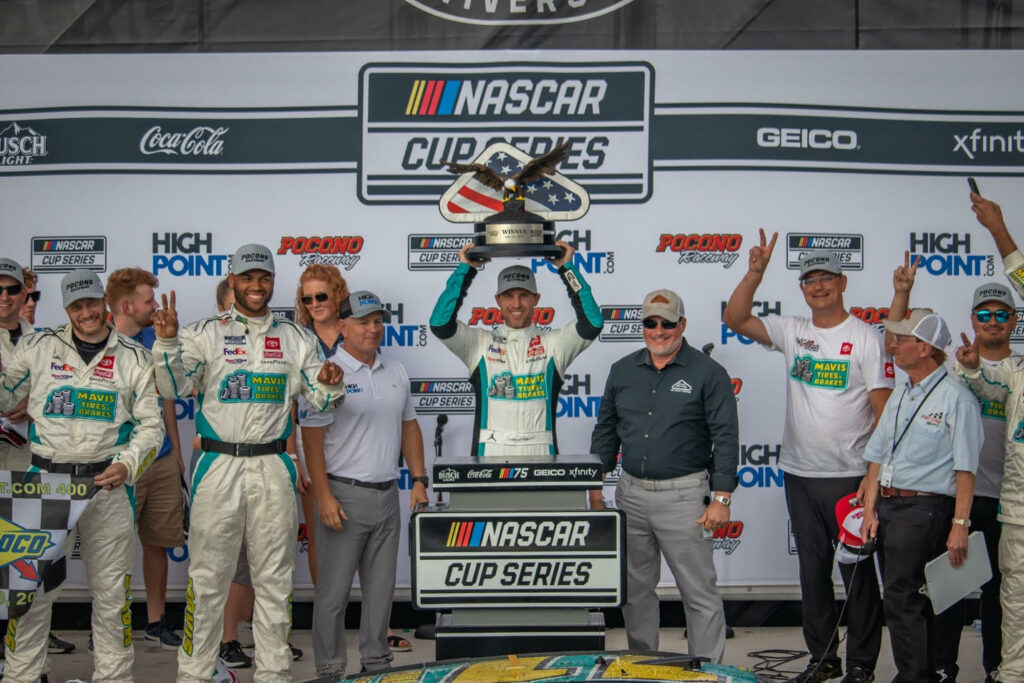 Denny Hamlin breaks tie with legend Jeff Gordon for most wins before a sold-out main grandstand at Pocono Raceway.
The Joe Gibbs Racing veteran also recorded his 50th career Cup win and provided Toyota with its 600th NASCAR National Series victory.
LONG POND, Pa. (July 23, 2023) – This time around Denny Hamlin actually took the Pocono Raceway's iconic Eagle trophy home.
Honest.
A year after being stripped of his win when his car was disqualified, Hamlin (No. 11 Mavis Tires & Brakes Toyota) secured his record seventh win at "The Tricky Triangle" before a sold-out grandstand crowd in Sunday's NASCAR Cup Series HighPoint.com 400.
The victory broke a tie for most wins at Pocono Raceway with NASCAR Hall of Famer Jeff Gordon and the Joe Gibbs Racing veteran added two more milestones to the celebration. Hamlin recorded his 50th career Cup win and also handed Toyota its 600th career NASCAR National Series victory (177 Cup, 196 Xfinity, 227 Trucks).
"Stuff like this doesn't sit in for a while," Hamlin said. "When you retire and you got a bunch of time, you're sitting there on your rocker on your back porch, you're thinking about, 'What have I accomplished, right, in the sport?' These things take a long time to sit in. They really do. We're in the heat of the moment now. It takes time.
"I never thought I'd get an opportunity in the Cup Series. Luckily, J.D. Gibbs took a chance and Joe Gibbs took a chance on me nearly 20 years ago. To get my 50th win, it comes down to the track that I got my first, it certainly is special."
And it did come with some controversy in Pocono Raceway's 50th anniversary of hosting NASCAR.
On a restart with seven laps to go, Kyle Larson (No. 5 HendrickCars.com Chevrolet) was at the point when a charging Hamlin came up on his side panel. The two made contact that forced Larson to brush the wall and ended his hopes of contending for his first win at Pocono Raceway.
"Just unfortunate," said Larson, who fell to 20th. "I've been cost a lot of good finishes by him throughout my career. I know he says I race a certain way. I don't think I've ever had to apologize to him about anything. Not that he's going to say sorry after this. It is what it is."
Hamlin thought otherwise.
"There was a lane," he said. "He missed the corner first and, evidently, he didn't have his right-side tires clean. When he gassed up, he just kept going again. You know, you have an option in those positions to either hold it wide open and hit the fence or lift and race it out. Those are the choices they made. I didn't hit either one of 'em. Didn't touch 'em."
Hamlin still had plenty of work to do as he was faced with a final restart in the 160-lap, 400-mile race with the likes of Kevin Harvick (No. 4 Busch Light Peach Ford), Martin Truex Jr. (No. 19 Interstate Batteries Toyota) and Tyler Reddick (No. 45 Jordan Brand Toyota) lined up behind him. Hamlin jumped out to a strong restart with JGR teammate Truex Jr. in tow. Reddick was moving as well, moving up to third with two to go and then passing Truex Jr. with one lap remaining.
Hamlin, who led the final seven laps, had a comfortable lead at that stage and a spin by Ryan Preece (No. 41 Mohawk Northeast Ford) on the white flag lap forced the race to finish under caution and clinch the record win.
Reddick finished second while Truex Jr. was third. Harvick, the leader among active drivers for career starts at Pocono Raceway, took fourth in his 44th and final start at "The Tricky Triangle." Rookie Ty Gibbs (No. 54 He Gets Us Toyota) rounded out the top five with a career-best finish.