Riley Herbst wins first career NASCAR Xfinity Series race in hometown of Las Vegas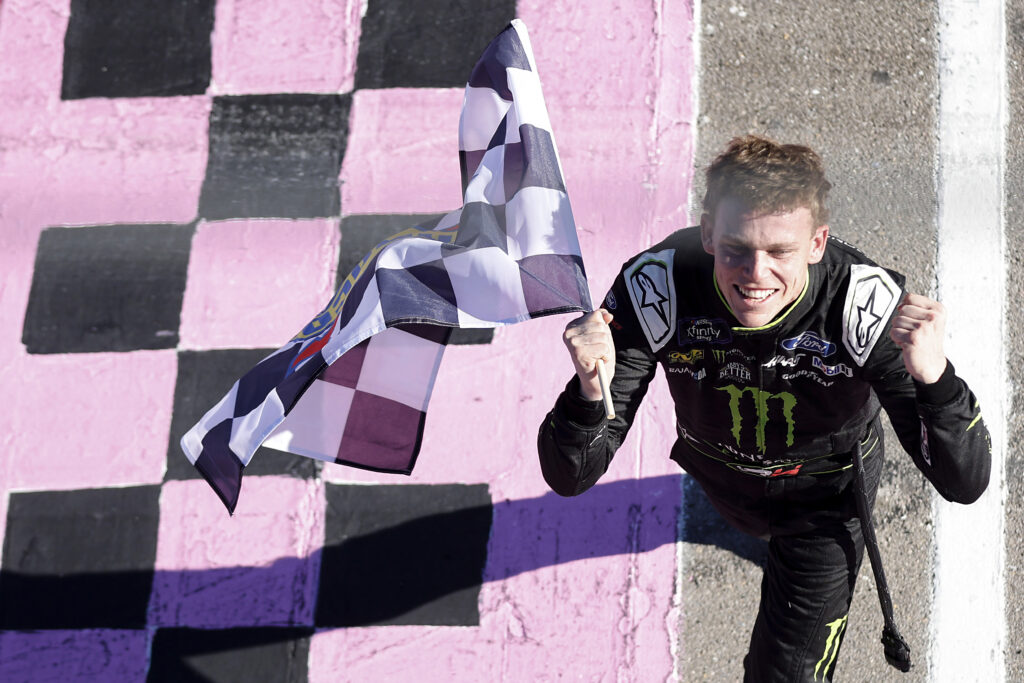 By HOLLY CAIN
NASCAR Wire Service
LAS VEGAS — It was a fitting venue, a perfect scenario for Riley Herbst to earn his first career NASCAR Xfinity Series race – a dominating 14.9-second victory in the Alsco Uniforms 302 at his home track, Las Vegas Motor Speedway.
Herbst's No. 98 Stewart-Haas Racing Ford led 103 of the 201 laps of the Playoff race leaving no room for error in this career-making day for the 24-year old Las Vegas native. It was the largest margin of victory in the series this season and nearly seven-seconds better than the previous best margin of victory for an Xfinity Series race at this track – 8.4-seconds set back in 2002.
More than 60 of Herbst's close friends and family members were trackside for this standout showing and Herbst was understandably emotional as he climbed out of his Ford – earning his first trophy in his 139th series start.
"Oh my goodness, I love this town and I love this team,'' Herbst said, effusively thanking the people – family, team owners and corporate sponsors – who had stuck by him as he made his way up the ranks.
"Oh my goodness, you don't know what this means, what this takes off my chest. I can't believe it. I love you Las Vegas. Let's go.''
"I've been working on myself and everything I can control and all I can do is all I can do,'' he added. "If there was a caution, there was a caution and we would race them straight up.''
But he didn't need to – leading the last 57 laps of the race and extending his lead with each circuit around the 1.5-mile Vegas high banks. Although he did not qualify for the 2023 Playoffs he led six of those championship challengers across the finish line.
Championship points leader, Joe Gibbs Racing's John Hunter Nemechek finished a distant runner-up to Herbst, followed by Herbst's SHR teammate Cole Custer. Kaulig Racing's Chandler Smith and JR Motorsports Sam Mayer rounded out the Top-5. Mayer's teammate Justin Allgaier was sixth followed by Richard Childress Racing's Austin Hill rounding out that top-finishing Playoff group.
JR Motorsports Brandon Jones, Kaulig teammates Daniel Hemric and Layne Riggs completed the Top 10. It was an especially impressive day for the 21-year-old Riggs' who was just making his second career Xfinity Series start.
Only two of the eight Playoff drivers finished outside the Top-10. RCR's Sheldon Creed was 15th and JGR's Sammy Smith was 17th rallying from mid-race pit road issues.
"I'm really disappointed,'' Allgaier said. "Obviously, a great points day and the guys did a great job. We got behind at the beginning and hard to get it back. … Proud of the effort all day. Hats off to Riley, that was a demonstration right there.''
The runner-up showing was Nemechek's fifth Top-3 finish in the last six races. The series-leading seven-time race winner now holds a 47-point lead atop the Playoff standings with two races – at Homestead-Miami and Martinsville, Va. – remaining to set the Championship 4 field for the Nov. 4 season finale in Phoenix.
"Congrats to Riley I know he's been trying to win one of these things for a long time,'' Nemechek said, adding, "We got stage points. .. solid points day just have to keep on with it.''
The sixth-place finishing Allgaier is second to Nemechek in the Playoff standings, up 21 points on the cutoff line. Hill is ranked third, 19 points up and Custer's third place effort (and stage win) was enough to move him into the Top-4. He holds a 15-point advantage over Chandler Smith for that final position.
Mayer is 16 points back, followed by Sammy Smith (-35) and Creed (-41).
The series moves to the 1.5-mile Homestead-Miami Speedway for next Saturday's Contender Boats 300 (3 p.m. ET, USA Network, MRN, SiriusXM NASCAR Radio).
NASCAR Xfinity Series Race – Alsco Uniforms 302
Las Vegas Motor Speedway
Las Vegas, Nevada
Saturday, October 14, 2023
1. (8) Riley Herbst, Ford, 201.
2. (38) John Hunter Nemechek (P), Toyota, 201.
3. (2) Cole Custer (P), Ford, 201.
4. (4) Chandler Smith # (P), Chevrolet, 201.
5. (14) Sam Mayer (P), Chevrolet, 201.
6. (7) Justin Allgaier (P), Chevrolet, 201.
7. (10) Austin Hill (P), Chevrolet, 201.
8. (13) Brandon Jones, Chevrolet, 201.
9. (6) Daniel Hemric (P), Chevrolet, 201.
10. (9) Layne Riggs, Chevrolet, 201.
11. (19) Myatt Snider, Toyota, 200.
12. (1) Josh Berry, Chevrolet, 200.
13. (11) Parker Kligerman, Chevrolet, 200.
14. (5) Parker Retzlaff #, Chevrolet, 200.
15. (15) Sheldon Creed (P), Chevrolet, 200.
16. (17) Ryan Sieg, Ford, 199.
17. (3) Sammy Smith # (P), Toyota, 199.
18. (24) Kyle Sieg, Ford, 199.
19. (28) Connor Mosack, Toyota, 199.
20. (25) Ryan Reed, Chevrolet, 198.
21. (23) Daniel Dye(i), Chevrolet, 198.
22. (18) Jeb Burton, Chevrolet, 197.
23. (35) Rajah Caruth(i), Chevrolet, 197.
24. (27) Brett Moffitt, Ford, 197.
25. (34) Brennan Poole, Chevrolet, 197.
26. (29) Stefan Parsons, Chevrolet, 197.
27. (32) Ryan Ellis, Ford, 197.
28. (31) Blaine Perkins #, Chevrolet, 195.
29. (37) CJ McLaughlin, Ford, 194.
30. (16) Jeremy Clements, Chevrolet, 193.
31. (21) Dawson Cram, Chevrolet, 193.
32. (36) Joey Gase, Toyota, 193.
33. (26) Josh Williams, Chevrolet, Accident, 56.
34. (20) Anthony Alfredo, Chevrolet, Accident, 54.
35. (22) Kaz Grala, Toyota, Accident, 53.
36. (12) Kyle Weatherman, Chevrolet, Accident, 53.
37. (30) Joe Graf Jr., Ford, Accident, 12.
38. (33) Patrick Emerling, Chevrolet, Accident, 3.
Average Speed of Race Winner: 130.598 mph.
Time of Race: 2 Hrs, 18 Mins, 31 Secs. Margin of Victory: 14.959 Seconds.
Caution Flags: 5 for 26 laps.
Lead Changes: 11 among 6 drivers.
Lap Leaders: J. Berry 1-10;C. Smith # (P) 11-17;J. Berry 18;C. Smith # (P) 19-34;C. Custer (P) 35-51;D. Hemric (P) 52;C. Custer (P) 53-89;R. Herbst 90-96;C. Custer (P) 97-104;R. Herbst 105-143;K. Sieg 144;R. Herbst 145-201.
Leaders Summary (Driver, Times Lead, Laps Led): Riley Herbst 3 times for 103 laps; Cole Custer (P) 3 times for 62 laps; Chandler Smith # (P) 2 times for 23 laps; Josh Berry 2 times for 11 laps; Kyle Sieg 1 time for 1 lap; Daniel Hemric (P) 1 time for 1 lap.
Stage #1 Top Ten: 00,16,18,10,21,20,7,9,48,98
Stage #2 Top Ten: 98,00,20,7,10,16,8,1,18,9