Carson Hocevar Takes the Checkered Flag at Miami; Joins, Corey Heim, Grant Enfinger and Ben Rhodes in Championship 4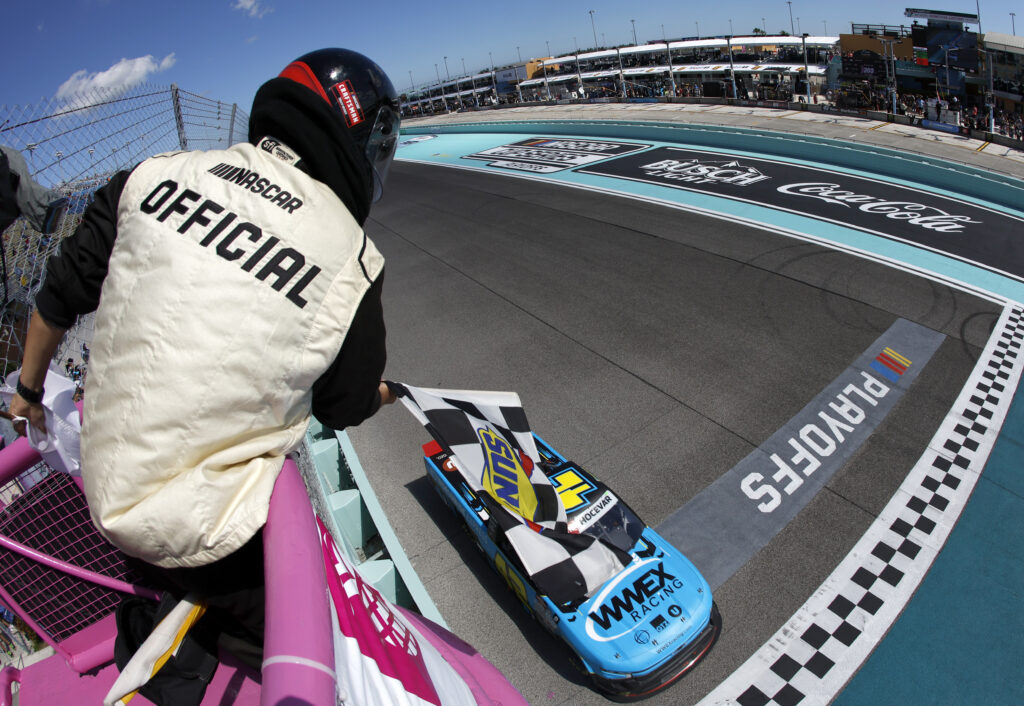 By Holly Cain
NASCAR Wire Service
HOMESTEAD, Fla. – Carson Hocevar secured his first NASCAR CRATSMAN Truck Series Championship 4 appearance with a victory Saturday in the Baptist Health Cancer Care 200 at Homestead-Miami Speedway earning all four of his career series wins this season – the trophy Saturday most impactful among them.
Hocevar put his No. 42 Niece Motorsports Chevrolet into the lead with 11 laps remaining and held off the hard-charging Zane Smith by 2.705-seconds to claim the win over the reigning series champion, whose runner-up effort was disqualified by NASCAR after a post-race technical inspection found the defending series champion's No. 38 Front Row Motorsports Ford was illegal – using an unapproved windshield support.
"We are disappointed in the disqualification,'' Front Row Motorsports said in a statement after the NASCAR inspecition. "We will continue to work and discuss with NASCAR officials back at the NASCAR R&D Center in Concord, N.C. before making any further comment.''
The DQ moved ThorSport Racing's Ben Rhodes into runner-up on the afternoon helping him to advance to the Playoffs – prevailing in a tiebreaker with rookie Nick Sanchez; the polesitter who finished 17th after making contact with another truck coming to pit road for his final stop.
Regular season champion, TRICON Garage's Corey Heim, GMS Racing's Grant Enfinger and Hocevar's Niece Motorsports teammate Bailey Curry rounded out the top five at Homestead.
Heim, Hocevar, Enfinger and Rhodes will now race for the championship Nov. 3 at Phoenix Raceway.
Hocevar celebrated the clutch win by climbing high atop the flag stand to claim the checkered flag in person. He threw it down to the cheering fans behind the fence then climbed back down on the grandstand side to high-five fans and celebrate the biggest win of his life – to date.
"It kills me I can't do a burn-out but we have to take this truck to Phoenix,'' a grinning Hocevar said. "This truck was so good. We just got behind on pit stops and just lost track position which was unfortunate, but man, it's so good to feel [like this]. I love it.
"I thought we could win today with our truck, even with all the setbacks from the debris and everything, we had a shot to win and we did just that.''
The battle for that final Playoff position was as dramatic as the fight for the victory.
Rhodes came into this final regular season race only five points behind Sanchez for the fourth championship-eligible transfer position. He finished 24th in the opening stage and 10th in the second stage. It still left him outside looking into the Championship 4, so Rhodes' ThorSport team opted to pit for fresh tires early and out of pit sequence. The move allowed his No. 99 ThorSport Ford to take the race lead as the other frontrunners pit later.
He held the point with 30 laps remaining only to have Hocevar and Smith chase him back down. Hocevar passed him with 11 laps remaining, Smith a lap later.
"We failed Ben today, we didn't give him a very good truck and he bailed us out at the end there,'' Rhodes' crew chief Rich Lushes said. "It was the only call we had. We had to do something different than everybody else and it all worked out so I guess we're going to [championship] again.''
It was a heartbreaking ending for the 22-year old Sanchez, who is from nearby Miami and raced often at Homestead-Miami Speedway as he was coming up the junior ranks. He won the pole and led the opening five laps, only to see his Playoff hopes in jeopardy after a miscue approaching his final pit stop with 34 laps remaining. His No. 2 Rev Racing Chevrolet hit the back of Tanner Gray's truck as the two were slowing to enter pit road causing noticeable damage to Sanchez' Chevrolet.
"Obviously I lost a lot of time there and just lost time in the pits trying to fix it,'' Sanchez said. "Just my fault, no two ways to it. I really didn't know the 15 was pitting and didn't slow down [enough]. So that's on me. I apologize to my team. They're going to support me. To miss by one-point is pretty rough, but all you can do it go to Phoenix and try to win.'
Heim led a race best 57 of the 134 laps and swept both Stage victories. His third place finish marked the series best 15th-consecutive top-10 finish of the season.
"I really thought we had them covered today, I mean we were smoking the first two stages and kind of waiting on the third stage and then it went out like a light switch so we'll look everything over,'' Heim said, adding, "We've got bigger things on the horizon so we'll focus on that.''
Stewart Friesen, Matt Crafton, Rajah Caruth, Ty Majeski and Chase Purdy rounded out the top 10 finishing order. Majeski joins Smith, Sanchez and Christian Eckes to be eliminated from Playoff contention.
Eckes finished 20th after what looked like a sure-bet top-10 finish was hampered by penalties and miscues on the afternoon. He was called for moving lanes on a restart and another time for speeding on his pit road exit late in the race.
"We had a truck able to advance and just kept making mistakes,'' Eckes said. "Just wasn't good enough today.''
IndyCar star Marco Andretti finished 18h in his second series start in the No. 7 Spire Motorsports Chevrolet. He's scheduled to race at Phoenix in two weeks.
The NASCAR Craftsman Truck Series concludes the season with the Craftsman 150 at the one-mile Phoenix Raceway on Nov. 3 (10:30 p.m. ET, FS1, MRN, SiriusXM NASCAR Radio).
NASCAR CRAFTSMAN Truck Series Race – Baptist Health Cancer Care 200
Homestead-Miami Speedway
Homestead, Florida
Saturday, October 21, 2023
(2) Carson Hocevar (P), Chevrolet, 134.
(21) Ben Rhodes (P), Ford, 134.
(8) Corey Heim (P), Toyota, 134.
(3) Grant Enfinger (P), Chevrolet, 134.
(17) Bayley Currey, Chevrolet, 134.
(9) Stewart Friesen, Toyota, 134.
(22) Matt Crafton, Ford, 134.
(13) Rajah Caruth #, Chevrolet, 134.
(4) Ty Majeski (P), Ford, 134.
(14) Chase Purdy, Chevrolet, 134.
(6) Tanner Gray, Toyota, 134.
(11) Jack Wood, Chevrolet, 134.
(12) Taylor Gray #, Toyota, 134.
(32) Trevor Bayne(i), Chevrolet, 134.
(15) Jake Garcia #, Chevrolet, 133.
(5) Dean Thompson, Toyota, 133.
(1) Nick Sanchez # (P), Chevrolet, 133.
(27) Marco Andretti, Chevrolet, 133.
(23) Lawless Alan, Chevrolet, 133.
(10) Christian Eckes (P), Chevrolet, 133.
(19) Daniel Dye #, Chevrolet, 133.
(26) Tyler Hill, Toyota, 133.
(25) Nick Leitz, Chevrolet, 133.
(18) Brad Perez(i), Chevrolet, 133.
(16) Tyler Ankrum, Toyota, 133.
(33) Jonathan Shafer, Toyota, 132.
(29) Mason Maggio, Ford, 131.
(20) Hailie Deegan, Ford, 131.
(31) Memphis Villarreal, Ford, 131.
(24) Colby Howard, Chevrolet, 129.
(34) Armani Williams, Toyota, 121.
(28) Spencer Davis, Ford, Electrical, 65.
(30) Spencer Boyd, Chevrolet, Electrical, 50.
(7) Zane Smith (P), Ford, 134.
Average Speed of Race Winner: 110.965 mph.
Time of Race: 1 Hrs, 48 Mins, 41 Secs. Margin of Victory: 2.705 Seconds.
Caution Flags: 5 for 29 laps.
Lead Changes: 8 among 7 drivers.
Lap Leaders: N. Sanchez # (P) 1-5;C. Heim (P) 6-33;T. Majeski (P) 34;C. Heim (P) 35-54;T. Gray 55-58;C. Heim (P) 59-67;Z. Smith (P) 68-101;B. Rhodes (P) 102-123;C. Hocevar (P) 124-134.
Leaders Summary (Driver, Times Lead, Laps Led): Corey Heim (P) 3 times for 57 laps; Zane Smith (P) 1 time for 34 laps; Ben Rhodes (P) 1 time for 22 laps; Carson Hocevar (P) 1 time for 11 laps; Nick Sanchez # (P) 1 time for 5 laps; Tanner Gray 1 time for 4 laps; Ty Majeski (P) 1 time for 1 lap.
Stage #1 Top Ten: 11,98,42,23,52,19,2,88,4,16
Stage #2 Top Ten: 11,41,2,52,98,88,4,42,99,24