Will Power Overcomes Penalty to win Toyota Grand Prix of Long Beach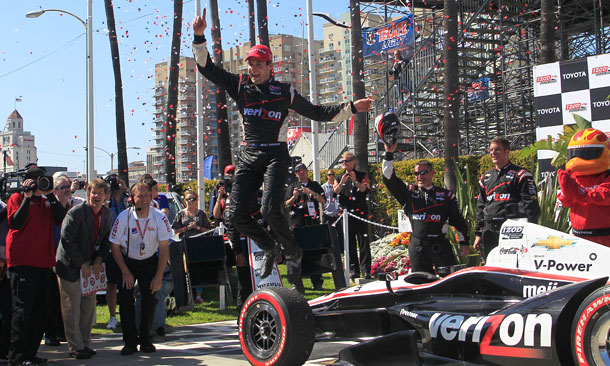 Following a Chevrolet mandated engine change, Will Power started 12th in the Toyota Grand Prix of Long Beach despite qualifying second on Saturday. Power didn't let them hold him back as he led the last 15 laps on his way to his second straight win of the season.
"You tell him what he needs to do and he does," team strategist Tim Cedric says. "This team never quits and this race wasn't over till it was over."
Power was able to save fuel from when he pitted with 31 to go to make it to the end of the race.
"After last week, you can never say never, but I thought it'd be very tough to win the race," Power says. "The end there, I had to save so much fuel to get there but so happy for the Verizon and Chevy guys. We got a penalty and overcome it. I've been trying to win here for four years now."
When Simon Pagenaud headed down pit road with 16 to go, Power would take over the top spot and lead the whole way home for his 17th career win.
"I actually used some fuel to get around some, but Tim was telling me that I had to save some fuel," Power continues. "So I was trying to save as much fuel as I could while staying in front."
The win marked the third consecutive win this season for Team Penske as they won St. Petersburg with Helio Castroneves, followed by Barber and now Long Beach by Power. It marks Penske's fifth win at Long Beach and their first since 2001.
Pagenaud would come second for a career best finish after leading the most laps – 26.
"It was great," he says. "The car was fanstastic. The guys did such a good job. It's a one-car team operation and we're fighting against Penske and (Chip) Ganassi so hats off to the team."
James Hinchcliffe would round out the podium for his first IZOD IndyCar Series podium finish.
"I feel really bad for Ryan (Hunter-Reay) because he drove a really good race," Hinchcliffe. "I was following him through a lot of those passes he made, so I hate to have it at the expense to him. great job by the team with all the strategies today."
Ryan Hunter-Reay crossed the line third, but was given a 30-second penalty for avoidable contact after he spun Takumo Sato on the final lap. Hunter-Reay was credited with a sixth place finish, behind Tony Kanaan and JR Hildebrand.
"I was told he was saving fuel and it looked like he was," Hunter-Reay explains the incident with Sato. "He braked so early and I went to the inside there, I thought he'd give me a little room and he shut the door. I guess it was my fault. I'll have to see where the penalty puts us. The team did a great job today. I love racing here. Anytime we don't win here, we feel disappointed. Lots of side-by-side racing today, fun racing."
Pole qualifier Ryan Briscoe, who started 11th due to the engine change penalty, finished seventh while Sato was credited with a eighth finish after the spin.
"On the last stint we had to work on the fuel mileage and on the very last lap Ryan Hunter-Reay basically took me out," Sato says. "There was not enough depth on his overtaking maneuver. He had a chance for the last few corners so it's very disappointing to finish the race this way."
While the first two races of the season had run fairly clean, the race at Long Beach saw its fair share of incidents. On lap one, front row starters Dario Franchitti and Josef Newgarden made contact, causing Newgarden to get into the wall. Newgarden was credited with a 26th place finish.
"I saw one replay and I had a feeling that was going happen," Newgarden says. "I got alongside him, gave him the inside and make slight contact, getting into the wall. It's one of those tough breaks. Maybe I could've acted differently, I'll review it and learn from it."
Franchitti came home 15th after complaining the car was lacking horsepower the majority of the race.
On lap 25, the scariest wreck of the day happened when Marco Andretti catapulted over the right rear of Graham Rahal.
"I'm good," Andretti, who was credited with finishing 25th, says. "I'm sore. I feel for the guys. They put so much into the RC car and I just feel bad. We were about to work on making some ground. There's a difference between blocking and chopping and that's chopping. I was lucky I didn't get upside down; I could've been killed."
Rahal wasn't penalized by the officials for the incident, but was also out of the race, finishing 24th.
"It's a cluster back there," Rahal says. "We were just trying to stay clean and by that time, he'd already hit me. I was just trying to stay underneath (Scott) Dixon and obviously I surprised Marco. He wasn't going to make the corner no matter what. If he stayed beside me, he was going to overshoot it. It's just frustrating. The car felt really strong."
On the same lap, Alex Tagliani suffered a flat tire and finished 21st.
"As soon as it goes green, you can pass," Tagliani says. "With being back in the pack like that, I passed (EJ) Viso and he pushed me into the wall. It's hard to get disconnected."
EJ Viso served a penalty for avoidable contact and finished 12th.
"The main problem occurred when Alex Tagliani made a very dangerous move passing two or three cars heading into the hairpin turn which is a very awkward place to overtake," Viso says of his day. "I saw what he was doing and moved out of the way, but he was sideways coming out of the hairpin and when I attempted to pass he blocked me and I hit his tire and he spun. Because of the contact I was given a drive through penalty, which I feel was very unfair."
On the last lap, an incident happened in the final corner involving Castroneves, Oriol Servia and James Jakes.
Power now leads the point standings, 24 points over teammate Castroneves heading into Brazil.