NCAT: Scott Steckly Leads Practice For Vortex Brake Pads 200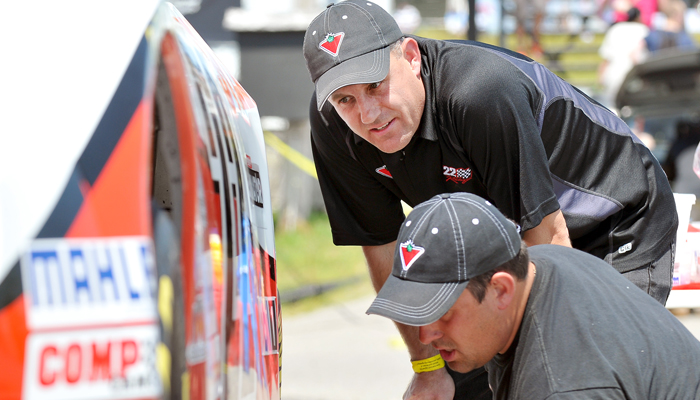 Defending series champion Scott Steckly is beginning his defence of the championship in the right fashion as he leads practice for the Vortex Brake Pads 200 at Canadian Tire Motorsports Park. He led with a lap time of one minute and 24 seconds.
Coming into this season, Steckly felt prepared and ready to become the first three-time champion in the NASCAR Canadian Tire Series.
"The offseason is definitely long, but, I think, this year we're in pretty good shape," the Milverton, Ontario native says. "In years past it always seemed no matter how much time we had, we were behind from where we wanted or needed to be. I feel we're ready to go this year. We've already tested four times on road courses."
Despite having 11 wins in the Canadian Tire Series over the years, he has yet to win a road course race. He came close last year as he finished second at both Circuit ICAR and Exhibition Place in Toronto, while finishing fifth last year at Mosport.
"We've finished second a number of times over the past several years and I would like to win one," Steckly says. "But more importantly, we just need to be ready for that part of the schedule. Most of those races are a little shorter and the margin for error is not terribly high."
Two-time race winner Andrew Ranger was second in final practice, seven tenths off of Steckly. Ranger returns for the full schedule after running some NASCAR Nationwide Series races.
J.R. Fitzpatrick was third in practice, saying on twitter that the car was too tight during practice. In his past five starts at CTMP, he has two wins while leading 91 of 257 laps.
"We're going for the win," he said back at the end of March. "That's one of my favourite tracks and to be one of the guys everybody watches every week when we go there, it's kind of a cool feeling."
Last year's Rookie of the Year Louis-Philippe Dumoulin was fourth as he enters his first season as a teammate to Steckly while Jeff Lapcevich was fifth.
In the earlier practice today, Steckly led Fitzpatrick by two thousandth of a second, followed by Ranger, last year's race winner DJ Kennington and Scott Steckly.
The NASCAR Canadian Tire Series will qualify later this afternoon at 4pm EST. The race is schedule for tomorrow afternoon at 1:30pm EST.