Jimmie Johnson continues winning streak with All-Star win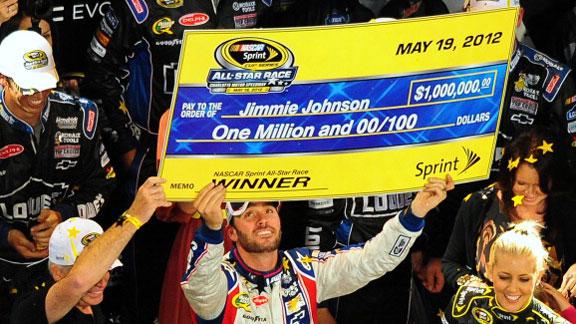 By Nathan Butler – NathanButler@OnPitRoad.com
May 20, 2012
CONCORD, N.C. – In just a matter of a few days, Jimmie Johnson not only won the Southern 500 at Darlington Raceway and watched his pit crew win the Pit Crew Challenge Thursday night, but he also went on to win the 28th running of the NASCAR Sprint Cup Series All-Star Race at Charlotte Motor Speedway.
Saturday night's victory was Johnson's third victory in 11 starts in the annual non-points event, tying both Dale Earnhardt and Jeff Gordon for most NASCAR Sprint Cup All-Star Race victories.
"It means a ton to me. Those are two of the greatest drivers that have ever been in a stockcar. I want to set my goals high and be considered one of the best to sit in a stockcar. The only way you do that is by winning races and piling up those stats," said Johnson during his post-race meeting with the media.
"I'm happy to have won tonight. I can't say enough about our team, the growth within our teammates, the confidence we have in one another, the bond that is growing between every member of the team, and all of that carries into what we do on race day and how that car performs on the track."
Team owner Rick Hendrick is no stranger when it comes to winning NASCAR's All-Star Race, winning it seven times with three different drivers (Johnson, three; Jeff Gordon, three; Terry Labonte, one).
"I'm just proud of these guys. That pit crew, that young crowd, is just pumped. I think the guys are working together. It just feels terrific. After you win the 200th, that was kind of a monkey on our back for a while."
Brad Keselowski finished second in Saturday's race, making it his best finish in four All-Star Race starts. Keselowski's previous best finish was seventh in 2010.
"Well, the new format was certainly something different, which I kind of liked, something just different," said Keselowski.
"Good racing all the way through the midsections of the race. Just when I could have gotten to Jimmie and done something with him, but he was just lightning quick."
Not only did Keselowski finish second in the All-Star Race, but the Rochester Hills, Michigan native was able to win the third segment.
"We were fortunate enough to win one of the segments, like you said, with Kasey. That was a lot of fun."
Carl Edwards, who came into Saturday's running of the All-Star race as the defending race winner, lost an engine on lap 25 of the 90-lap event.
"Something broke, but we had the car taped up and we were running as hard as we could. The water and oil were 280, 290 degrees the whole time, so we were doing all we could," said Edwards.
Biffle, who is a Roush Fenway Racing teammate of Edwards, also experienced the same issue on lap 67.
Uncharacteristic of the Roush Fenway Racing group, Edwards seems to think there isn't any worries for next week's running of the Coca-Cola 600.
"No worries with the engine. That's the hardest we've run one of these engines in a long time. I've never seen that water temp and that oil temp in a race car for that long and have it live, so I'm pretty proud of Doug [Yates] and the guys that it made it as long as it did."
However, all was not lost for Roush Fenway, as Matt Kenseth was able to bring home a third place finish, and was able to win the second segment during the showcase of NASCAR's elite.
"My restarts seemed to always look bad, but here especially, for some reason, that bottom lane would really restart hard and the outside would always spin. I was on the inside every other time and that outside pole guy would go two or three cars back. I knew it was coming, but I honestly didn't know what else to do," said Kenseth.
After winning the Sprint Showdown Race earlier in the day, Dale Earnhardt Jr. had the car to beat during the fourth segment – winning it in convincing fashion.
A.J. Allmendinger arguably had the fastest car all night long – which started in the Sprint Showdown, where Allmendinger finished second which was good enough to get him into the event.
"I can honestly say, by far, that's the most fun I've ever had in a Cup car. It was fun. We showed that we were fast and have some good notes for next week," said Allmendinger.
Kevin Harvick, Marcos Ambrose, Kurt Busch, Kasey Kahne and Ryan Newman rounded out the top-10.
The NASCAR Sprint Cup Series will stay in Charlotte , for another week, preparing for the longest race of the year – the Coca-Cola 600.
Unofficial Results: 
1. Jimmie Johnson
2. Brad Keselowski
3. Matt Kenseth
4. Kurt Busch
5. Dale Earnhardt Jr.
6. Kevin Harvick
7. Marcos Ambrose
8. Kurt Busch
9. Kasey Kahne
10. Ryan Newman
11. AJ Allmendinger
12. Regan Smith
13. Jeff Gordon
14. Clint Bowyer
15. Trevor Bayne
16. Paul Menard
17. Tony Stewart
18. David Ragan
19. Bobby Labonte
20. Denny Hamlin
21. Mark Martin
22. Greg Biffle
23. Carl Edwards