NCATS: J.R. Fitzpatrick Opens The Season With a Victory at CTMP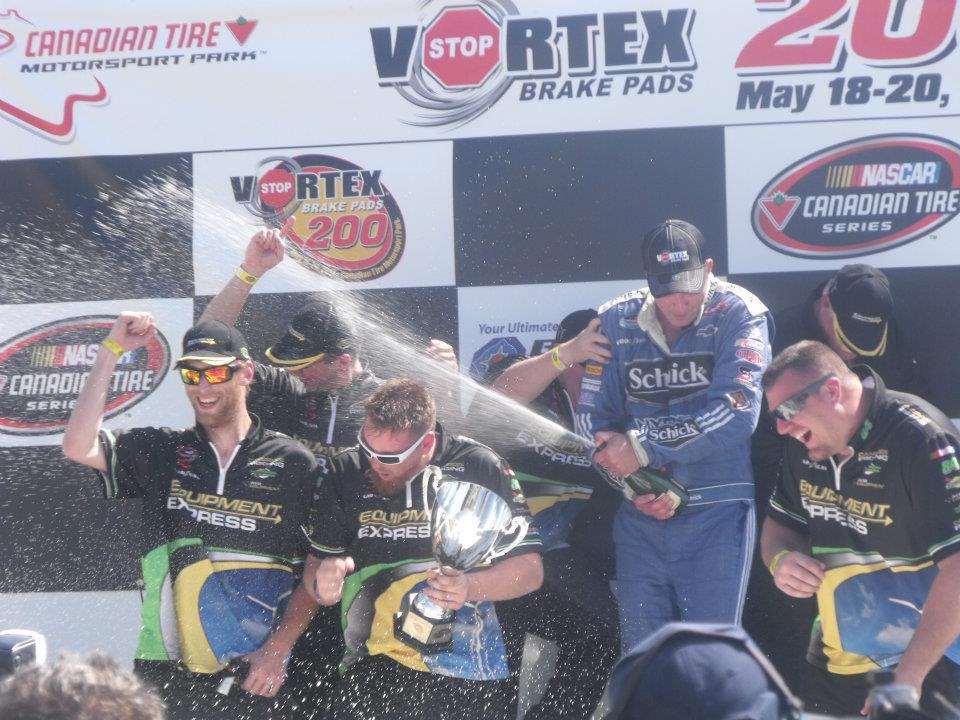 [media-credit id=3 align="alignright" width="225″]
[/media-credit]After a battle with Scott Steckly and D.J. Kennington in the last 10 laps, J.R. Fizpatrick would come home with his third win at Canadian Tire Motorsports Park in the Vortex Brake Pads 200. It'd mark his first Canadian Tire Series victory since winning on July 25, 2010.
"That must have been a great race for the fans," he says. "Great to see a full-house, full-crowd. Really great to see Canadian Tire promoting this place the way they should 'cause that was great. A great job by them so we're just going to keep on rolling, keep on getting podiums. They don't always have to be wins, but I wanted that one bad."
Fitzpatrick would start the race from the fourth position and made his way to the lead by the end of lap one around the 2.459 mile road course. He would lead all the way till lap 44, when Kennington would take the lead for the first time during the day.
Fizpatrick would put the block on Steckly and find his way back by Kennington to have the lead by the end of the next lap. He would then lead the final seven laps for his seventh NCATs win.
"Obviously, I was glad DJ was behind me those last few laps," he says. "He and I are friends so I have a lot of trust that when I block him, he won't wreck me. I'm sure Steckly is a little upset with me, but I had to do what I had to do to win that race. I'm sure (Steckly's sponsor) Canadian Tire isn't happy either, but we're a part of this Canadian Tire Series too and we want to win so that's what we're going for."
The last few years, Fizpatrick has had strong cars in the series, though has yet to capitalize and pick up the season end championship.
"A lot of that may had been my attitude; I had a really bad attitude the last couple of years," the Cambridge, Ontario native says. "That got all fine tuned over the winter with Donny being back, I think. He's not shy; he's put me in my place real quick."
He brought in series veteran Don Thomson Jr. to be his crew chief and the result has been them jelling really well, despite some tension at the beginning.
"I think it was more just younger brother-older brother; I look like him that way," Fitzpatrick says.
Last year's race winner D.J. Kennington would come in second.
"I'll take a top-three finish on a road course anytime," Kennington says. "That was really a great race. Who wouldn't like that one? It was hard-fought battle all day long."
Meanwhile, defending series champion Scott Steckly was disappointed with his third place finish.
"We should be happy with a third-place finish, but it's really not what we were looking for after having the fastest car all weekend," he says. "It was good, hard racing. We just can't seem to get a win on a road course."
Andrew Ranger finished fourth with Louis-Philippe Dumoulin fifth to round out the top five. Jason Hathaway would finish sixth, followed by Kerry Micks, Jeff Lapcevich, Robin Buck and Peter Klutt.
There'd be three cautions for 11 laps throughout the day.
The first happened on lap four for Joey McColm getting off the racing surface.
The second happened on lap 18 for debris in turn two.
The final caution came out on lap 33 for McColm getting into the turn two wall after blowing a brake line. He would be taken to hospital for precautionary evaluation, though would be checked out fine.
Steve Cote would also have a hard wreck in turn seven, though would be fine and it would only bring out a local caution.
The Vortex Brake Pads 200 will air on TSN on Sunday, May 27 at 4:30 p.m. ET and Wednesday, June 13 at 10 p.m. ET on RDS2.
The NASCAR Canadian Tire Series will be back in action on June 2-3 for the Lucas Oil Grand Prix at Circuit ICAR in Mirabel, Que.