Gary McLean Wins Inaugural OSCAAR Modified Feature at Sunset Speedway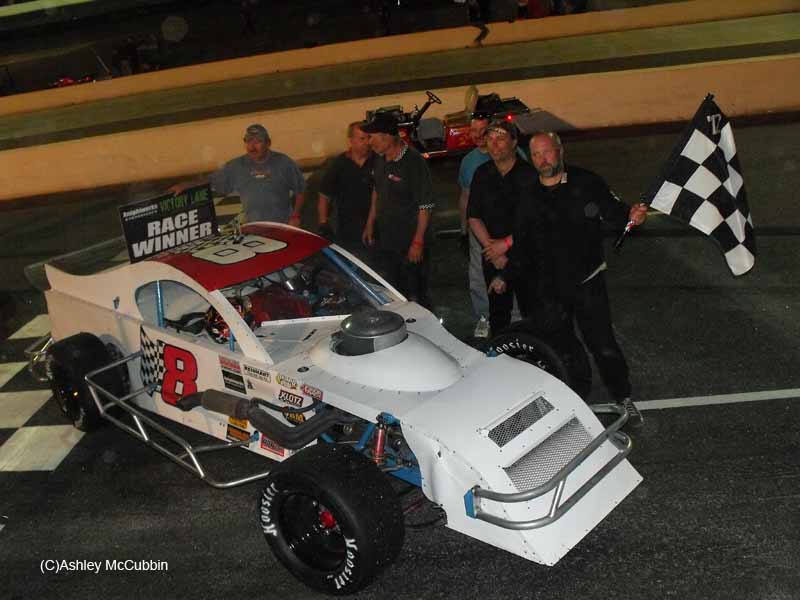 Sunday night at Sunset International Speedway in Innisfil, Ontario meant the inangural event for the OSCAAR Modifieds. The division was formed late last year as a way to sanction a touring series for modified racers in Ontario.
The first event was a success as it was welcomed a side-by-side battle between Gary McLean and Berry Newman for the lead throughout the entire night. In the end, it was veteran McLean coming home with the victory.
"That guy is a class act," McLean says of Newman. "He cut me a lot of slack, a lot of times. Realistically, he was faster than me most of the time. Just a class guy. Raced with him a lot of times, he's the guy to beat."
In the first heat, McLean didn't look to be one of the mods to watch, however with a win in the second round of qualifying, he started the race from the pole.
"We're going to have to be careful," he says. "The guys out here – we don't know them. Everybody wants to be a little timid – just don't wreck the equipment. Doesn't pay till the feature."
The modifieds have been known for putting on some of the best shows in the province of Ontario and McLean is glad that OSCAAR brought the series together.
"The OSCAAR thing is just going to bring it up to the forefront so everybody gets to see it to watch the good racing," he says. "Look at these top five cars; these guys are getting it on."
The next race for the OSCAAR Modifieds is at Kawartha Speedway on June 1st.
For more information on the OSCAAR Modifieds, check out  http://modifieds.oscaar.ca/.