Dario Franchitti Claims Pole For Milwaukee IndyFest Presented by XYQ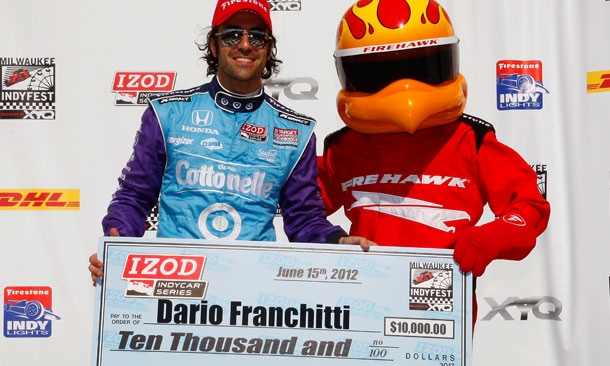 After practice, most people weren't counting Dario Franchitti as a contender for the pole as he was 18th in final practice. However, the defending race winner proved that you can never count him out as he won the pole for the second consecutive year for the Milwaukee IndyFest Presented by XYQ.
"I am very pleased as much as I am surprised," Franchitti says. "That's quite a turnaround from practice. Practice is one thing, qualifying is another and then there is the race. For as warm as it it people are fighting the car and everyone wants the same line. I expect (the race) is going to be tough, especially at the end of a full stint on those Firestone tires."
He recorded a two-lap average speed of 168.737 mph in his No. 10 Cottoneel car for his 27th career pole, tying him with Al Unser in seventh on the all-time pole list.
"It's going to be a long, exciting day and hopefully the Cottonelle car will be up front at the end of the afternoon," Franchitti adds. "This is always an interesting track and we'll see if we can get it done."
With Franchitti coming into Milwaukee sitting sixth in points, 44 points out of the lead, he could make significant points up this weekend. This weekend, the top two in points, Will Power and Franchitti's teammate Scott Dixon, will incur a 10-grid spot penalty for unapproved engine changes. Power qualified fourth while Dixon qualified 11th; they'll start the race 14th and 21st, respectively.
Power and Dixon are just two of the seven drivers affected by the rule as one of the other drivers affected was last week's race winner Justin Wilson, who scored his first oval victory at Texas Motor Speedway. He qualified second, though will now start 12th.
As a result, Ryan Hunter-Reay who qualified third, will get to move up to second, alongside Franchitti. Hunter-Reay laid down a lap of 167.911 mph behind the wheel of his No. 28 Team DHL/Sun Drop Citrus Soda car.
"The guys did a great job on the car. We were all over the sixth-gear limiter on our last lap or I think we would have been quick enough for pole," Hunter-Reay says. "We couldn't have predicted we would be that quick though; it's the quickest we've been all weekend. It's tough for the crew, especially the engineers, trying to pick which gears to go with. It's like shooting with a blindfold on sometimes."
Ruben Barrichello, who is making his debut at Milwaukee, will start fourth with Helio Castroneves in fifth. E.J. Viso will start sixth followed by Tony Kanaan in seventh.
While rookie Josef Newgarden was the quickest in the final practice session, he was only seventh quickest in qualifying, however will start 17th as a result of an unapproved engine change. Takuma Sato, Ryan Briscoe and Mike Conway were also effected by the rule.
"Knowing that we had the penalty coming here wasn't too bad because it's been a cycle this year," Newgarden comments. "Everyone's had to go through it at some point and it's just our turn. That's the whole thing with engine manufacturer competition coming back to the series. I think it's great that we have that competition because that's what racing is really about. We want to see them duking it out with each other, and I'm really proud to be backed by Honda power."