UNOH 225 at Kentucky Speedway preview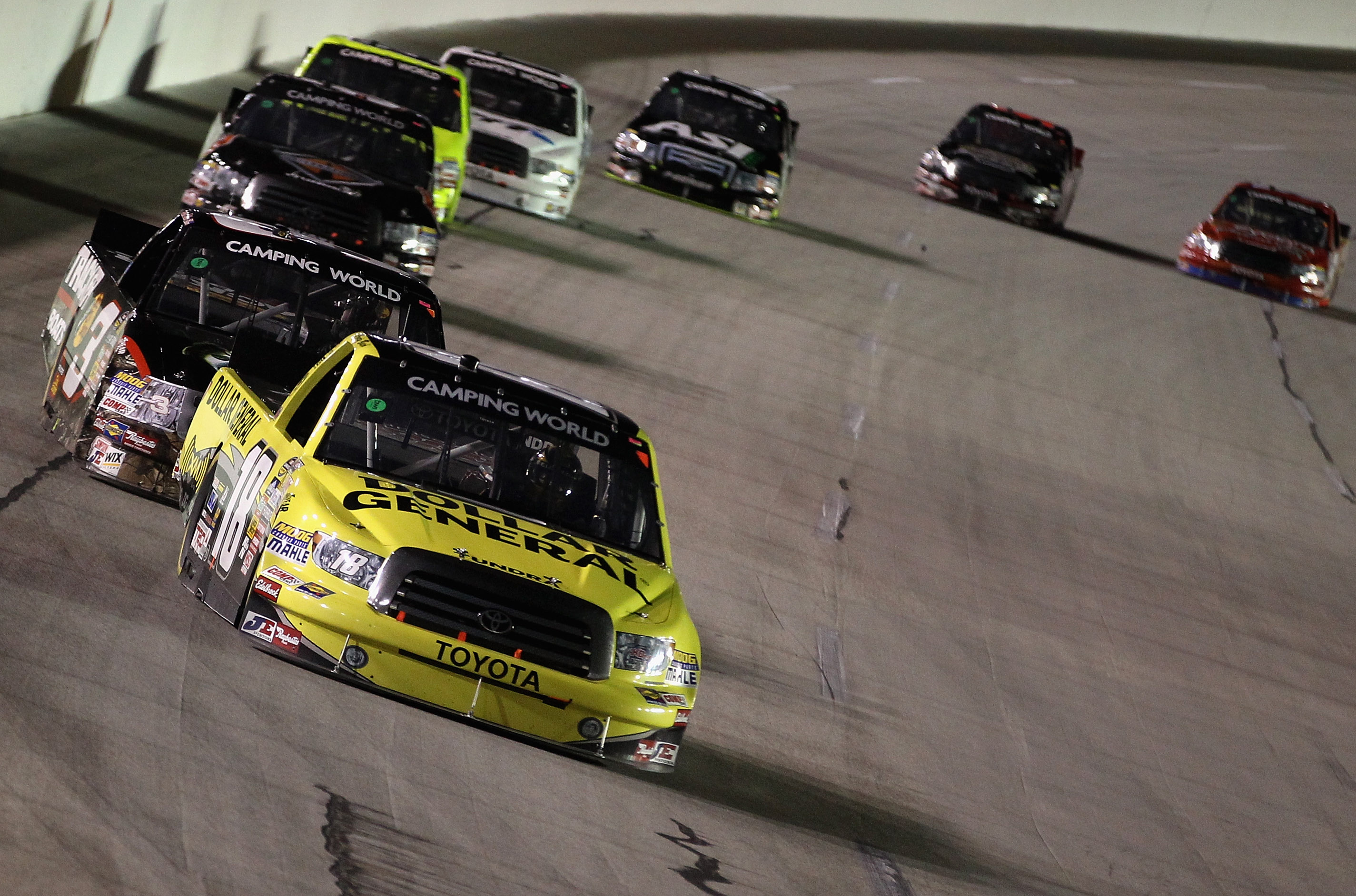 It's time  for the Camping World Truck Series to get back in action
Thursday night, the Truck Series will take the green flag in their eighth race of the season, the UNOH 225 at Kentucky Speedway.
In the previous seven races, there have been no repeat winners. That feat has never been accomplished in the 17 year history of NASCAR's Truck Series.
John King (Daytona), Kevin Harvick (Martinsville), Kasey Kahne (Rockingham), James Buescher (Kansas), Justin Lofton (Charlotte), Todd Bodine (Dover), and Johnny Sauter (Texas) have all visited victory lane in 2012.
Heading into Thursday night's race, the record breaking streak of non-repeat winners has a chance to continue.
When looking at the top-five in NCWTS points, three of the drivers have yet to win.
Timothy Peters, Ty Dillon and Parker Kligerman have been consistent so far in 2012, but have yet to break through for their first win of the season.
While Peters is a past series winner, Dillon and Kligerman are still seeking their first Truck Series victory as we head to "The Bluegrass State" this weekend.
The younger Dillon brother has been impressive in his limited amount of races in the Truck Series. With nine top-10's and two top-five's in 10 career starts, Dillon is certainly close to breaking through for a win.
Kligerman, who sits fifth in the series standings, has shown success in the past while racing at Kentucky Speedway. In two career starts at the track in the Truck Series, Kligerman has best finish of fifth in this race one year ago.
But the Truck Series isn't the only racing division Kligerman has raced in at Kentucky. A past winner in the ARCA Racing Series, Kligerman raced twice at the track while in ARCA, winning in his second try at the track.
While those three drivers have shown consistency and the readiness to win in 2012, a pair of veterans tops the list of drivers to watch heading to Kentucky.
Ron Hornaday Jr., the all-time wins leader in the 17 year history of the Truck Series, leads the way in all-time Kentucky Speedway wins with three. The most recent of those coming last October, driving for the now defunct Kevin Harvick Incorporated.
Ranking third all-time in wins at 1.5 mile tracks in the Truck Series, Todd Bodine heads into Thursday night's race with confidence.
Not only is Bodine a past winner at Kentucky, but he's riding a wave of confidence off his win earlier this month at Dover.
Among the veterans and drivers ready to win competing in Thursday night's UNOH 225, there's a highly sought after rookie making his Truck Series debut.
Kyle Larson will be driving a No.4 truck prepared by Turner Motorsports, the same team that fielded winning trucks for Buescher and Kahne this season.
Larson, a winner of the triple crown at Eldora last year, won a K&N Pro Series East race at Gresham Motorsports Park earlier this season, his first win in a full-bodied stock car.
With a mix of hungry veterans and young talent looking to grab a win, Thursday night's race should equal the quality of racing shown thus far in the Truck Series this season.
UNOH 225 Entry List 
#0 Chris Lafferty (Obregon Construction)
#01 Jake Crum (Bandit Chippers)
#2 Tim George Jr. (Applebee's)
#02 Tyler Young (RandCo)
#3 Ty Dillon (Bass Pro Shops- Tracker Boats)
#4 Kyle Larson (TBA)
#5 Paulie Harraka (TBA)
#6 Justin Lofton (CollegeComplete.com)
#07 Johnny Chapman (Wear Your Gear/ BOBBER.info)
#08 Ross Chastain (South Carolina Watermelon Association)
#09 John Wes Townley (Toyota)
#9 Ron Hornaday Jr. (Joe Denette Motorsports)
#10 Jennifer Jo Cobb (Driven2Honor.org)
#11 Todd Bodine (Red Horse Racing)
#13 Johnny Sauter (Hot Honeys-Curb Records)
#14 Brennan Newberry (IronClad Performance)
#17 Timothy Peters (Red Horse Racing)
#18 Jason Leffler (Dollar General)
#19 Brad Keselowski (TBA)
#22 Joey Coulter (Steak-umm)
#23 Jason White (GunBroker.com)
#24 Max Gresham (Made in USA Brand)
#27 C.E. Faulk (TBA)
#29 Parker Kligerman (Drawtie)
#30 Nelson Piquet Jr. (Majic Brasil)
#31 James Buescher (Exide)
#32 Miguel Paludo (Duroline)
#33 Cale Gale (Rheem)
#38 TBA (RSS Racing)
#39 Ryan Sieg (RSS Racing)
#57 Norm Benning (Norm Benning Racing)
#68 Clay Greenfield (@claygreenfield)
#74 Mike Harmon (Koma Unwind Relaxation Drink)
#75 Caleb Holman (Food Country USA)
#81 David Starr (Advocare/Zachry)
#83 B.J. McLeod (Boggy Creek Airboat Rides)
#84 Chris Fontaine (Glenden Enterprises)
#86 Scott Riggs (Clay Greenfield Motorsports)
#88 Matt Crafton (Menard's)
#92 David Reutimann (FleetHQ.COM / BTS TIRE & WHEEL/ QMI /FATBACKS TIRE)
#93 Dennis Setzer (RSS Racing)
#98 Dakoda Armstrong (Ever Fi.com)
#99 Bryan Silas (Rockingham Speedway)