Matt Crafton sets fast time in Kentucky qualifying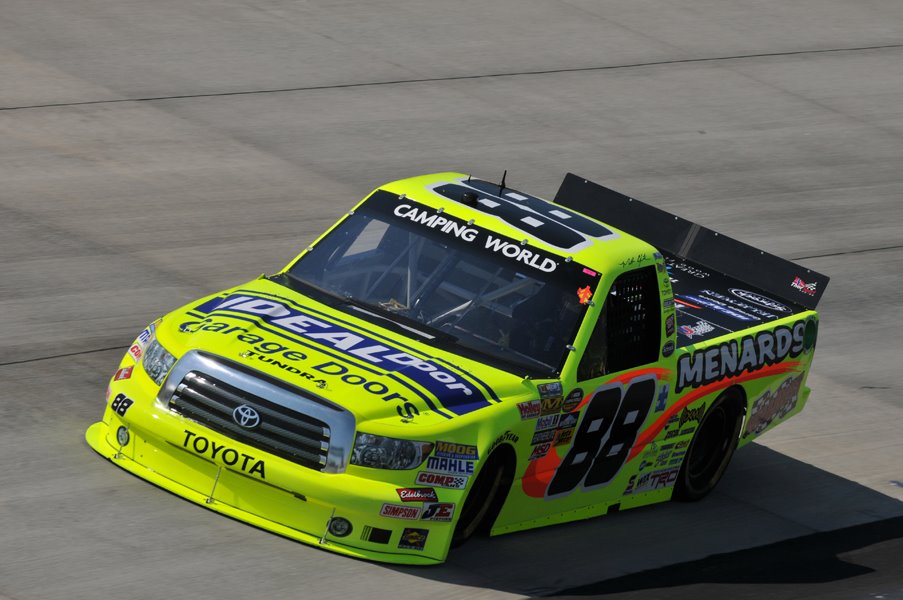 For the first time in 2012, Matt Crafton will start on the pole after taking the top spot in qualifying for tonight's UNOH 225 at Kentucky Speedway.
With a lap of 173.288 mph around the 1.5 mile track, Crafton was able to take the seventh pole of his career and first at Kentucky Speedway.
"I was very, very nervous during that qualifying lap," said Crafton to the Speed crew after his lap. "I held my breath.
"These guys did such an awesome job of getting this thing drive-able to qualify. This thing was phenomenal."
After Crafton's Thor Sport Racing teammate, Johnny Sauter, delivered a win in the last series race at Texas Motor Speedway, Crafton is looking for his first win of the year tonight at Kentucky.
"Track position is everything," he said. "Everywhere we go is just track position. That one-two finish for Thor Sport at Texas was great. I think we really got something for them tonight."
Starting alongside Crafton for tonight's race will be the most recent NASCAR Nationwide Series winner, Nelson Piquet Jr.
"I'm pumped up, the whole team's pumped up after last week," said Piquet Jr. "Hopefully we can get two in a row."
Rounding out the top-10 starting positions for tonight's race are; James Buescher, Ty Dillon, Miguel Paludo, Johnny Sauter, Timothy Peters,Parker Kligerman, Cale Gale, and Justin Lofton.
Failing to qualify were;  Norm Benning, Jennifer Jo Cobb, Johnny Chapman,and Chris Lafferty.
UNOH 225 Starting Lineup 
1: Matt Crafton
2: Nelson Piquet Jr.
3: James Buescher
4: Ty Dillon
5: Miguel Paludo
6: Johnny Sauter
7: Timothy Peters
8: Parker Kligerman
9: Cale Gale
10: Justin Lofton
11: Ron Hornaday Jr.
12: Jason White
13: Todd Bodine
14: Ross Chastain
15: Tim George Jr.
16: Joey Coulter
17: Brad Keselowski
18: Jason Leffler
19: Max Gresham
20: Jake Crum
21: Clay Greenfield
22: John Wes Townley
23: Paulie Harraka
24: David Starr
25: Kyle Larson
26: Dakoda Armstrong
27: Dennis Setzer
28: Bryan Silas
29: Ryan Sieg
30: Jeff Agnew
31: Brennan Newberry
32: Scott Riggs
33: Caleb Holman
34: Tyler Young
35: CE Faulk
36: Chris Fontaine