James Buescher dominates for Kentucky win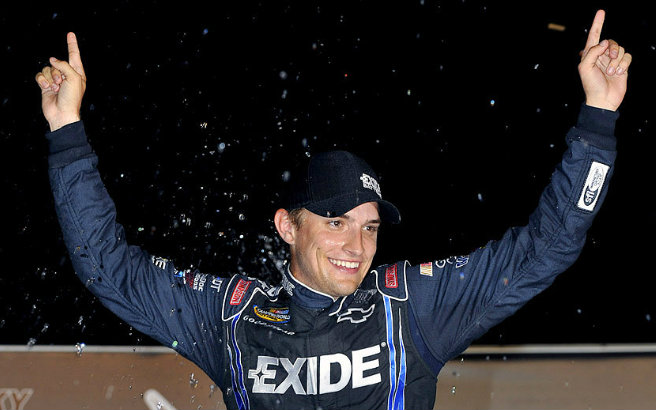 James Buescher had the field covered at Kentucky Speedway Thursday night.
After starting the night from the third position, Buescher was able to take the lead on an early race restart. From there, the No.31 truck drove off into the Kentucky darkness.
As battles ensued behind him, Buescher began to stretch his lead further and further away from the pack, never being challenged in the final 30 laps of the race.
Leading 119 of the 150 lap race, Buescher picked up his second win of the 2012 season, breaking the seven-race streak of the Truck Series seeing a different driver in victory lane.
"Really happy to close off the deal today," said Buescher in victory lane. "Closing laps of the race I was just thinking, 'What was going to go wrong" because something normally does."
While Buescher's truck was the dominant one on the night, he wasn't without a challenge late in the going.
On the race's final restart, Buescher was lined-up third, behind Ty Dillon and Timothy Peters. By the time Buescher reached turn three, he was back to the race lead and would hold the top spot until the checkered flag.
"Restarts are key. Everyone's bunched up, might as well take advantage. That's the way I look at at," he said.
"When were on the bottom restarting third, we were able to get to the lead both times. That's something I've worked on to be pretty good at. It's the best opportunity to pass in my eyes."
While Buescher's series standings position of fourth may not have changed after the win, the gap from first to fourth has been reduced from over 20 points to nine.
After a mid-race crash with Todd Bodine and Nelson Piquet Jr., Justin Lofton lost his points advantage that he gained after his win at the Charlotte Motor Speedway last month after finishing the night a disappointing fourteenth place finish.
Coming out of the night with the points leader is Peters, who finished the night inside the top-five for the fifth time this season. Peters holds a four point lead over Lofton.
While Buescher dominated, his Turner Motorsports teammate Kyle Larson finished inside the top-10 in his first career Camping World Truck Series start.
"To get a good top-10 in my first truck start with really no laps before today is really satisfying," said Larson. "Trent Owens[crew chief] gave my a great truck tonight. Got to thank everyone from Tuner Motorsports and Chip Ganassi for giving me the opportunity to run tonight.
"Hopefully we can get some more races throughout the year."
Next up for the Camping World Truck Series is the Iowa Speedway on July 14th.
UNOH 225 unofficial results 
1: James Buescher
2: Brad Keselowski
3: Ty Dillon
4: Matt Crafton
5: Timothy Peters
6: Johnny Sauter
7: Joey Coulter
8: Jason Leffler
9: Ron Hornaday Jr.
10: Kyle Larson
11: Jason White
12: Miguel Paludo
13: Dakoda Armstrong
14: Justin Lofton
15: David Starr
16: Ryan Sieg
17: Paulie Harraka
18: Clay Greenfield
19: Parker Kligerman
20: Chris Fontaine
21: Caleb Holman
22: Brennan Newberry
23: Tyler Young
2: Tim George Jr.
25: Cale Gale
26: Bryan Silas
27: Jeff Agnew
28: Todd Bodine
29: Nelson Piquet Jr.
30: Max Gresham
31: Jake Crum
32: John Wes Townley
33: Ross Chastain
34: CE Faulk
35: Dennis Setzer
36: Scott Riggs