Kurt Busch tackles a wild Daytona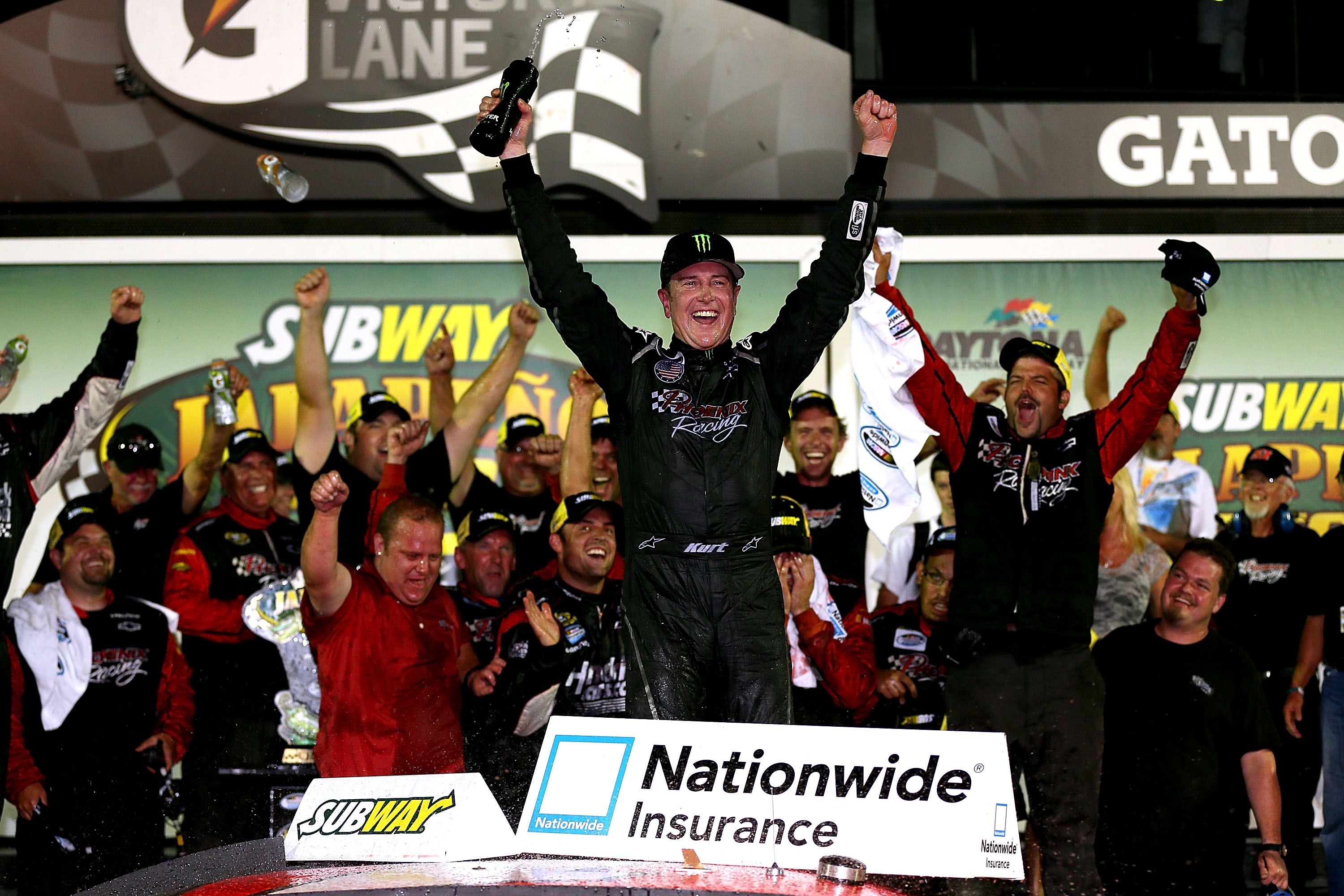 There's nothing like Daytona under the lights.
Sparks flying mixed with three-wide, bumper-to-bumper action, it provides for some of the most exciting racing on the entire NASCAR calender.
After the February Nationwide Series race at Daytona left jaws dropped with a 10-car pileup coming to the finish, some thought they'd seen it all.
That was until the Nationwide cars took back to the high banks of Daytona on Friday night for the Subway Jalapeno 250.
With three and four-wide racing starting the race off, it looked as though someone left the bank vault open with lead changes coming every-other-lap.
It didn't last. It couldn't last.
A 16-car pileup in turn two on lap 67 collected just about every pre-race favorite, leaving for a wide-open 28-lap dash to the finish when the race restarted.
The wrecking was nowhere near being over, though.
A pair of crashes both on the front and backside of the track thinned out the field even more so, leaving about 10 to 15 cars able to contend for the win.
With the finish heating up, you would have suspected a spin or a car knocking down the wall to bring out the final caution of the night. However, that honor would belong to every NASCAR fan's favorite item, debris.
On the green-white-checker restart, Kurt Busch, who was driving a mangled race car after being caught up in the 16-car pileup, surged to the race lead with help from Ricky Stenhouse Jr.
As the two pulled away, the tandem of Austin Dillon and Michael Annett broke free of the pack and charged towards the two leaders.
With the checkered flag in sight, Busch held off Stenhouse Jr. and the wrecking behind him to win Friday's Subway Jalapeno 250 at Daytona International Speedway.
"This is unbelievable," said an elated Busch in victory lane. "Passion and heart. That's all I can give right now. To do this for James Finch…this is awesome.
"To be an underfunded team and come out here four times a year, it's amazing what we can do as a little team and persevere."
Busch, who has been known as one of the best restrictor plate drivers in all of NASCAR, picked up the win in only his second Nationwide Series start at Daytona (first came in February, 2012).
"It means a lot to me, but it means more to these guys. It means a lot to deliver in one of the few races we have with this team.
"I couldn't be more proud of this team effort tonight.
"There's time when you get caught up in marketing or PR (public relations) or anything else that goes along with it. But you got to do all the steps in this day in age. I keep saying I grew up 30 years too late. Back in the 80's, that's what this team reminds me of."
With 42 lead changes and 16 different leaders, Friday night's race broke Daytona track records for the Nationwide Series.
After being caught up in the mid-race wreck, Elliott Sadler escapes Daytona with the series points lead, holding a two point advantage over Austin Dillon heading into next Saturday's race at New Hampshire Motor Speedway.
Subway Jalapeno 250 Unofficial Results: 
1: Kurt Busch
2: Ricky Stenhouse Jr.
3: Michael Annett
4: Austin Dillon
5: Joey Logano
6: Elliott Sadler
7: Justin Allgaier
8: Mike Bliss
9: Timmy Hill
10: Sam Hornish Jr.
11: Jeremy Clements
12: Johanna Long
13: Danny Efland
14: Jason Bowles
15: Tayler Malsam
16: Josh Richards
17: Robert Richardson Jr.
18: Eric McClure
19: Blake Koch
20: Bryan Silas
21: Erik Darnell
22: Joe Nemechek
23: Kyle Busch
24: Brad Sweet
25: John Wes Townley
26: Clint Bowyer
27: Casey Roderick
28: Kevin Harvick
29: Cole Whitt
30: Jefferey Earnhardt
31: Danica Patrick
32: Brian Scott
33: Bobby Santos III
34: James Buescher
35: Brad Keselowski
36: Mike Wallace
37: Joey Gase
38:Mike Harmon
39: TJ Bell
40: Chase Miller
41: Josh Wise
42: Stephen Leicht
43: Jeff Green