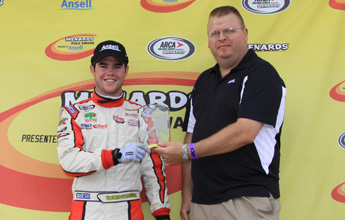 Fresh off his first career victory at Pocono Raceway, Chad Hackenbracht picked up his second career Menards Pole Award presented by Ansell at Berlin Raceway.
He lapped the 0.438 mile oval in 16.908 seconds behind the wheel of his No. 58 CGH Motorsports Chevrolet. It marks his first on a oval and second pole of the season after winning a pole earlier this year on the New Jersey Motorsports Park road course.
"I didn't know that we had a car to do it," Hackenbracht says. "We were pretty quick in practice but (Erik Jones) was really fast, so it sort of surprised me a little bit. I didn't feel like the lap was very fast but I can't thank everybody enough for putting together a great car for me."
Qualifying well is a surprise for Hackenbracht as he is not used to qualifying well.
"My whole career, I've never been able to qualify to save my life so getting the pole at Jersey really surprised me," he says. "To get a pole here, I'm starting to think I'm getting the hang of qualifying. It's putting the whole package together. We know we can race well and we can qualify well and I hope we can put them both together."
Hackenbracht was the only drive to break the 17-second mark and is hoping to improve on his fifth-place finish that he scored last year after spinning across the start-finish line.
"We got some momentum off of last week and we'll see how we do," the 20-year-old says. "We've got a really good race car so hopefully we can get it done."
Hackenbracht was second in practice earlier in the day. Erik Jones, who led both practices earlier in the day, qualified in the fifth position.
Mason Mitchell would qualify second in only his third ARCA start. He finished 10th and fifth in his first two starts. Chris Buescher and Frank Kimmel were third and fourth.
Brennan Poole, Clint King, Brian Campbell, Justin Lloyd, and Chase Elliott will fill the sixth through 10th starting positions in tonight's race.
The Berlin ARCA 200 will begin at 8:30 p.m., with live timing and scoring and live audio coverage available at ARCARacing.com.
POS
NO
DRIVER/HOMETOWN
TEAM & CAR
TIME
SPEED
1
58
Chad Hackenbracht/New Philadelphia OH
CGH Motorsports Chevrolet
16.908
93.258
2
6
Mason Mitchell/W. Des Moines IA
J&S Ag Services-Make A Wish Chevrolet
17.089
92.270
3
17
Chris Buescher/Prosper TX
Roulo Brothers Racing Ford
17.116
92.124
4
44
Frank Kimmel/Clarksville IN
Ansell-Menards Toyota
17.122
92.092
5
55
Erik Jones/Byron MI
Paragon Corvette Reproductions-CG Financial Chevy
17.153
91.926
6
25
Brennan Poole/The Woodlands TX
Adcetera.com-Midas-Venturini Motorsports Chevrolet
17.189
91.733
7
15
Clint King/Denton NC
Speedrack Products Group Toyota
17.226
91.536
8
68
Brian Campbell/Wyoming MI
Hantz Group Chevrolet
17.257
91.372
9
40
Justin Lloyd/Raleigh NC
Carter 2 Motorsports Dodge
17.277
91.266
10
9
Chase Elliott/Dawsonville GA
Aaron's Dream Machine-Hendrickcars.com Chevrolet
17.283
91.234
11
32
Mason Mingus/Brentwood TN
811 Call Before You Dig Chevrolet
17.298
91.155
12
16
Matt Lofton/Roxboro NC
Strutmasters.com Chevrolet
17.299
91.150
13
35
Michael Simko/Clarkston MI
Venturini Motorsports Chevrolet
17.346
90.903
14
22
Alex Bowman/Tucson AZ
St. Jude Children's Research Hospital Dodge
17.347
90.898
15
23
Spencer Gallagher/Las Vegas NV
Allegiant Air Chevrolet
17.367
90.793
16
66
Nelson Canache/Caracas Venezuela
Venezuela Tourism Toyota
17.378
90.735
17
29
Brian Keselowski/Rochester Hills MI
Diversified Documents Dodge
17.405
90.595
18
10
Ricky Ehrgott/Brandon FL
Fast Track Driving School Blue Collar Chevrolet
17.663
89.271
19
02
Josh Williams/Port Charlotte FL
Southwest Florida Cable Construction Ford
17.763
88.769
20
04
Darren Hagen/Indianapolis IN
Carter 2 Motorsports Dodge
17.765
88.759
21
2
Ron Cox/Soddy Daisy TN
Hixson Construction Chevrolet
17.970
87.746
22
3
Tim Walter/Valparaiso IN
MPBToday.com/racersfoot Dodge
19.013
82.933
23
0
James Swanson/San Antonio TX
Wayne Peterson Racing Ford
18.299
86.169
24
34
Darrell Basham/Henryville IN
Darrell Basham Racing Chevrolet
18.914
83.367
25
06
Tommy O'Leary/Cygnet OH
GreatRailing.com Ford
19.081
82.637
26
48
James Hylton/Inman SC
Radon.com Ford
20.049
78.647
27
52
Tom Hessert/Cherry Hill NJ
Federated Auto Parts Chevrolet
Provisional
28
99
Mike Young/Toledo OH
Roulo Brothers Racing Ford
Provisional
29
69
Will Kimmel/Sellersburg IN
Tilted Kilt Ford
Provisional