Race day preview: Finger Lakes 355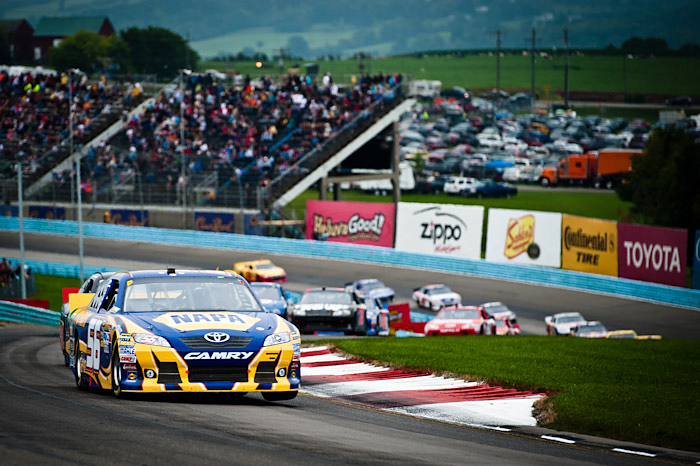 Friday,August 10,2012: For the final time this season, it's time to go road racing, this time at the famed Watkins Glen International for the Finger Lakes 355.
When you hear "Finger Lakes", you think of a beautiful place to take  family vacation. This weekend didn't start anything near the word "beautiful" as rain plagued much of Friday, which was two hold two Sprint Cup practice sessions and one Nationwide Series practice.
As the rain lifted, the Sprint Cup cars had a chance to get an hour of practice after the Nationwide Series practice session.
Brad Keselowski jumped to the top of the time sheets early, with Marcos Ambrose, Tony Stewart and others close behind in speed.
An incident in the closing moments of the session when the No.30 Toyota of Patrick Long lost an engine in turn two, spraying fluid on the racing surface. Denny Hamlin, who wasn't far behind the Long car, slid in the fluid and into the wall as Jeff Burton's Chevrolet hit the back of Hamlin's Toyota.
All three drivers went to backup cars for the rest of the weekend.
As the session came to a close, the No.39 of Ryan Newman jumped to the top of the practice sheet, but it was short lived. Before NASCAR stopped practice, Kurt Busch was able to set the fast time in his Chevrolet.
Top-10 in Sprint Cup Practice Friday: 
1: Kurt Busch
2: Ryan Newman
3: Brad Keselowski
4: Tony Stewart
5: Jeff Gordon
6: Carl Edwards
7: Marcos Ambrose
8: Jimmie Johnson
9: Kyle Busch
10: Greg Biffle
Saturday,August 11,2012: NASCAR added an extra practice session for the Sprint Cup Series Saturday morning at 8 a.m. after rain canceled the first practice session on Friday.
With this being the last time drivers and teams would be able to fine-tune their setups for the race, many teams opted to run near 20 laps in the session.
This was also the last tune-up before qualifying which was to be held later in the morning.
Early on, Marcos Ambrose set the top mark. But it was short lived when the Michael Waltrip Racing Toyota of Clint Bowyer, who won the most recent road course race in Sonoma,Cali. back in June, put his number atop the board.
When the session was over, it was the 2008 winner at Watkins Glen, Kyle Busch, placing the fastest lap in preparation for the race and qualifying.
Top-10 in Final Sprint Cup Practice: 
1: Kyle Busch
2: Juan Pablo Montoya
3: Carl Edwards
4: Marcos Ambrose
5: Martin Truex Jr.
6: Jeff Gordon
7: Jimmie Johnson
8: Brad Keselowski
9: Kevin Harvick
10: Greg Biffle
For the second consecutive week, Juan Pablo Montoya was able to take the top-spot in qualifying after winning the pole for Sunday's Finger Lakes 355.
Montoya's lap in 69.438 seconds seconds at 127.020 mph broke the track record for Sprint Cup Series cars which was set by Kyle Busch, who will start alongside Montoya for Sunday's race, one year ago.
"I think the lap was a really good lap.  You always make mistakes here and there.  It's never perfect.  You always think I went too far here, I went too little there, I lost it there, but I think everybody does.  It's about how well you can put it all together.  I thought we did a pretty good job of that," said Montoya after his qualifying lap.
Only 43 cars attempted to qualify for Sunday's race at Watkins Glen, so no drivers missed the starting field.
Finger Lakes 355 Starting Lineup: 
1: Juan Pablo Montoya
2: Kyle Busch
3: Jimmie Johnson
4: Brad Keselowski
5: Marcos Ambrose
6: Ryan Newman
7: Tony Stewart
8: Clint Bowyer
9: Martin Truex Jr.
10: Jamie McMurray
11: Michael McDowell
12: Jeff Gordon
13: Regan Smith
14: Joey Logano
15: Greg Biffle
16: Dale Earnhardt Jr.
17: Sam Hornish Jr.
18: Carl Edwards
19: Kevin Harvick
20: Kasey Kahne
21: Scott Speed
22: Paul Menard
23: Denny Hamlin
24: Matt Kenseth
25: Boris Said
26: Bobby Labonte
27: Kurt Busch
28: Jeff Burton
29: Aric Almirola
30: Casey Mears
31: Dave Blaney
32: David Ragan
33: Brian Vickers
34: David Gilliland
35: Landon Cassill
36: Joe Nemechek
37 JJ Yeley
38: Josh Wise
39: Stephen Leicht
40: Chris Cook
41 Jason Leffler
42: Travis Kvapil
43: Patrick Long