Pure Michigan 400 preview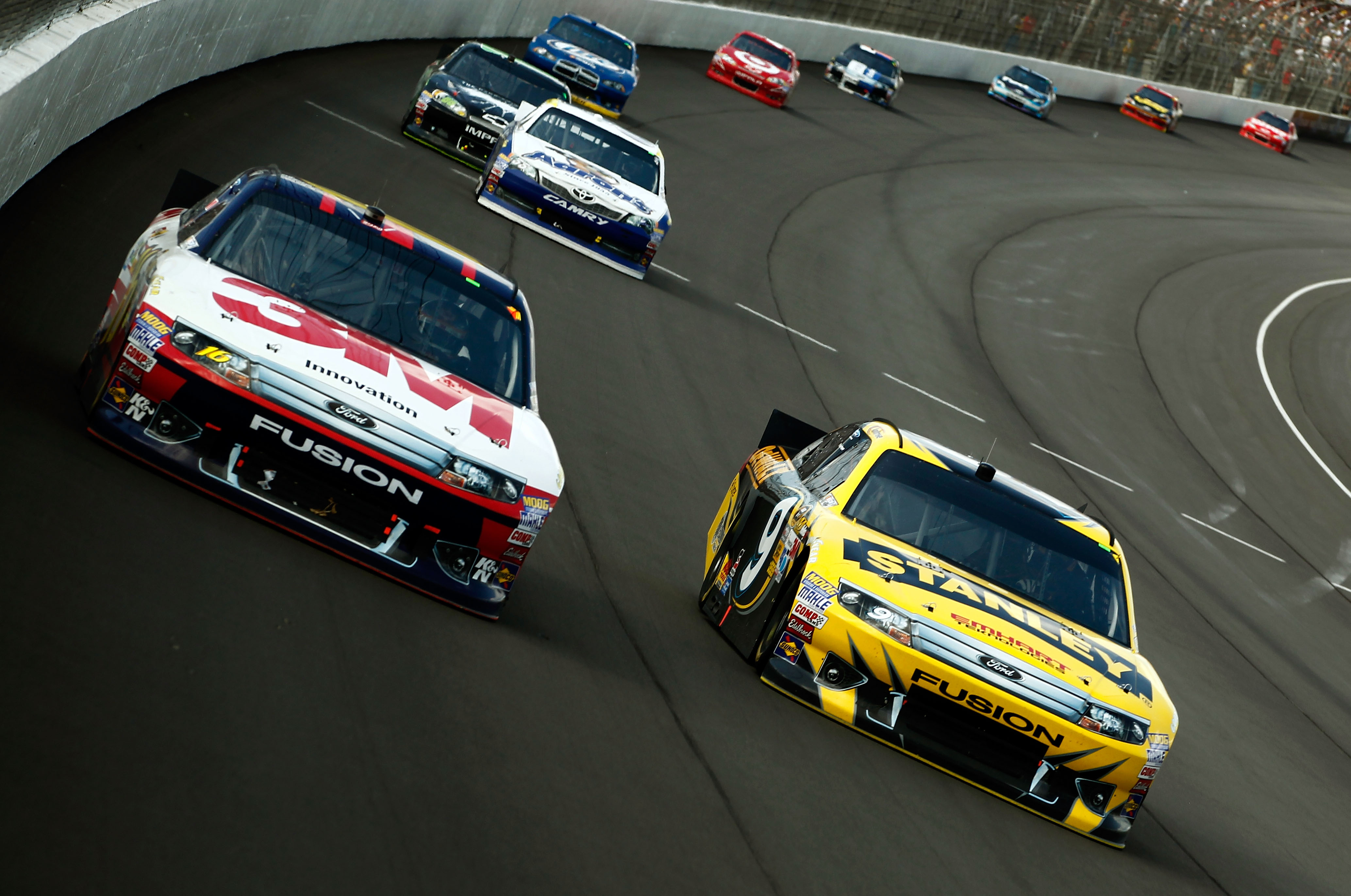 NASCAR's second trip to the Irish Hills of Michigan has a different challenge than when the Sprint Cup Series visited the two-mile oval back in June—or maybe that same one still exists.
In the June race, issues with the tires blistering from the record speeds attained in practice and qualifying forced Goodyear into a tire-swap before Sunday's 400-mile race.
For this weekend, Goodyear isn't bringing the same tire they raced on in June. Instead, the tested a different tire following the Brickyard 400 in July for this weekend.
In a nut shell, that means this weekend is a mystery.
No problems were reported during of after the tire test by Goodyear or the drivers, but there's no telling how the tire will react under race conditions which will be drastically cooler than what the tire was tested on in July.
Tires will be one of the many story lines to watch this weekend as the race to the Chase makes a stop at Michigan International Speedway.
Story Lines to Watch: 
—Johnson, Kenseth, Biffle and Earnhardt Jr. all can clinch their spots in the Chase on Sunday. For Johnson, it's as simple as leaving Sunday's race with a 400 point advantage over eleventh place. But, with a win, he would be locked into the Chase regardless. That 145-point mark holds true for Biffle, Kenseth and Earnhardt Jr. on Sunday as well.
—Dale Earnhardt Jr. is looking for the season sweep at the track that broke his four year winless streak earlier this season. The driver who's fourth in points heading into Sunday's race is looking for his second win of 2012 and his third at MIS.
—Is this the weekend Carl Edwards goes back to victory lane? Since winning at Las Vegas last season, the No.99 hasn't returned to the winner's circle. That's a span of 55 races where Edwards and his Roush Fenway Racing team haven't won. In 16 career starts at MIS, Edwards has two wins, nine top-five's and 12 top-10 finishes at the two-mile oval.
Fantasy Racing Outlook: 
"A" Drivers: Carl Edwards, Matt Kenseth
"B" Drivers: Dale Earnhardt Jr., Greg Biffle, Ryan Newman, Kasey Kahne
"C" Drivers: Sam Hornish Jr., Bobby Labonte
Recent Pure Michigan 400 winners: 
2011: Kyle Busch
2010: Kevin Harvick
2009: Brian Vickers
2008: Carl Edwards
2007: Kurt Busch
2006: Matt Kenseth
2005: Jeremy Mayfield
Michigan International Speedway Fast-Facts: 
Most Wins: 9 – David Pearson


Most Top 10s: 31 – Mark Martin

Most Lead Changes: 65 – 8/16/81

Fewest Lead Changes: 7 – 8/12/84

Most Cautions: 10 – 8/20/06

Fewest Cautions: 0 – 3 times, most recently 6/13/99

Most Wins by a Manufacturer: 31 – Ford
Pure Michigan 400 Entry List: 
#1 Jamie McMurray (Bass Pro Shops)
#2 Brad Keselowski (Miller Lite)
#5 Kasey Kahne (Farmer's Insurance)
#9 Marcos Ambrose (Stanley)
#10 David Reutimann (Tommy Baldwin Racing)
#11 Denny Hamlin (FedEx Office)
#13 Casey Mears (Geico)
#14 Tony Stewart (Mobil 1 / Office Depot)
#15 Clint Bowyer (5 Hour Energy)
#16 Greg Biffle (3M)
#17 Matt Kenseth (Fifth Third Bank)
#18 Kyle Busch (Interstate Batteries)
#19 Jason Leffler (Humphrey Smith Racing)
#20 Joey Logano (Home Depot)
#21 Trevor Bayne (Motorcraft / Quick Lane)
#22 Sam Hornish Jr. (Shell Pennzoil)
#23 Scott Riggs (North Texas Pipe)
#24 Jeff Gordon (Drive to End Hunger)
#26 Josh Wise (MDS Transport)
#27 Paul Menard (Menards / Pittsburgh Paint)
#29 Kevin Harvick (Jimmy John's)
#30 David Stremme (Inception Motorsports)
#31 Jeff Burton (Wheaties)
#32 TJ Bell (TBA)
#33 Stephen Leicht (LittleJoesAutos.com)
#34 David Ragan (Long John Silver's)
#36 Dave Blaney (Tommy Baldwin Racing)
#7 JJ Yeley (TBA)
#38 David Gilliland (Taco Bell)
#39 Ryan Newman (WIX Filters)
#42 Juan Pablo Montoya (Target)
#43 Aric Almirola (Eckrich)
#47 Bobby Labonte (Clorox)
#48 Jimmie Johnson (Lowe's)
#51 Kurt Busch (HendrickCars.com)
#55 Mark Martin (Aaron's)
#56 Martin Truex Jr. (NAPA Auto Parts)
#78 Regan Smith (Furniture Row)
#83 Landon Cassill (Burger King)
#87 Joe Nemechek (AM FM Energy)
#88 Dale Earnhardt Jr. (National Guard / Diet Mtn Dew)
#91 Reed Sorenson (Humphrey Smith Racing)
#93 Travis Kvapil (Burger King)
#98 Mike Skinner (Phil Parsons Racing)
#99 Carl Edwards (Best Buy Geek Squad)