Earnhardt Jr. tops Richmond qualifying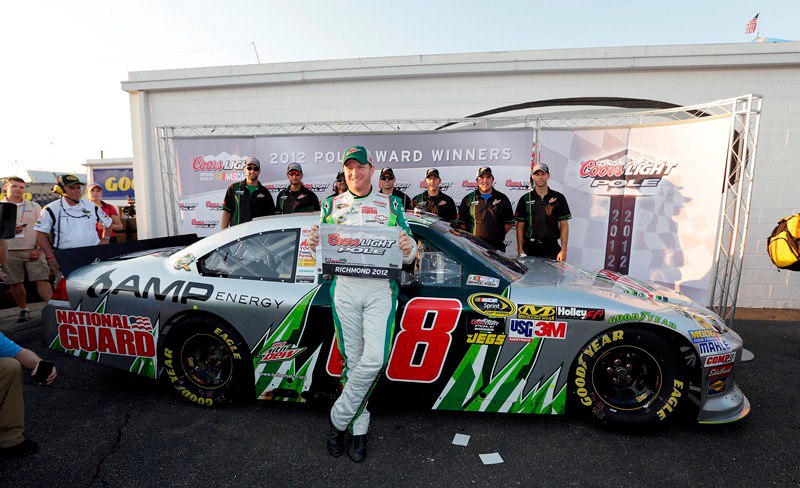 Dale Earnhardt Jr. hadn't won a Sprint Cup pole since the 2011 Daytona 500. That day, he didn't take the green flag from the front row after a practice crash sent him to the back of the field for the start.
Now Earnhardt Jr. has another pole after taking the top spot in qualifying for Saturday night's Federated Auto Parts 400 at Richmond International Raceway.
Being the second-to-last car to take him in Friday's qualifying, Earnhardt Jr. knocked off his Hendrick Motorsports teammate, Jeff Gordon, for the pole position with a lap averaging 127.023 mph.
"Over the last 16 months, this team has worked real hard to try to improve our qualifying," said Earnhardt Jr. "We've made good strides this year and it's really kind of gives us a good feeling, gives us a lot of confidence going into the race."
It's the 11th Sprint Cup pole for the driver who currently sits second in Sprint Cup points and his first career pole at Richmond International Raceway.
"I love running at Richmond. We just worked so hard to try and improve on qualifying, it's a good deal for us," Earnhardt Jr. continued.
Earnhardt Jr., who is a three-time winner at RIR, hasn't won at the track since 2006 when he drove for Dale Earnhardt Incorporated.
Despite that, Earnhardt Jr. still loves racing at Richmond.
"It's a lot like Myrtle Beach (South Carolina) which is a track I ran on for years trying to learn how to drive cars and this place is really similar," said Earnhardt Jr. on why he loves racing at RIR.
"I came here in '98/'99 and had a lot of success in the Nationwide Series and won some races in the Cup car as well.
"It's just a track I feel really well and enjoy getting around."
After holding the provisional pole for the majority of the qualifying session, Regan Smith will start the race from the third position, his best start of the 2012 season.
45 cars attempted to make the starting field for Saturday night's race. That means two cars were forced to head home.
JJ Yeley and Mark Green were the two drivers that were not able to qualify their way into the field based on their speed.
Federated Auto Parts 400 Starting Lineup
1: Dale Earnhardt Jr.
2: Jeff Gordon
3: Regan Smith
4: Clint Bowyer
5: Jimmie Johnson
6: Mark Martin
7: Denny Hamlin
8: Joey Logano
9: Martin Truex Jr.
10: Brad Keselowski
11: Sam Hornish Jr.
12: Landon Cassill
13: Kevin Harvick
14: Ryan Newman
15: Kyle Busch
16: Carl Edwards
17: Matt Kenseth
18: Aric Almirola
19: Michael McDowell
20: Jeff Burton
21: Kasey Kahne
22: Marcos Amrbose
23: Greg Biffle
24: Juan Pablo Montoya
25: Paul Menard
26: Jamie McMurray
27: David Ragan
28: Tony Stewart
29: Bobby Labonte
30: Kurt Busch
31: David Stremme
32: Travis Kvapil
33: Dave Blaney
34: Joe Nemechek
35: David Gilliland
36: Stephen Leicht
37: David Reuitmann
38: Scott Riggs
39: Ken Schrader
40: Mike Bliss
41: Josh Wise
42: Casey Mears
43: Reed Sorenson