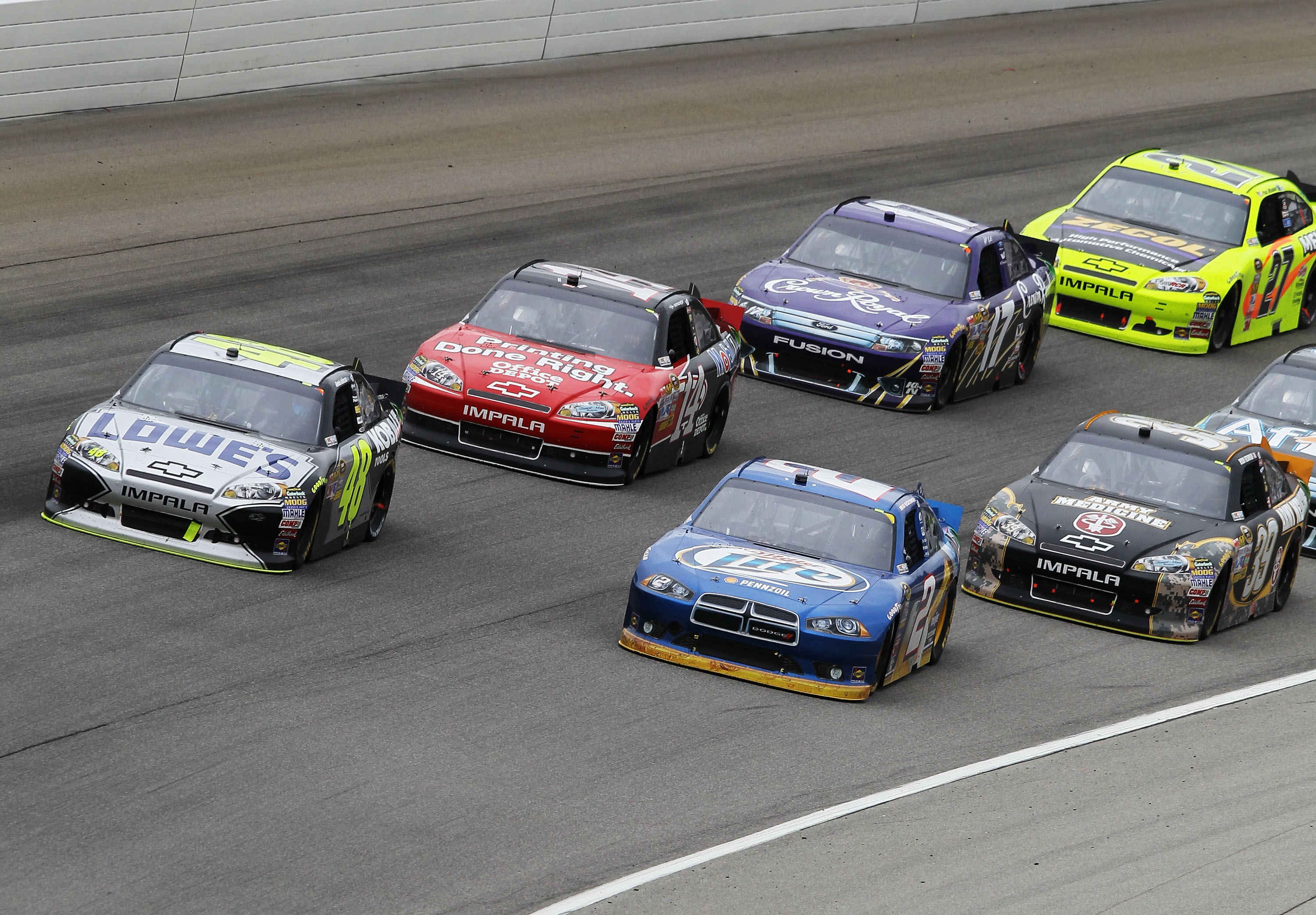 Race Information: 
Date: Sunday, September 16, 2012
Time: 2 p.m. ET
Track: Chicagoland Speedway (Joliet, IL)
Laps: 267  ; Miles: 400.5
Broadcast TV: ESPN
Broadcast Radio: Motor Racing Newtwork/ Sirius XM Channel 90
Chicagoland Speedway Track Facts:
Track Length: 1.5 Miles (267 laps = 400 miles)
Race Length: 400 Miles
Banking in Turns: 18 degrees
Banking on tri-oval: 11 degrees
Banking on Backstretch: 5 degrees
Front stretch: 2,400 feet
Backstretch: 1,700 feet
Qualifying: Jimmie Johnson, Chevrolet, 188.147 mph (28.701 sec.); July 8, 2005
Race: David Reutimann, Toyota, 145.138 mph (2:45:34); July 10, 201-
Notes and Story Lines: 
– The 2012 Chase for the Sprint Cup gets underway Sunday at Chicagoland Speedway. This is the second time Chicagoland has opened up the Chase.
-Denny Hamlin is currently the points leader after the Chase re-seeding by winning a series best four races in the first 26. Hamlin has never won at Chicagoland Speedway, his best finish is fourth which was in 2009.
– Tony Stewart looks to add to his win total at Chicagoland Speedway while at the same time going for back-to-back wins at the track, a feat that hasn't been accomplished since Kevin Harvick won the first two races at the track in 2001 and 2002.
-Although many have Jimmie Johnson as the favorite to bring home his sixth Sprint Cup title, he has never won at Chicagoland in the Cup Series. Johnson has however the best average finish at the track (4.6) where he recorded his one and only Nationwide Series win in 2001.
-After racing his way into the Chase via the final wildcard birth, Jeff Gordon looks to start off the 2012 Chase by picking up his second win at Chicagoland and continuing his momentum which includes back-to-back second place finishes at Atlanta and Richmond.
GEICO 400 By the Numbers: 
Most Wins: 3, Tony Stewart (2004,2007,2011)
Most Poles: 1 – 10 drivers
Todd Bodine (2001)
Ryan Newman (2002)
Tony Stewart (2003)
Jeff Gordon (2004)
Jimmie Johnson (2005)
Jeff Burton (2006)
Casey Mears (2007)
Brian Vickers (2009)
Jamie McMurray (2010)
Matt Kenseth (2011)
Most Top Fives: 8 – Tony Stewart
Most Top 10s: 9 – Tony Stewart
Most Cautions: 10 – 2 times, most recently 7/10/05
Fewest Cautions: 4 – 7/10/10
Most Running at the Finish: 42 – 2 times,most recently 7/12/08
Fewest Running at the Finish: 32 – 7/11/04
Most Laps Led by a Race Winner: 195 – 7/11/09
Fewest Laps Led by a Race Winner: 11 – 7/10/05
Most Wins by a Manufacturer: 8 – Chevrolet
Past GEICO 400 Winners: 
2011: Tony Stewart
2010: David Reutimann
2009: Mark Martin
2008: Kyle Busch
2007: Tony Stewart
2006: Jeff Gordon
2005: Dale Earnhardt Jr.
2004: Tony Steawart
2003: Ryan Newman
2002: Kevin Harvick
2001: Kevin Harvick
Fantasy Racing Outlook: 
"A" Drivers: Tony Stewart, Jimmie Johnson
"B" Drivers: Kasey Kahne, Mark Martin, Martin Truex Jr., Greg Biffle
"C" Drivers: Trevor Bayne, Sam Hornish Jr.
GEICO 400 Entry List: 
#1 Jamie McMurray (McDonald's)
#2 Brad Keselowski (Miller Lite)
#5 Kasey Kahne (Farmer's Insurance)
#9 Marcos Ambrose (DeWalt)
#10 Danica Patrick (GoDaddy.com)
#11 Denny Hamlin (FedEx Ground)
#13 Casey Mears (GEICO)
#14 Tony Stewart (Office Depot/ Mobil 1)
#15 Clint Bowyer (5-Hour Energy)
#16 Greg Biffle (Scotch Blue)
#17 Matt Kenseth (Best Buy)
#18 Kyle Busch (Wrigley Doublemint)
#19 Mike Bliss (Plinker Tactical)
#20 Joey Logano (Dollar General)
#21 Trevor Bayne (Good Sam/ Camping World)
#22 Sam Hornish Jr. (Shell Pennzoil)
#23 Scott Riggs (North Texas Pipe)
#24 Jeff Gordon (DuPont)
#26 Josh Wise (MDS Transport)
#27 Paul Menard (Menards-Libman)
#29 Kevin Harvick (Budweiser Designate a Driver)
#30 David Stremme (Inception Motorsports)
#31 Jeff Burton (Caterpillar)
#32 TJ Bell (TBA)
#33 Cole Whitt (LittleJoesAuto.com)
#34 David Ragan (Distraction.gov)
#36 Dave Blaney (Tommy Baldwin Racing)
#37 JJ Yeley (TBA)
#38 David Gilliland (1800loanmart)
#39 Ryan Newman (Haas Automation)
#42 Juan Pablo Montoya (Target)
#43 Aric Almirola (Farmland)
#47 Bobby Labonte (Bubba Burger)
#48 Jimmie Johnson (Lowe's Kobalt Tools)
#49 Jason Leffler (TBA)
#51 Kurt Busch (Hendrickcars.com)
#55 Mark Martin (Aaron's Dream Machine)
#56 Martin Truex Jr. (NAPA Auto Parts)
#78 Regan Smith (Furniture Row-Farm American)
#83 Landon Cassill (Burger King)
#87 Joe Nemechek (AM-FM Energy Wood & Pellet Stoves)
#88 Dale Earnhardt Jr. (AMP Energy / 7-Eleven / National Guard)
#91 Reed Sorenson (Plinker Tactical)
#93 Travis Kvapil (Burger King)
#95 Scott Speed (JTS)
#98 Michael McDowell (Phil Parsons Racing)
#99 Carl Edwards (Fastenal)