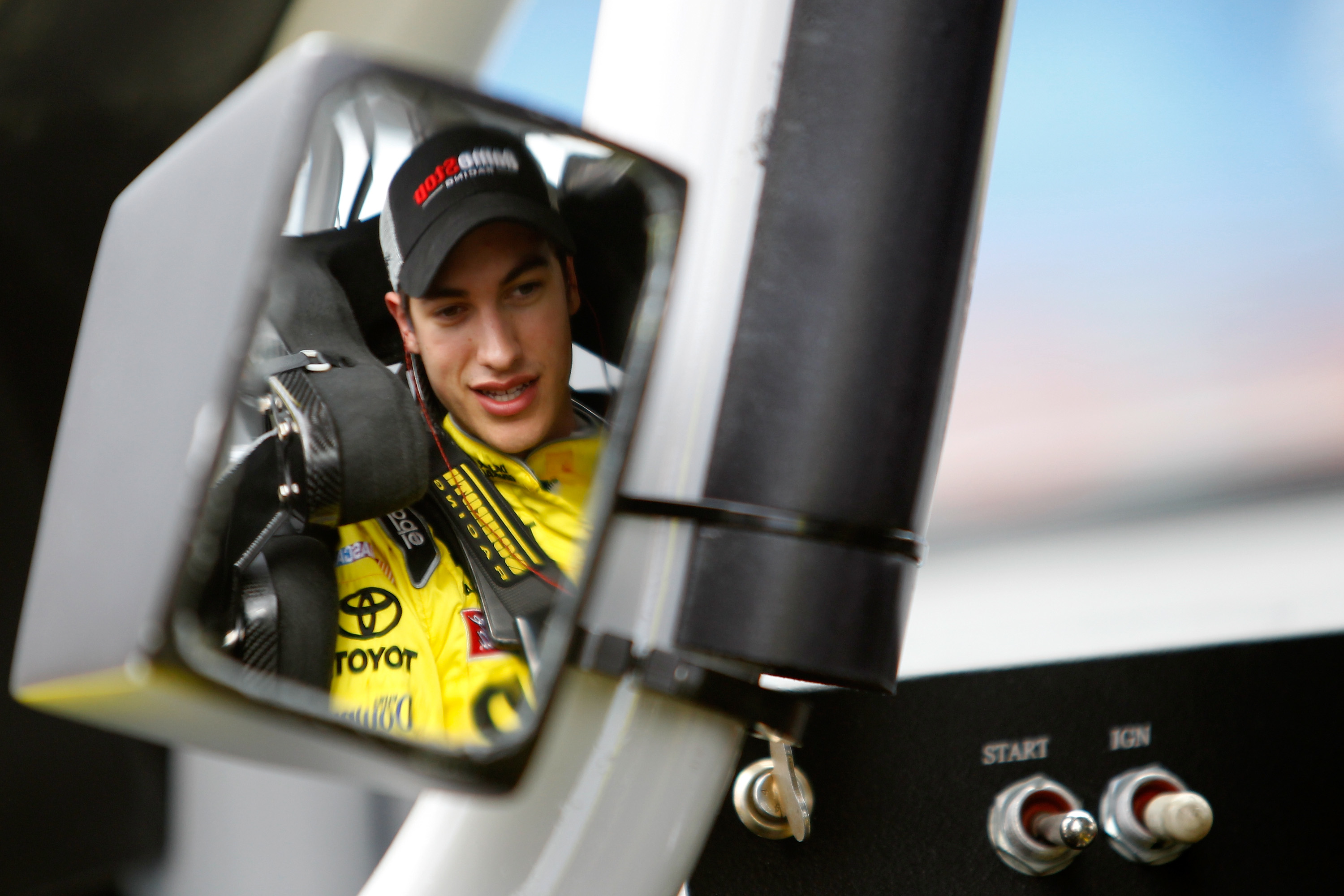 Joey Logano has certainly been on a role in the Nationwide Series this season.
With six wins to his credit in 15 starts this season, Logano took his fourth pole of the season by earning the top spot in qualifying for Saturday's Dollar General 300 at the Chicagoland (Joliet) Speedway.
" I thought it was a pretty decent lap," said Logano after his lap. "This was one of our worst races of the year here last year. We've made it a lot better here this year."
Logano took the pole with a lap averaging 177.649 mph around the 1.5-mile Chicagoland Speedway, marking the 20th time in his Nationwide Series career that he will lead the field to the green flag.
"I'm exicted about it. I feel like I have a shot at another win here today," said Logano.
Current Nationwide Series point leader and winner of the most recent race at Chicagoland Speedway in July, Elliott Sadler, will start this afternoon's event from the fifth position.
Sadler's championship rival and the driver who led the most laps back in July, Ricky Stenhouse Jr, will start the race one row ahead of Sadler in the third position.
Brad Keselowski, who led 158 of the 200 laps en route to victory in this race one year ago, will start the race from the 16th position.
There was only one incident in the session which occurred when Brian Scott spun his No.11 Toyota off the fourth turn at the end of his first lap.
As a result of his spin, Scott will start today's race from the 43rd position.
With only 43 car taking part in the qualifying session, no drivers failed to qualify for Saturday afternoon's race.
Dollar General 300 Starting Lineup
1: Joey Logano
2: Austin Dillon
3: Ricky Stenhouse Jr.
4: Sam Hornish Jr.
5: Elliott Sadler
6: Kyle Busch
7: Paul Menard
8: Michael Annett
9: Mike Bliss
10: Justin Allgaier
11: Kenny Wallace
12: Danica Patrick
13: Cole Whitt
14: Benny Gordon
15: Jason Bowles
16: Brad Keselowski
17: Johanna Long
18: Brad Sweet
19: Tayler Malsam
20: Alex Bowman
21: Mike Wallace
22: Jamie Dick
23: Josh Wise
24: Dexter Stacey
25: Joe Nemechek
26: Chase Miller
27: Jeff Green
28: JJ Yeley
29: Blake Koch
30: Eric McClure
31: Jeremy Clements
32: Matthew Carter
33: Scott Riggs
34: Eric Darnell
35: Danny Efland
36: Timmy Hill
37: Juan Carlos Blum
38: Tony Raines
39: Morgan Shepard
40: Joey Gase
41: Mike Harmon
42: Tim Andrews
43: Brian Scott