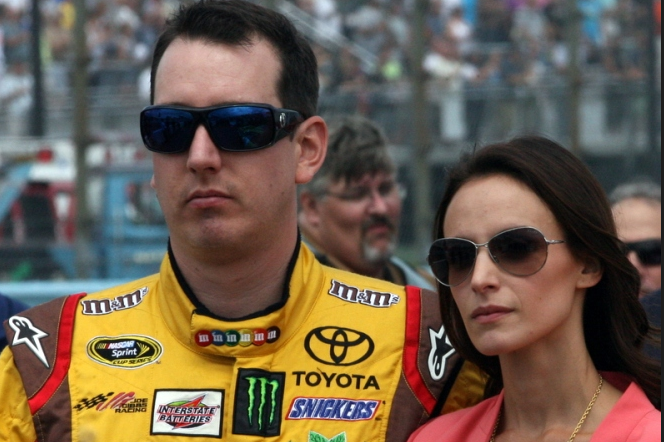 Toyota Donates $5,000 to Carolina Breast Friends
CONCORD, N.C. (Oct. 13, 2012) — Toyota Racing today announced that Samantha Busch is the winner of the 'Racing for Awareness' T-shirt design contest. Busch's winning design — which earned the most votes from fans — was unveiled at the Toyota PitPass display, and she will see her design come to life this weekend at Charlotte Motor Speedway.
In celebration of breast cancer awareness month, Busch's design will be featured on the hood of on one of the Toyota Camry parade vehicles that will take part in the pre-race festivities before Saturday night's NASCAR Sprint Cup Series (NSCS) race at Charlotte Motor Speedway. In addition, the T-shirt created by Busch is available for purchase at the Toyota PitPass display through the remainder of the season and also on www.ToyotaRacing.com. All proceeds from the sale of the T-shirt will donated to Carolina Breast Friends in the name of Kyle and Samantha Busch.
"I am absolutely so excited that I won," said Busch, following the announcement. "When Toyota approached all the wives, and girlfriends and moms to be a part of this event, it was such an honor just to support such a great cause — for breast cancer awareness and to help benefit the Carolina Breast Friends. As soon as we heard about the competition, I instantly was putting it on Twitter and Facebook and telling people at autograph sessions. I just want to thank all the fans and everybody for voting every day and making it possible that my shirt gets to be sold and that it will raise funds for such a great cause."
Busch's design revolved around a racing theme, with the pink ribbon that symbolizes breast cancer awareness taking on the look of a race track. In addition, her shirt highlighted the name of the charity contest — 'Racing for Awareness.'
During today's event, Toyota presented Carolina Breast Friends with a donation of $5,000 in the name of all the participants. The Charlotte-based organization is dedicated to serving those with breast cancer and who have survived the disease.
"We are thrilled with the Racing for Awareness T-shirt design contest," said Les Unger, national motorsports manager for Toyota Motor Sales, U.S.A., Inc. (TMS). "These nine women got behind their designs and have worked diligently to promote the contest and gather votes for their design, whether it was through social media or at the race track. We can't thank the participants enough for their time and dedication to this initiative. It's exciting to see Samantha's design come to life this weekend at Charlotte Motor Speedway to promote such a worthwhile cause."
The Racing for Awareness T-shirt design contest began in August and has been a friendly competition among nine women affiliated with the Toyota NASCAR program — including wives, girlfriends, mothers and sisters, as well as one racer. Each participant created a unique design that incorporated the symbol of breast cancer awareness — a pink ribbon. The participants were given artistic freedom and were able to include other racing symbols on their choice on a pink, hot pink, white or black T-shirt.
Fans were able to vote for their favorite design at ToyotaRacing.com and at the Toyota PitPass display at select NASCAR races.
Participants in the contest included Mackena Bell (Rev Racing driver), Janet Bodine (wife of Todd Bodine), Samantha Busch (wife of Kyle Busch), Jordan Fish/Mary Lou Hamlin (girlfriend/mother of Denny Hamlin), Danielle Logano (sister of Joey Logano), Sara Peters (wife of Timothy Peters), Lorra Podsiadlo (girlfriend of Clint Bowyer), Sherry Pollex (girlfriend of Martin Truex Jr.) and Cortney Sauter (wife of Johnny Sauter).
– more –
Samantha Busch Wins 'Racing for Awareness' Contest – Page 2
During the voting period, participants appeared at the Toyota PitPass display to promote their design, meet with fans and give away their T-shirts. Participants also volunteered their time at Carolina Breast Friends and donated autographed racing memorabilia for a silent auction at their 'Pink Boots Ball.'
About Toyota Motor Sales, U.S.A., Inc. Toyota Motor Sales (TMS), U.S.A., Inc. is the marketing, sales, distribution and customer service arm of Toyota, Lexus and Scion. Established in 1957, TMS markets products and services through a network of more than 1,500 Toyota, Lexus and Scion dealers which sold more than 1.77 million vehicles in 2009. Toyota directly employs more than 30,000 people in the U.S. and its investment here is currently valued at more than $18 billion. For more information about Toyota, visit www.toyota.com or www.toyotanewsroom.com.
About Carolina Breast Friends Established in November 2003, Carolina Breast Friends (CBF) is a non-profit 501(c) (3) organization committed to uniting and helping women with breast cancer in all stages of survival. The organization centers around those who want to create a social and educational outlet for women united in a sisterhood of survival and hope.