Kahne tops record-breaking Kansas qualifying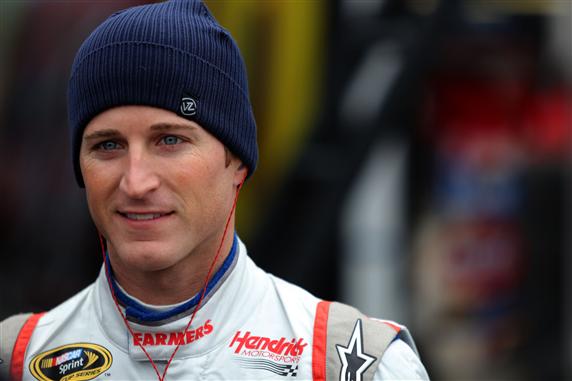 With cool temperatures and gusting winds, the newly reconfigured Kansas Speedway produced record-breaking speeds during Friday's qualifying for Sunday's Hollywood Casino 400.
From the beginning of the session, drivers broke the previous track record set by Matt Kenseth in 2005 at 180.856 mph. And it was only the beginning.
As the session went on, the pole speed continued to be raised, eventually topping the 190 mph mark with the final cars taking time.
Taking to the track in search of his fourth pole of the 2012 season, Kasey Kahne set a lap averaging the 1.5-mile speedway at 191. 360 mph to take the top-spot as the session drew to a close.
After setting the fastest lap in the afternoon's practice session, Greg Biffle wasn't able to top the mark set by Kahne, qualifying his Ford in the eleventh position.
"I definitely gave up a little bit of time," said Kahne after his qualifying lap. "I felt like I could go wide-open, so I went back to wide-open and it started chattering a little bit so I had to ease off the throttle."
By winning his fourth pole of the season, Kahne also took the top-spot in qualifying for the 26th time in his Cup Series career. Since 2006, Kahne has the most poles among active Sprint Cup drivers with 20 of those awards to his name.
While Kahne won the pole, his fellow Chase contenders had a mixed bag of results during qualifying. And with track position being crucial this weekend, it could make or break championship hopes.
By setting laps over 190 mph, Jimmie Johnson and Denny Hamlin were both able to achieve top-10 starting positions for Sunday's race in seventh and ninth respectively
However, points leader Brad Keselowski wasn't as fortunate as he qualified his Dodge in the 25th starting position with a lap just under 189 mph.
With 46 cars attempting to qualifying for Sunday's 43-car starting field, three drivers failed to qualify.
Cole Whitt, David Stremme and Jose Wise were the drivers unable to time their way into the starting field based on speed.
Hollywood Casino 400 Starting Lineup
Kasey Kahne
Mark Martin
Clint Bowyer
Kyle Busch
Aric Almirola
Ryan Newman
Jimmie Johnson
Joey Logano
Denny Hamlin
Kevin Harvick
Greg Biffle
Matt Kenseth
AJ Allmedinger
Paul Menard
Sam Hornish Jr.
Martin Truex Jr.
Carl Edwards
Marcos Ambrose
Jeff Gordon
Jeff Burton
Jamie McMurray
Bobby Labonte
Michael McDowell
Juan Pablo Montoya
Brad Keselowski
Landon Cassill
JJ Yeley
Casey Mears
Kurt Busch
Mike Bliss
Travis Kvapil
Trevor Bayne
Tony Stewart
Reed Sorenson
Scott Speed
Joe Nemechek
David Ragan
Kelly Bires
David Gilliland
Regan Smith
Danica Patrick
Dave Blaney
Timmy Hill