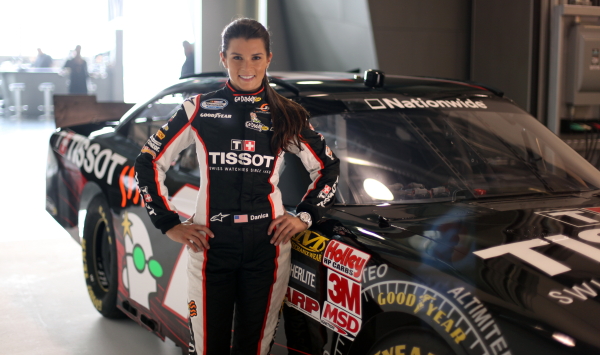 KANSAS CITY, Kan. (Oct. 20, 2012) — In a heart-stomping, fuel-mileage race Danica Patrick stayed calm as she patiently maneuvered her No. 7 Tissot/GoDaddy.com Chevrolet to a 10th-place finish in Saturday's Kansas Lottery 300 NASCAR Nationwide Series event at Kansas Speedway.
"That was probably the most fun I have had in a Nationwide race," said Patrick, who posted her third top-10 and 16th top-15 finish of the season. She remains 10th in the Nationwide driver point standings.
After two days of testing on the Kansas repaved 1.5-mile oval, the general consensus among teams was that pit strategy would probably play a major role in the outcome.
The pundits were right.
"It was a calculated race," noted Patrick's crew chief Ryan Pemberton. "We always want to finish better, but anytime you can bring home a top-10 you feel pretty good."
Patrick, who delicately conserved fuel during a long green-flag run, was able to top off the fuel tank when the final cautioned waved with two laps remaining.
"We were right on the edge and I came in for a splash (of fuel) and that was the right move," stated Patrick, who was listed in 15th place after making her final pit stop. "That last long run, the car was really tight and it was just killing me because it was cooling down and the track was getting fast. But all-in-all it was a really good day for the Tissot car."
Speaking of Patrick and the Tissot car, she has produced strong performances in each of her last three races when the Swiss watch manufacturer was the primary sponsor on her No. 7 JR Motorsports Chevrolet.
Her two other Nationwide outings in the Tissot-sponsored car were a 10th-place finish last year at Chicagoland Speedway and the year before in Fontana, Calif, when she was running in the top-10 and was taken out in a late-race accident.
"It's always an exciting week with the Tissot folks — we have had strong showings in the Tissot car and have had plenty of fun off the track," said Patrick, who has been a Tissot ambassador since 2005 and has her own signature Tissot-designed timepiece — the Danica Patrick Limited Edition T-Race, available at retailers nationwide.
Earlier in the week, Patrick was the star of a special Tissot night in downtown Kansas City, Mo. as she drove her race car to the Hotel Nightclub before walking the red carpet to do media interviews in her evening attire and attend a private function with Tissot.
Patrick, who will also compete in Sunday's NASCAR Sprint Cup race for Stewart-Haas Racing, has three Nationwide Series races remaining in the 2012 season