Sauter makes a Texas-size sweep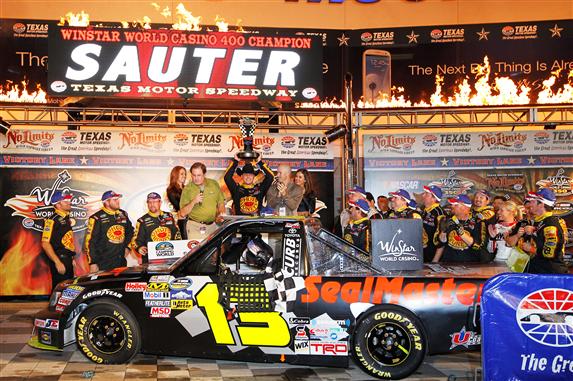 NASCAR Wire Service
FORT WORTH, Tex. — For a Yankee from Wisconsin, Johnny Sauter is fast developing an affinity for the Lone Star State.
Passing Parker Kligerman with 10 laps left, Sauter won Friday night's Winstar World Casino 350 NASCAR Camping World Truck Series race to claim his second victory of the season. Both of Sauter's wins have come at the 1.5-mile Texas Motor Speedway.
Sauter finished 2.199 seconds ahead of Kligerman, who came home second. Nelson Piquet Jr. ran third, followed by Kyle Busch and Ty Dillon, who trimmed six points off series leader James Buescher's advantage with two races left in the season.
Sauter roared past Piquet, the polesitter, on Lap 100 and quickly began to stretch his advantage. The margin reached nearly three seconds, but soon the handling of Sauter's truck began to deteriorate, and Kligerman cut the edge to less than a second before the lead-lap trucks began a round of green-flag pit stops on Lap 113.
Sauter is the third driver to sweep both races at Texas in the same year. Brendan Gaughan and Ron Hornaday Jr. also accomplished the feat, with Gaughan doing it twice.
Sauter's winning average speed of 154.737 mph was a series record for the track.
Quick pit work on a two-tire stop put Kligerman in the lead by more than three seconds over Sauter by the time the pits stops cycled through. Sauter, on four new tires, caught and passed the No. 7 truck on lap 137 of 147.
"I looked up (after the pits stops), and he was pretty far out there, and I was like, 'Oh, boy,'" Sauter said. "At that point they kept telling me my laps times, telling me I was two, three, four tenths faster than him per lap, and I knew that, with as much time as there was left in the race — 20 or 25 laps — I didn't think (two tires would) prevail.
"I just knew it was a matter of time. As fast as we reeled him in, I just figured there was plenty of time."
The two-tire call was a spur of the moment decision, but not everyone was immediately on the same page. Kligerman's jack man raised the left side of the car before getting the message that new left-side tires, which had been placed over the pit wall, wouldn't be required. The process of raising the car and dropping the jack cost Kligerman several seconds.
"The whole two-tire stop thing — I was thinking it," Kligerman said. "I didn't key up the radio. I didn't say anything. Then I came down pit road, and I guess (crew chief) Chad (Kendrick) saw something the 30 (Piquet) did or the 13 (Sauter), and just said, 'Hey, let's take two.'
"But the pit crew… our jack man didn't quite get the message, I guess. It was a spur-of-the-moment audible, as they say in football. He got the jack up, and that probably lost us about four seconds, and it might have been the difference between winning and losing, but we win and lose as a team."
After a restart from the second spot on Lap 70 Buescher reported a vibration in his No. 30 Chevrolet and began to fall back through the field. On Lap 95, Buescher lost the ninth position to Justin Lofton, and with Dillon running fifth at the time, faced the prospect of losing a significant portion of the 21-point series lead he held entering the race.
Buescher held on to finish 11th and leaves Texas with a 15-point advantage.
Note: The race tied an NCWTS track record for fewest cautions (two) and set a new mark for fewest caution laps (eighth). The last 78 laps were run under the green flag.
Winstar World Casino 350 Unofficial Results 
Johnny Sauter
Parker Kligerman
Nelson Piquet Jr.
Kyle Busch
Ty Dillon
Matt Crafton
Joey Coulter
Todd Bodine
Aric Almirola
Timothy Peters
James Buescher
Max Gresham
Ryan Sieg
Miguel Paludo
Cale Gale
John Wes Townley
Brendan Gaughan
Brandon McReynolds
Jason White
Ron Hornaday Jr.
David Starr
Justin Lofton
Bryan Silas
David Mayhew
Jeff Agnew
Norm Benning
Jennifer Jo Cobb
German Quiroga
Russ Dugger
Ryan Blaney
Ross Chastain
Stephen Leicht
BJ McLeod
Scott Riggs
Dennis Setzer
Chris Jones