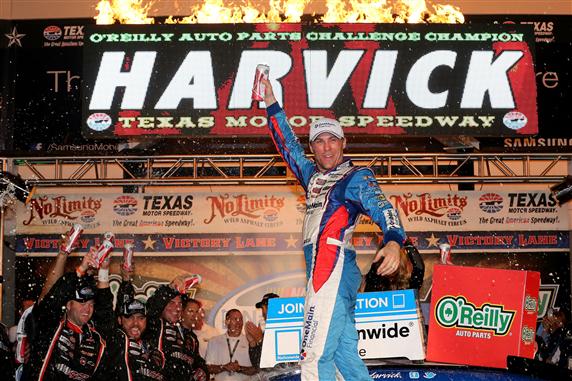 Countless times this season in the Nationwide Series, Kevin Harvick has had chances at winning.
From running out of fuel in the final laps at Phoenix International Raceway to getting passed on a late race restart in Atlanta, it's been a coulda-shoulda-woulda-type season for Harvick during his 12 previous Nationwide starts in 2012.
That looked as though tides were changing on Saturday night at Texas Motor Speedway as Harvick as he led the most laps before the field lined up for the final restart of the night with 19 laps to go.
But if Harvick wanted to win the 39th Nationwide race of his career, he would have to fend off the series all-time wins leader, Kyle Busch, for it.
Racing side-by-side for the first lap after the restart, Harvick took the lead from Busch as the two went back through the first corner and pulled out to a commanding lead.
With the laps winding down, Harvick found himself faced with a new challenger, 18-year-old Ryan Blaney in the Penske Racing No.22 Dodge.
However, for Blaney, it was a case of too-little-too late as Harvick cruised away to winning Saturday night's O'Reilly Auto Parts Challenge at Texas Motor Speedway.
"It feels great," said Harvick in victory lane for the second time in 2012, his previous win coming at Richmond International Raceway in September.
Of course, Harvick is driving the car he used to own in the Nationwide Series in past years, but sold the team to his Sprint Cup owner, Richard Childress, for the better of the team and so Harvick and his wife Delanna could start a family.
"This is what we wanted was to win more races when we put this stuff together," Harvick continued. "We've done a good job at that this year and we've had all but about two races of the 13 that we've been in that coulda won. Just needed circumstances to go our way."
While one Richard Childress Racing team was celebrating victory, another found themselves scratching their heads.
After running towards the front of the field for more than half of the race, Elliott Sadler's race took a turn similar to what happened to him at Texas last November.
As the laps wound down, Sadler's Chevrolet began to slip farther and farther out of his grasps and eventually found himself battling just to stay inside the top-10.
Meanwhile, it was the exact opposite for Ricky Stenhouse Jr. And by the end of the night, Stenhoue Jr. went from trailing Sadler in the point standings to locking into a tie with his championship rival.
"That was a tough night. First run, we got too tight. Second run, really loose and never really caught back up with it" said Stenhouse Jr. post-race.
"The restart before the last, we restarted 11th, and I was just holding it wide-open and going where they weren't, trying to get to the front.
"All-in-all, it was a tough night, but we battled back the way we needed to."
With only two races left on the Nationwide Series schedule, the next stop at Phoenix International Raceway could be crucial in deciding who wins—maybe more importantly who loses—the championship.
O'Reilly Auto Parts Challenge Unofficial Results 
Kevin Harvick
Ryan Blaney
Kyle Busch
Ricky Stenhouse Jr.
Denny Hamlin
Austin Dillon
Sam Hornish Jr.
Justin Allgaier
Kevin Swindell
Joey Logano
Elliott Sadler
Cole Whitt
Brad Sweet
Danica Patrick
Kenny Wallace
Jeremy Clements
Michael Annett
Mike Bliss
Ryan Newman
Joe Nemechek
Eric McClure
Brian Scott
David Starr
Mike Wallace
Erik Darnell
John Blankenship
Robert Richardson Jr.
Danny Efland
Juan Carlos Blum
Hal Martin
Joey Gase
Scott Saunders
Jason Bowles
Scott Riggs
Tim Andrews
Johanna Long
Jeff Green
Blake Koch
Timmy Hill
Kevin Lepage
JJ Yeley
Josh Wise
TJ Bell