Brian Scott scores emotional win at Phoenix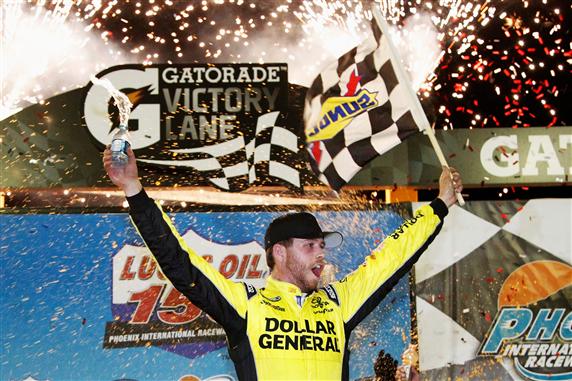 Dover in 2009 was the last time Brian Scott visited victory lane in NASCAR. During that stretch, there have been ups and downs for the Idaho driver. Mostly downs.
Since moving up to NASCAR's Nationwide Series in 2010, Scott has had a mixed bag of results despite spending two of those three seasons with one of the top teams in the sport, Joe Gibbs Racing.
But midway through 2012, Scott got a chance to the series where he found success in the past. Driving for Kyle Busch Motorsports, a proven winner in the Truck Series, Scott knew it was one of his best chances to find his way back to victory lane.
Friday night at Phoenix International Raceway, everything seemed to be coming together for Scott. He had a fast truck, led the most laps, and found himself in contention for the win in the closing stages.
The only thing that separated Scott from his first win since 2009 was No.4 Chevrolet driven by 2012 K&N Pro Series East Champion, Kyle Larson in his third start in the Truck Series.
With around 30 laps to go, Scott took a look to the inside of Larson entering the third turn, only to be denied as Larson stayed strong on the top-side and came out of the corner with the lead.
From there, it looked as though Scott's chances at winning were slim as he was able to maintain a distance of less than 0.5-seconds, but was never able to close more than that on Larson.
But with two laps to go, series points leader, James Buescher, blew a right-front tire in the fourth turn, bringing out the caution flag and set up a green-white-checkered finish.
Restarting on the outside of Larson, Scott ran side-by-side with him into the first corner, loosening up the No.4 truck, and came out with the lead off the second turn.
Stretching his lead over the final two laps, Scott came to the checkered flag to win Friday night's Lucas Oil 150 at Phoenix International Raceway.
"I guess it's only fitting that we get the lead back when we lost it under caution," said Scott in victory lane.
"Man, I miss this series. This series is a lot of fun. So glad I got to come back and run it and win at Phoenix which is about as close to a home race as it gets."
The win by Scott makes him the 15th different winner in 21 Truck Series races in 2012.
While Scott found himself in victory lane, Larson was forced to deal with the thoughts of what could have been if the final caution didn't come out.
"Man, I had him(Scott) beat there on that green flag run," said Larson. "We got the restart there and he took the air off me getting into one and I got loose and got the momentum around me.
"Second is not bad for my third truck start, so hopefully we go to Homestead next week and get a win.
"Good thing is, only one more spot to go."
As if the race for the win wasn't interesting enough, the race for the championship in the Truck Series has gotten closer, once again.
Both Buescher and Ty Dillon were caught up in accidents during the race, forcing both to finish outside the top-15. By those two finishing there, Timothy Peters, who finished in third, now finds himself back in championship contention after leading the points for most of the season.
Buescher holds an eleven point advantage over Peters, and a 12-point advantage over Dillon entering next Friday night's race at Homestead-Miami Speedway.
"I guess we melted a bead or something on the right front," said Buescher. "I guess we're still leading the points. We'll just go to Homestead."
In order to clinch the championship, Buescher needs to finish seventh or better if he does not lead a lap, eighth or better if he leads one lap or ninth or better if he leads the most laps at Homestead.
Lucas Oil 15o Unofficial Results 
Brian Scott
Kyle Larson
Joey Coulter
Timothy Peters
Ryan Blaney
Ryan Sieg
Cale Gale
Nelson Piquet Jr.
Ryan Truex
Justin Lofton
Matt Merrell
David Mayhew
John Wes Townley
Miguel Paludo
Ty Dillon
Bryan Silas
James Buescher
Todd Peck
Norm Benning
Matt Crafton
Jason White
Ron Hornaday Jr.
Brendan Gaughan
German Quiroga
Johnny Sauter
Brian Weber
Parker Kligerman
Todd Bodine
John King
Jeff Choquette
Stephen Leicht
Dennis Setzer
Ross Chastain
Chris Fontaine
Chris Jones
Blake Koch