Logano captures Phoenix, Stenhouse Jr. takes points lead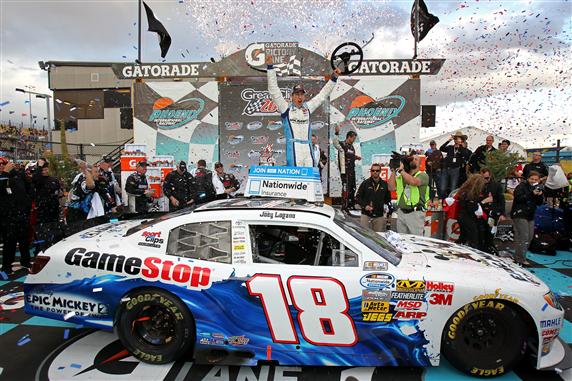 NASCAR Wire Service
AVONDALE, Ariz. — Joey Logano smoked the field, while Elliott Sadler's title dreams went up in smoke.
Logano, the polesitter, dominated Saturday's Great Clips 200 Nationwide Series race at Phoenix International Raceway, beating new Joe Gibbs Racing teammate Brian Vickers to the finish line to win for the ninth time in 21 starts this season, the first time at PIR and the 18th time in his career.
Sadler's wreck forced the race to a green-white-checkered-flag finish and extended the length of the race from the scheduled 200 laps to 204.
Defending NNS champion Ricky Stenhouse Jr. ran third and opened his lead in the series standings to 20 points over Sadler, whose late crash led to a 22nd-place finish.
For the second straight year at Phoenix, Elliott Sadler's championship hopes took a severe blow. Coming to the white flag in 12th position, Sadler tangled with the Chevrolet of Cole Whitt, backed into the outside wall and turned sideways into the path of Richard Childress Racing teammate Brendan Gaughan.
The blow from Gaughan's Chevy tore the nose off Sadler's car. NASCAR red-flagged the race, and Sadler sat in his crippled car, after driving away from the accident scene. Sadler lost a lap in the pits while his car was repaired and rolled across the finish line at half speed.
"I did it to myself," said Sadler, who started from the rear after slapping the wall during time trials and going to a backup car. "I put my team in a hole, qualifying like I did. We tried to work on this car as much as we could, and I just got a little loose there, getting under the 88 (Whitt).
"I just wanted to say, 'My fault.' I should have done a better job for these guys. I just apologized to them for putting them in this position heading to Homestead (site of next Saturday's season finale). We're going to go there and fight, but I definitely dug ourselves a hole."
The caution for Sadler's wreck interrupted a fierce battle between Logano and Vickers, both of whom thought they would have won had the race continued to green to the checkered flag. Logano pulled ahead after the drivers swapped the lead following a restart on Lap 196.
"He got underneath me, and then I crossed him over off of (Turn) 4," said Logano, who led 168 laps. "And then I was able to clear in the middle of 3 and 4, and it was like, 'OK, I've got him now.' I think my car was good enough to take off…
"I got pretty nervous when he passed me (after the restart). It was like, 'Uh, oh. This is not good. I'm about to give this thing away.' Brian did an awesome job. It was a heck of a race."
Sadler started from the rear in a backup car after slapping the wall during qualifying. From the drop of the green flag, he worked his way toward the front, climbing to the 18th position before John Blankenship's spin on Lap 32 brought out the second caution.
After a two-tire call on Lap 71, under the third yellow for Blankenship's second spin, Sadler restarted eighth. When Paulie Harraka looped his car in Turn 4 on Lap 89, NASCAR called the fifth caution. Sadler stayed out and restarted fourth — and quickly gave back almost everything he had gained to that point.
Sadler went wide into the marbles on the restart on Lap 95 and nearly lost control of the No. 2 Chevrolet. By the time he had regained his momentum, Sadler was 15th and running behind Stenhouse, who had pitted for fuel and tires.
Running 11th on Lap 148 when Mike Wallace tapped Timmy Hill's Chevrolet and sent it spinning, Sadler chose to pit for four tires under caution on Lap 149, leaving him 14 spots behind Stenhouse in fourth for a restart on Lap 154.
Sadler, however, gained five positions to 13th before contact from Kyle Busch's Toyota turned Sam Hornish Jr. on Lap 155. By then, Stenhouse was running second to Logano.
Stenhouse can lock up his second straight title with a finish of 16th or better at Homestead, 17th if he leads a lap and 18th if he leads the most laps.
"We've got to keep doing what we're doing," Stenhouse said. "We've given up 20 points in one race, so it's not even close to over… It's going to be tough, because obviously I'm going to have to not push the limits as much as I like. I like going for race wins, too, so it's going to be a fine balance there."
Logano extended the lead of the No. 18 JGR car to 33 points in the owners' standings over the No. 6 Ford driven by Stenhouse. JGR will win the owners' title if the 18 finishes 28th or better at Homestead, 29th if it leads a lap or 30th if it leads the most laps.
Great Clips 200 Unofficial Results 
Joey Logano
Brian Vickers
Ricky Stenhouse Jr.
Kyle Busch
Kasey Kahne
Austin Dillon
Michael Annett
Brian Scott
Brad Keselowski
Danica Patrick
Justin Allgaier
Jason Leffler
Mike Bliss
Sam Hornish Jr.
Alex Bowman
Joe Nemechek
Jason Bowles
Jamie Dick
Mike Wallace
Eric McClure
Paulie Harraka
Elliott Sadler
Jeff Green
Derrike Cope
John Blankenship
Brendan Gaughan
Timmy Hill
Daryl Harr
Cole Whitt
Dexter Stacey
Derek White
Noel Dowler
Jeremy Clements
Kevin Lepage
Morgan Shepard
Mike Harmon
Erik Darnell
JJ Yeley
Blake Koch
Josh Wise
Carl Long
Chase Miller
Tony Raines