Gordon's penalty fits the crime in feud against Bowyer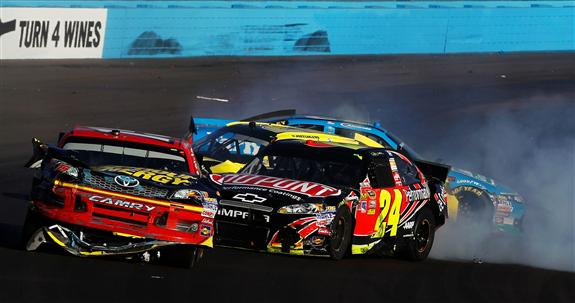 This past Sunday at Phoenix International Raceway, Jeff Gordon purposely wrecked Clint Bowyer after Bowyer got into him. Gordon said post-race that it was due to a series of incidents that have happened between the drivers. One of the most notable incidents was at Martinsville when Bowyer wrecked Gordon and Johnson in an attempt to pass them both for the lead on a restart.
"Things just got escalated over the year, and I'd had it," Gordon said. "Clint has run into me numerous times, wrecked me, and he got into me on the back straightaway and pretty much ruined our day. I've had it — fed up with it — and I got him back."
As a result, NASCAR penalized Gordon with a $100,000 fine, docked him 25 championship driver points and put him on NASCAR probation until Dec. 31.
Most people said as a result of the incident, Gordon should have be parked for the season finale at Homestead-Miami Speedway. However, is that fair? No. NASCAR made the right decision in how they chose to penalize Gordon.
In January of 2011, NASCAR CEO Brian France announced the "Have at it, Boys" policy, in which it was all about putting things back into the driver's hands so they could take care of situations by themselves.
Certainly through the years, drivers have crossed the line.
At Atlanta Motor Speedway in 2011, Carl Edwards purposely wrecked Brad Keselowski. NASCAR placed Edwards on probation for three weeks.
Later on in the season, Kyle Busch purposely wrecked Ron Hornaday under caution in the truck race. In that situation  NASCAR  parked Busch for the rest of the weekend, as well as fining him $50,000 and placing him on probation till the end of the season. However, most notably, the reason for this was because of Busch being a repeat offender against NASCAR's rules.
In the current situation, this marks Gordon's first major offense against the policy so therefore it warrants the same type of penalty as Edwards got.
Though, there are also advantages in keeping Gordon in the mix heading into the final race of the season. The wreck and the fight have been broadcast across North America through many different media outlets. On the heels of that, fans and non-fans will be tuning into the race to watch Gordon and Bowyer to see if there's a second chapter written. Does NASCAR want to take away from that momentum of building the series by parking Gordon for the final race of the season?
Also, by parking Gordon, they are saying that they do not commend driver's standing up for themselves. Is that the message they want fans to see? Certainly not as when fans see that drivers are able to speak their minds and do actions such as Gordon's, they want to tune in to see where the next feud will begin.
Payback is something that is started at the short track level. If you're not happy with someone, you show them by wrecking them and then discussing afterwards. It is used as something to make them think twice next time before making a move that the other party would disagree with.
For NASCAR to allow Gordon to get off somewhat easy for his actions, it represents that they still hold these core short track racing values, despite racing on a bigger stage. It is moves like these that could help rebuild the fan base as some fans have began to drift away due to what they call "boring racing".