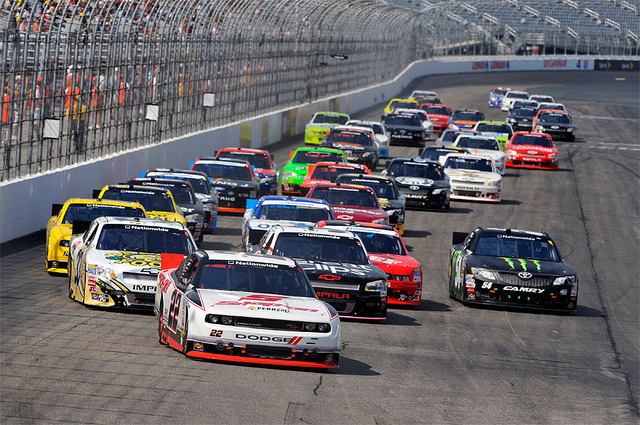 After much anticipation by fans, NASCAR released the schedule that will decide the 2013 NASCAR Nationwide Series champion.
While many of the tracks and dates remain the same, the addition of the Mid-Ohio road course in Lexington, OH is the lone new venue on the schedule.
The 2.4-mile, 15-turn road course takes the place of the ever popular race in Montreal, Canada at Circuit Gilles Villeneuve which had been run from 2007-2012.
NASCAR's debut at Mid-Ohio will take place on the same weekend the race at Montreal had in years past, splitting the weekend with the August Sprint Cup Series race at Michigan International Speedway.
"With Mid-Ohio on the schedule, the NASCAR Nationwide Series has another opportunity to lead the way at a new venue," said Steve O'Donnell, NASCAR senior vice president of racing operations, of the sixth time in nine years the series will run an inaugural race. "This gives us the opportunity to bring the series' signature side-by-side racing to a new fan base, and build enthusiasm among race fans that have yet to experience the unparalleled experience of attending a NASCAR event.
"This is a competitive and well-balanced schedule that challenges our drivers and teams with a variety of different tracks and distances. It's a schedule that the fans will enjoy."
The race also marks NASCAR's return to the state of Ohio after the Camping World Truck Series raced at Mansfield Motorsports Park.
Also returning for the 2013 season will be the "Dash 4 Cash" bonus program which will start June,28 at Kentucky Speedway and conclude with the July,27 race at Indianapolis Motor Speedway.
Along with 27 companion events with the Sprint Cup Series in 2013, the Nationwide Series will feature six "stand alone" races at: Iowa Speedway (June 8 and Aug. 3), Chicagoland Speedway (July 21), Kentucky Speedway (Sept. 21), Road America and Mid-Ohio.
The season will once again begin at Daytona International Speedway on February,23 and conclude at Homestead-Miami Speedway on November,16.
2013 NASCAR Nationwide Series Schedule 
2/23                  Daytona International Speedway                                                           
3/2                    Phoenix International Raceway                                                              
3/9                    Las Vegas Motor Speedway                                                                 
3/16                  Bristol Motor Speedway                                                                                   
3/23                  Auto Club Speedway                                                                            
4/12                  Texas Motor Speedway                                                                        
4/26                  Richmond International Raceway                                                           
5/4                    Talladega Superspeedway                                                                    
5/10                  Darlington Raceway                                                                              
5/25                  Charlotte Motor Speedway                                                                    
6/1                    Dover International Speedway                                                               
6/8                    Iowa Speedway                                                                                    
6/15                  Michigan International Speedway                                                           
6/22                  Road America                                                                                      
6/28                  Kentucky Speedway                                                                             
7/5                    Daytona International Speedway                                                           
7/13                  New Hampshire Motor Speedway                                                          
7/21                  Chicagoland Speedway                                                                        
7/27                  Indianapolis Motor Speedway                                                               
8/3                    Iowa Speedway                                                                                    
8/10                  Watkins Glen International                                                                     
8/17                  Mid-Ohio                                                          
8/23                  Bristol Motor Speedway                                                                                   
8/31                  Atlanta Motor Speedway                                                                       
9/6                    Richmond International Raceway                                                           
9/14                  Chicagoland Speedway                                                                        
9/21                  Kentucky Speedway                                                                             
9/28                  Dover International Speedway                                                               
10/5                  Kansas Speedway                                                                                
10/11                Charlotte Motor Speedway                                                                    
11/2                  Texas Motor Speedway                                                                        
11/9                  Phoenix International Raceway                                                              
11/16                Homestead-Miami Speedway