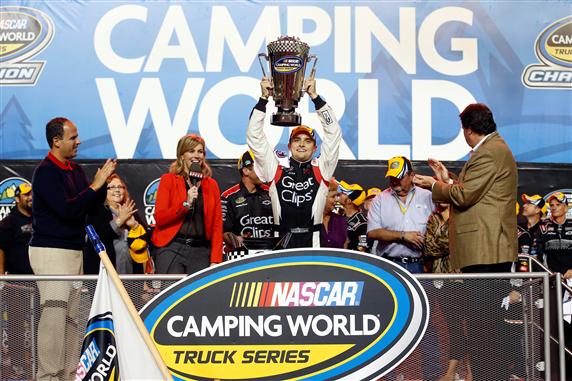 At the beginning of the season, many pointed to James Buescher as the favorite for the championship.
And why not? In 2011, Buescher showed he was able to contend for a championship despite missing the second race of the season at Phoenix International Raceway. The only thing he hadn't done was win a race, something he wanted to do badly.
The talk of when Buescher would win his first race ended at Kansas Speedway in April as he led over half the race to take the victory.
It seemed as though when Buescher finally won a race, he would cruise to the championship. That wasn't the case though.
While leading at Iowa Speedway, Buescher blew a right front-tire and crashed hard into the wall. At that point, he was nearly a full race back of the points lead, behind the rookie Ty Dillon.
But over the summer stretch of the season was where Buescher shined, winning three races during that stretch which included a sweep of the races at Kentucky Speedway and a win at Chicagoland Speedway after having to change a carbuerator and falling two laps down.
Buescher showed that he may have the best team in the series, but taking control of the championship continued to be a difficult task as Dillon showed remarkable consistency over the course of the season. And on top of that, Timothy Peters was putting together a season where he was not only winning races, but remaining consistent.
Following the November race at Texas Motor Speedway, the championship gap was close. Dillon raced again to another solid finish while Buescher fell back through the field late and failed to finish inside the top-10.
But, Phoenix was where the title really took a turn.
It was a track where Dillon had never raced on and a place where Buescher's past in no way would indicate he was in for a good night.
Dillon once again showed his prowess to adapting to tracks quickly, outrunning Buescher for most of the night. But on a restart, Dillon was taken out in a crash with his teammate, Brendan Gaughan, after German Quiroga drove into the back of Gaughan's No.2.
With Dillon's night looking to be over, all Buescher had to do was stay smooth and not wreck. But nothing is ever that straightforward in the Truck Series.
In the closing laps, Buescher blew a right-front tire, Buescher finished the race mid-pack. When he left Phoenix, Buescher had an eleven point lead over Peters and 14 on Dillon.
At Homestead on Friday, it wasn't an ideal day for Buescher, despite bringing the very truck that he won all four races in.
Starting mid-pack, Buescher's entire night was an uphill battle. Although he cracked the top-10 on occasion, he was never in contention for the win. But his hopes for the championship looked positive for the majority of the night.
When Dillon started racing for the second position late in the race while Buescher ran outside the top-10 and continued to fall, it looked as though his hopes for the championship may be running dry.
But when Dillon and Kyle Larson crashed, it all but assured Buescher of becoming the 2012 NASCAR Camping World Truck Series champion.
Finishing out the final laps, Buescher drove back to a thirteenth place finish and was crowned champion.
"It was close. Ty and everyone at RCR gave us a run for it at the end. We were getting everything we could out of this [truck], it wasn't one to go forward. It was maxed-out on speed, it was loose, it was sliding around and I just about went into the fence myself," said Buescher about his night at Homestead.
"We had a shot at it [the championship] last season, but we came into this year swinging," said Buescher. "It took a lot of work over the off season and it paid off. It might be the coolest thing I've ever done in racing.
In a year which featured 16 different winners in 22 races, Buescher's four wins make his run to the 2012 championship that much more impressive as he was one of only two multi-time winners in the 2012 season.
To add to that, Buescher had never visited a NASCAR victory lane in his career. In fact,his first NASCAR win didn't even come in a truck. It came in the season opening Nationwide Series race at Daytona. So when Buescher was able to get into victory lane in a truck at Kansas, it gave him the much needed momentum to carry him to his first championship.
But, winning races and the championship wasn't the only thing that made the 2012 season one to never forget for Buescher.
"If I would have known that getting married would create all of this, I would have done it a long time ago. That's one more thing that made this year more incredbile.
"My wife, Kris, has given me all the support in the world.
"Mr and Mrs. Turner give us everything on this race team that I could possibly imagine to follow my dream."
A season filled with numerous ups and downs has turned into a championship of firsts for Buescher and his Turner Motorsports team.