NASCAR Waves Green Flag for 2013 Season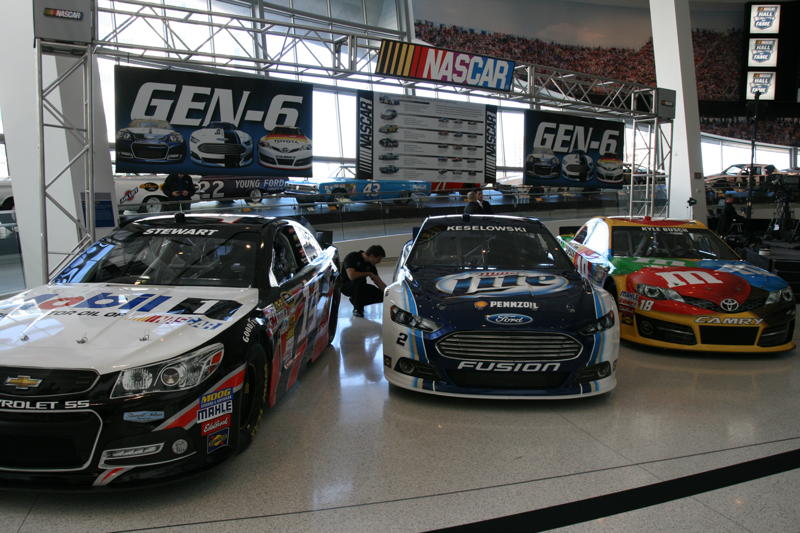 The 2013 NASCAR Sprint Media Tour hosted by Charlotte Motor Speedway was held last week. The 31st annual four day event is a special preview for electronic and print media. In short, it consists of a behind the scenes visit to race shops and introduction of the race teams drivers and showcasing new car sponsors and paint schemes. There was also a press conference hosted by NASCAR executives at the Hall of Fame.
Most significant throughout the tour was the positive comments from drivers, team owners and NASCAR executives about the new GEN-6 race car. The design of the Chevy SS, Ford Fusion and Toyota Camry will look more like those you see in the dealer showroom. And, the feeling is that fans will see more competitive and side-by-side racing.
The season begins in just a few weeks at Daytona with the newly titled "Sprint Unlimited" 75 lap race. This event was formerly known as the "Budweiser Shootout". And, the fans will be allowed to vote and decide the format. More about how to vote can obtained by visiting: www.nascar.com . The week following the Sprint Unlimited will present the official dropping of the Green Flag for The Great American race, the Daytona 500.
In 2013, fans will see familiar drivers with unfamiliar teams. Matt Kenseth will be driving for Joe Gibbs Racing after years with Roush/Fenway. Joey Logano has moved to Penske Racing and will join reigning 2012 Sprint Cup Champ Brad Keselowski. The Nationwide Series will see the debut of the new Camaro. This should provide good manufacturers competition with the ever popular Ford Mustang and Dodge Challenger.
With the atmosphere surrounding the media tour being much more informal and less stressful than during the season, some of the drivers were very jovial in their responses to questions from reporters. Here are a few. Tony Stewart, when asked what his mother said to him to inspire him as a kid who he is today, "My mom and I had a huge fight because she wanted me to go to college—- now SHE works for me." Dale Earnhardt Jr. was asked about the recent multi-car incident during testing at Daytona. "I have to say that was the most embarrassing thing in my racing career that I can recall being responsible for." And, two of NASCAR's most favorite and iconic stars, are now teamed up as spokespersons for a product. Dale Earnhardt Jr. has joined "The King" Richard Petty to promote Goody's headache powder.
Are you tired of waiting for for a track to be dryed during a rain delay. NASCAR Chairman and CEO Brian France told media members of a new track drying system that will hopefully reduce the time by 80%. (i.e Daytona could be ready in less than an hour as opposed to three hours). "We'll be debuting……. our first generation of (a new) look drying system, " France said from the Hall of Fame. "We are going to do it in a much more green, carbon emission friendly way. It's going to be a spectacular thing and all of auto racing and the fans will benefit."