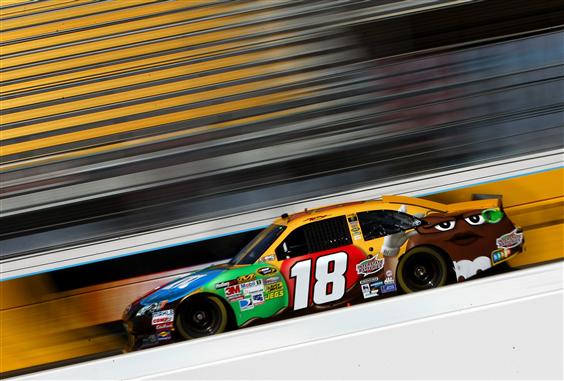 On Sunday February 10th, Canadian motorsports fans are in for a treat as NASCAR Sprint Cup Series driver Kyle Busch will be at the Canadian Motorsports Expo Powered by Inside Track Motorsports News. He will be on hand to sign autographs, while participating in an on-stage Q&A session.
Having won 105 race across NASCAR's top three touring series, ranking him third on NASCAR's all-time win list, and having won as a car owner with Kyle Busch Motorsports, Busch is the one of the most successful driver in the sport's history. He is also one of the most popular for the intensity he displays on track, not holding anything back.
Last season didn't work out as Busch would've hoped as he missed the Chase for the Championship, however Busch is hoping for better results this year. During this past week's media tour, Busch says he hopes the team has worked out all the bugs that plagued previous championship runs, while hoping to work with new teammate Matt Kenseth. One week after his appearance at the CME, Busch will be down at Daytona International Speedway to take part in qualifying for the Daytona 500, making this an opportune time for fans to speak with him.
This isn't Busch's first time in Ontario as he has raced at Delaware Speedway in London, Ontario in the past.
"Every time that I've raced north of the border – whether it be Late Models at Delaware Speedway or in the Nationwide Series at Montreal – I've been really impressed by the enthusiasm of the Canadian fans, so I'm looking forward to being a part of the Canadian Motorsports Expo in Toronto next month," Busch said. "Although the Sprint Cup Series doesn't have an event in Canada, most weekends you see Canadian flags flying in the camping areas, especially at the Northern tracks – Michigan, Watkins Glen, New Hampshire – where they draw a lot of Canadian fans, so this will be a good chance to meet those folks and let them know that we appreciate their support."
The Canadian Motorsports Expo Powered by Inside Track Motorsports News runs from February 8th to the 10th at the International Centre, adjacent to Toronto's Pearson Airport. The show features stars from all types of motorsports, different tracks from Ontario, drivers and businesses, talking about their plans for the upcoming 2013 motorsports season. Busch join the star-stuttered line-up as Michael Waltrip will be on hand on February 9th while Jeff Gordon's step father John Bickford will be at Canadian Motor Speedway's booth on February 8th and 9th.
Discussing Kyle Busch's appearance at the Canadian Motorsports Expo, show co-promoter David Weber said, "We are extremely excited to announce that Kyle Busch will be our headline staron Sunday, February 10 at the CME. Over the years, the show has presented some of racing's biggest personalities and having Kyle Busch as this year's featured guest continues that tradition. We're very pleased with the way that the 7th annual CME is coming together and we're confident that with the support of the fans and the racing community, it will be the best CME yet."
Details surrounding Kyle Busch's appearance at the CME will be announced shortly. For updates on this and other CME news, visit the website at www.CanadianMotorsportsExpo.com.