In with the new: 2013 Sprint Cup preview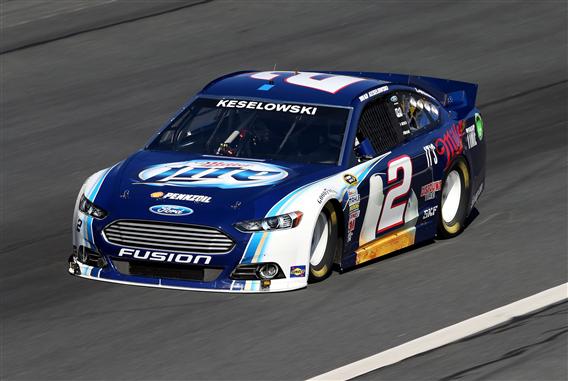 It seems just like yesterday that the checkered flag was dropped at Homestead-Miami Speedway. Jeff Gordon had won his 87th career Sprint Cup race and Brad Keselowski became the 29th different driver to win a Sprint Cup title, the first championship at NASCAR's top level for his car owner Roger Penske.
Now, we are less than two weeks away from the biggest race on the NASCAR schedule; The Daytona 500.
It's been well documented by now that for 2013, the Sprint Cup Series will switch over to a new style of race car intended to bring back the stock-car feel to stock-car racing in North America. Just like when anything is new, questions are raised as to how the car is going to race, and how well will the teams adapt to the change.
But, while the cars are changing, the questions that many still ask are; Who's going to win the championship?
So, in no particular order, here are the drivers I see making the 2013 Chase, and contending for the championship.
Jimmie Johnson: What kind of Chase would it be without Jimmie Johnson and the No.48 team in the mix for the championship? Well, for some fans, it would be a welcome sight. However, the likelihood of the No.48 team missing the Chase isn't very high.
Johnson has been a threat for the championship in every one of his Sprint Cup seasons, and that shouldn't be any different in 2013. Despite not winning a championship for two years after winning five-straight and seemingly falling apart by the seems over the final two races of 2012, the No.48 should bounce back for yet another "48-esk" season.
Kyle Busch: Many wondered prior to the start of the last season whether or not Kyle Busch had too much on his plate for the 2012 season. Between owning two full-time operations in the Camping World Truck Series and Nationwide Series, it was a frustrating year for Busch in what he called "the worst year of his career" after only scoring one victory across the board in NASCAR's top-three series.
The presence of the Matt Kenseth coming to Joe Gibbs Racing should not only benefit Busch as a driver, but everyone involved with the organization.
Brad Keselowski: It would be pretty odd to see the defending champion miss the Chase the following season as that has only happened once in the format's nine-year history. While the No.2 team was on top following Homestead, they're faced with numerous challenges heading into 2013.
For one, they changed manufactures from Dodge to the Ford brand and will team-up with Roush Fenway Racing for engines, something the team used to do in-house. And, like every other team, there is the newness of the Gen 6 race car that everyone will have to adapt to.
In just his short time in Sprint Cup, Keselowski has shown that he can adapt to all sorts of challenges. Don't expect that to be much different in 2013.
Matt Kenseth: Switching teams over the off season may be the best thing for Matt Kenseth's career. The success he had during his time at Roush Fenway Racing is undeniable, winning the 2003 championship as well as multiple Daytona 500's makes Kenseth one of the most decorated drivers in the garage area. However, you can't help but feel RFR was in the mist of change and Kenseth wasn't going to be a part of it.
Now with Joe Gibbs Racing, Kenseth had the chance to be that veteran leader that Kyle Busch and Denny Hamlin have needed since Tony Stewart left the team following the 2008 season. Everyone knows that the JGR equipment is top-notch, but it's been a matter of remaining consistent over past seasons that kept them from championships.
Right out of the gate, the No.20 and Kenseth have been fast in both pre-season tests at Daytona and Charlotte. It may just be testing, but when you're with a new team, anything you can build confidence on is key.
Carl Edwards: Following 2012 which produced no victories and a missed Chase for Edwards, that 2011 season where he tied for the championship with Tony Stewart seems like a distant memory. Now paired with veteran crew chief Jimmy Fenning, it looks as though Edwards is in for a bounce-back year in 2013.
With how much of a mess 2012 was, Fenning was brought on board the No.99 team as not only to win races, but as a change of pace for Edwards who dealt with a mid-season crew chief change last year. Fenning surely will bring his hard-nosed attitude to the team, and that should translate into success for Edwards on the track.
Dale Earnhardt Jr.: To the delight of many fans, Dale Earnhardt Jr. had arguably his best season since joining Hendrick Motosports back in 2008. Picking up his first win in four years at Michigan, Earnhardt Jr. looked primed for a championship run before a concussion forced him to sit out Chase races at Charlotte and Kansas.
For 2013, Earnhardt Jr. looks to build off the 2012 successes with a car that may play more into his style of driving. Earnhardt Jr. hasn't had a season with multiple wins since 2004 when he was in the mix for the championship heading into the season finale. In order to take the next step from being a Chase driver to being a championship contender, Earnhardt Jr. needs to show he can win multiple races. Until then, he's just one of the twelve.
Jeff Gordon: In my mind, there may be no driver that the new car suits better than Jeff Gordon. Being a car with much more down force than the Car of Tomorrow, it reminds some of the type of car in which Gordon had great success with in the late 1990s. That's not saying Gordon's numbers will equal what he did back then as that's something that is too hefty for one to predict. But seeing Gordon more often in victory lane is something that's certainly not out of the question.
The key for Gordon will be once the new car gets placed on the 1.5-mile venues whether or not it does have a resemblance to the cars of old, and whether or not he can escape the bad luck he couldn't get away from in 2012.
If he does, he contends for the championship big-time.
Denny Hamlin: Much like Busch, Hamlin is going to benefit from having Kenseth come on board the JGR team. While Hamlin has been in the mix for the championship two of the last three seasons, he hasn't been able to close the deal. What Kenseth, a past series champion, can bring to Hamlin is a calming presence as well as a load off his shoulders as he's no longer the senior member on the team age wise.
Hamlin will win his fair share of races in 2013 and make the Chase, more than likely being a serious factor in it.
Joey Logano: It's time for Joey Logano to do something in the Cup Series. Yes, he's won two races during his four year tenure in the series, but that's nowhere near the amount of wins many thought he would have when he started racing in the series full-time in 2009. Now with a new team in Penske Racing, Logano is in a great position to find success.
Sure, this chance could crash and burn much like his one at JGR did. But if Logano is going to break out, 2013 is the year being paired up with the defending series champion.
He won't contend for the title, but he'll make the Chase.
Kasey Kahne: Many think Kasey Kahne is ready to contend for the championship. And why not?
He and crew chief Kenny Francis are heading into their second season with Hendrick Motorsports where they found success last year despite getting off to slow start to the season. Theoretically, they should improve off of what they accomplished in 2012 which would lead them into contending for the championship.
We all know Kahne is going to be fast and win races. Keeping the consistency and the mistakes to a minimum will be key for this team.
Wild Card Drivers 
Tony Stewart: There wasn't much going right for Stewart at the end of 2012. After winning two of the first five races, he hit a bit of a slump through the midway stretch of the season. He held on to make the Chase, but was really never a factor in it like he was in 2011.
For 2013, Stewart has a new challenge; a high-profile teammate that he attract outside media attention. Of course, I'm talking about Danica Patrick. Stewart-Haas Racing seems to have put a great deal of their eggs in the Danica basket, and who knows how that will turn out.
Stewart is going to win races, he's too good of a driver not to. However, 2013 could be a struggle for this team.
Jeff Burton: Of all the drivers listed here, this may be the most shocking. Jeff Burton hasn't done much worthy of being noted since 2010. In fact, he hasn't won a race since the fall race at Charlotte in 2008. So, why is that all going to change in 2013. Easy; Luke Lambert.
During their short time together back in 2011, Burton and Lambert looked to be getting the No.31 team back on the right track, posting top-ten finishes and showing speed. Then for 2012, the pair was separated as Lambert went to work for Elliott Sadler in the Nationwide Series.
Burton's best days may be behind him, but that doesn't mean he doesn't have a little extra left in the tank for another Chase birth.
Championship pick: 
Kyle Busch: I think that 2013 is going to be the year that Kyle Busch puts it all together. We all know he can win races at any time at basically any track. But it's always been a question as to when he's going to put a full season, or a full Chase together.
We see it often were drivers bounce back after rough seasons and/or carry momentum coming out from a strong ending to the previous season. Busch would like to join that trend and hoist the Sprint Cup trophy in November.
It's only a matter of time before he wins one, why not 2013?