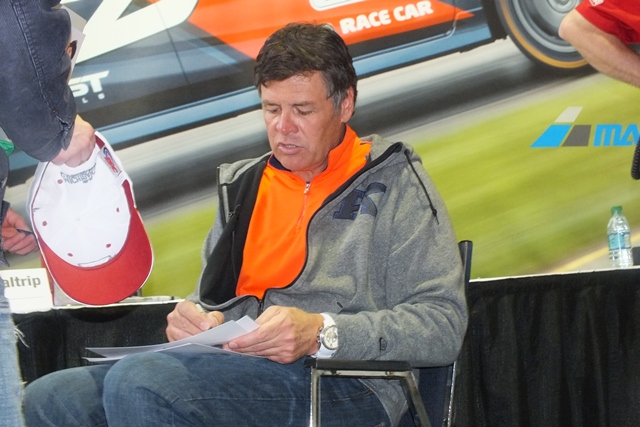 Michael Waltrip was at the Canadian Motorsports Expo on February 9th to sign autographs and do a Q&A for the fans. Here are some of his answers from the day…..
Talking about the big wreck at Bristol 
That was quite a day. 1990. April 1990. Hit the end of the wall at Bristol and I don't know if you've ever seen the car or seen the video on it. It's on youtube. You can write "Michael waltrip" crash, you have to go through a bunch of them and then you'll get to that one.
I didn't realize what had happened. It obviously it knocked me out a little bit – not all the way, but lost my breath. I didn't know what the big deal was. I didn't why everybody was looking at me funny. They thought I could be dead. I just feel lucky. I don't think God was ready for me yet. I hadn't won any races so I guess he wanted me to win a couple races.
Are you interested in doing other types of racing, say dirt racing?
Well I have the philosophy that – I think it's a good one – I cleared it with Kenny Schrader and he agreed. What you do is at the end of your career, you just drop down a series till you can't win anymore. I ran Cup forever – I'll do that again – dropped down and won a truck race. Now I'm racing K&N West Late Model racing on the west coast, then I'll go back to dirt cars, eventually wind up in a go-kart. But my plan is to keep racing forever because it keeps me young and I just love racing. I'm going to keep racing forever and it might be a go-kart sooner than later.
Preparing for Daytona 500 versus Rolex 24 hour race 
I don't think it's any different at all. Clint Bowyer ran the race with us and he races our full time in Cup and if you're fit and ready to race a Cup car 500 miles, its not a whole lot different than a 24 hour race. I think I found different about an endurance race – from what I didn't know – it's an endurance race for the car, but not for the driver. My job and Clint's job, you run it as hard as you can for an hour and a half. When you get out, another guy gets in and does the same thing. It's really been amazing experience to drive that little Ferrari and see how tough it is. i got out of it, sitting there 24 hours later, it still ran as good as it did in the beginning.
Would you do more endurance races?
It's a lot of fun. I was racing down the backstretch of LeMans in the Ferrari and I thought to myself – I didn't see this coming while growing up in Owensboro, Kentucky. So that was pretty neat and I really enjoyed the experience.
Next Rising Talent Star
Well, the one everyone talks about is Kyle Larson. He's done really well and he got into a truck and led races and was fast, so that was pretty fun to watch. But I love watching Brandon McReynolds. He is Larry McReynolds' son. He won an ARCA race at Talladega and is really choreographed how he was going to drive the last couple of laps and pulled it off. He did an amazing job so I think he deserves an opportunity. So if you want to go with one everyone knows that's young and is going to be good – that's Kyle. If you want to go with one that's going to be a champion or winner as well, or each a chance to, that's Brandon.