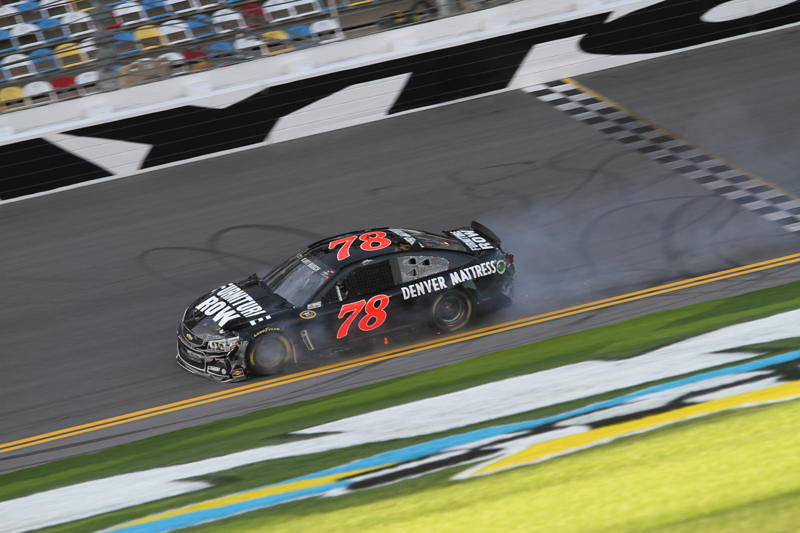 Well, it's safe to say that was just about what everyone was expecting with the first practice session of the 2013 season getting underway with five-car crash not even ten minutes into the session.
It's not uncommon to see crashes in practice at the restrictor plate tracks of Daytona and Talladega, and it's somewhat more common to see them occur in practice sessions for the Sprint Unlimited (formerly known as the Budweiser Shootout).
That's especially the case this season with NASCAR rolling out the new Generation Six race car for the teams and drivers to adapt to before the green flag drops on Saturday night for the "kickoff" to the NASCAR season. While they had a chance to test the new cars out last month at Daytona in Pre-Season Thunder, a 12-car crash quickly put an end to pack drafting.
With that happening, it made Friday evening's practice sessions that much more important so that teams and drivers could learn how the car would react in the draft and how they could improve it come next Sunday's Daytona 500.
However, when Matt Kenseth in his Toyota cut across the front of Kurt Busch's Chevrolet, all of that potential learning and anticipation of the glimpse of what we might see was quickly whipped away.
"That didn't have to do with the racecars — that was 100 percent driver error, my driver error," said Kenseth who was the trigger of the crash which collected; Busch, Mark Martin, Carl Edwards, and Juan Pablo Montoya.
"I had no idea anybody was there. He (Kurt Busch) had a run at the same time and I came down in front of him and he couldn't get slowed up from staying off of me. So it was just 100 percent my fault."
Busch, Edwards and Martin will all go to backup cars for Saturday night's race while the crews of Kenseth and Montoya will attempt to repair their now mangled racecars.
That only furthers a problem for teams as the body pieces for these new cars have been in short supply, making for limited amounts of race-ready-cars up and down the garage area.
With that in mind, drivers took a much calmer approach to the final practice session, parading around the 2.5-mile Daytona International Speedway in primarily a single-file line for the majority of the session. Mixed in with that was the No.48 of Jimmie Johnson making one of his patented single-car runs, not running the risk of being caught up in someone else's mess.
In fact, only 12 cars made a lap of record in the final practice session.
So, what does all of that—or lack thereof—mean for Saturday night's race?
Based on the limited amount of drafting practice, everything is still placed in the unknown category. With so much new that comes with this new car, it's forcing drivers and teams to unlearn the style of drafting they've done over the past seasons which mainly consisted of the dreaded two-car-tandem.
One thing that all drivers appear to be consistent on when it comes to what we're going to see Saturday night—and more importantly next Sunday's Daytona 500—is that every lap they make they keep learning. Granted, that's going to happen at every race track, every time regardless of what type of car they are in, it leads to what we see Saturday night may not necessarily be the type of racing we see come the Daytona 500.
So, in a nutshell, we didn't learn much and still have a lot of unknowns heading into the biggest event of the NASCAR season.