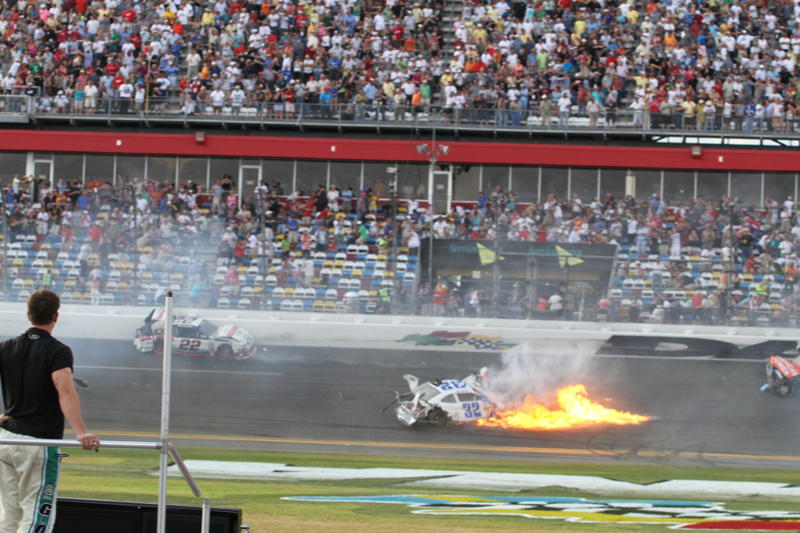 A crash on the last lap in the DRIVE4COPD 300 would send Kyle Larson up into the catchfence, sending debris into the grandstands. Larson's engine was on the fans' side of the catchfence, while one of his tires would land a couple rows up in the stands.
"We are currently assessing the situation, taking care of those involved," Kerry Tharp, PR for NASCAR said. "Once we do, we will have someone from NASCAR and someone from the track with an update. Till then, there is no timetable about this."
There was obviously some intrusion in the fence, and fortunately, there were a lot of emergency folks ready to help," Mike Helton, President of NASCAR, said during ESPN's broadcast. "Right now, we were just tryng to see what the damage is that has been done and moving folks to care centres, Halifax Medical Centre."
Helton added that they try to make the races as safe as possible for both the drivers and fans, however there is always things that can happen they can't be prepared for.
"We know a lot and we know what we know, but the biggest thing we know is that we don't know everything we need to know," he said. "There are moments we haven't seen before and we can't plan for them."
ESPN has since reported that 15 spectators have been transported to hospitals in the area, with one in surgery for head trauma.
Wendy Venturini reported on SPEED that the 11 admitted to Halifax Medical Centre are stable; six of those spectators were admitted with trauma related symptoms.
None of the drivers were injured in the wreck.
The wreck started when Regan Smith threw a block on Brad Keselowski in the tri-oval on the 2.5-mile oval.
"Well, watching the replay, my reaction is the same as everyone is hoping all the fans in the grandstands are okay," Keselowski said. "It was a long race, we seen a lot of action – lot of chances for winning and passing. We were in a good position with Regan at the end of the race. When it came down, I felt like I was in the spot. I wanted to make the winning move, and he made a block on it. That's his right and it started the chaos."
"Tried to throw a block off of turn four," Smith said. "I knew Brad was going to make a move. But that's what you do at Daytona – you do what you can do for the win……You're coming to the checkered at Daytona and you want to win here whether it's Cup, Nationwide or ARCA.  I was not willing to concede second place. If I'm in second tomorrow, I will make the same move again."
11 cars were all involved in the wreck, including Justin Allgaier, Brian Scott, Sam Hornish Jr., Eric McClure, Parker Kligerman, Dale Earnhardt Jr., Robert Richardson Jr., Travis Pastrana and Alex Bowman.
Tony Stewart would take the victory, ahead of Hornish Jr., Bowman, Earnhardt Jr. and Kligerman. Scott finished sixth, followed by Allgaier, McClure, Richardson Jr. and Pastrana.
"The important thing is what is going on the frontstretch right now," Stewart said. "We've always known since racing started that this is a dangerous sport. We assume that risk, and it's hard when the fans get caught up in it. As much as we want to celebrate and as much as this is a big deal to us, we are concerned about the fans and drivers on the front stretch."
NASCAR will have a press conference sometime this evening with more details about the incident.
Photo Credit: Noel Lanier…..