Stewart wins, chaos ensues on final lap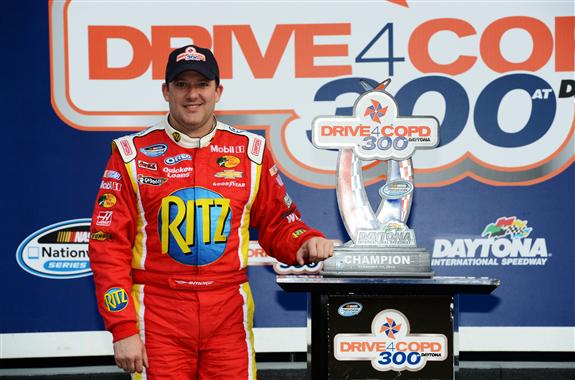 There was no denying that Tony Stewart was the favorite going into Saturday's Nationwide Series race at Daytona. Since picking up his first win in the series at Daytona in 2005, Stewart has gone on to win five more times in the season opening race for the Nationwide cars.
So when Stewart was passing cars on the track with seemingly no help at all, it didn't come as much of a shock.
While the racing was fast and exciting, the excitement was put to a halt on two occasions following frightening multi-car crashes at top speed.
A violent 13-car crash in turn one put the race under the red flag, having the remaining cars stop just past the tri-oval.
Michael Annett, driver of the No.43 Richard Petty Motosports Ford, took a head-on impact into the SAFER barrier and was taken to local area Halifax Medical Center where he is awake and alert and currently undergoing tests. All other drivers that were involved in the crash were treated and released from the infield care center at Daytona International Speedway.
Annett will be kept overnight for evaluations.
The race resumed, and the action picked up even more, each driver trying to grab a coveted win at Daytona.  No inches were given, and mistakes were sure to happen. There wasn't room to avoid it.
On the final lap, Regan Smith in Dale Earnhardt Jr.'s No.7 Chevrolet took the lead with an assist from 2012 Sprint Cup champion Brad Keselowski. The pair held the lead heading into the tri-oval, then the chain snapped.
Keselowski made a move for the win, Smith attempted to block the champion's move and contact ensued between the two, collecting numerous other cars in the process.
In the mess, the No.32 Chevrolet of Kyle Larson was catapulted into the catch fence designed to keep the cars out of the grandstands. However, debris which included both front tires the engine and parts of the suspension of the car were sent flying into the stands where fans were present.
Stewart won the race, but there wasn't any joy. There was only concern for the fans in the stands.
"We've always known since racing was started this is a dangerous sport," said Stewart in a very subdued victory lane. "We (drivers) assume that risk and it's hard when the fans get caught up in it.
"As much as we want to celebrate now—as much as this is a big deal to us—I'm more worried about the drivers and the fans that are are in the stands right now.
"I could see it all in the mirror, and it didn't look good from where I was at."
NASCAR has a press conference scheduled for 7 p.m. from Daytona. We will provide updates on the situation when they are made available.
Unofficial Results of the Drive 4 COPD 300 
Tony Stewart 

Sam Hornish Jr.
Alex Bowman
Dale Earnhardt Jr.
Paker Kligerman
Brian Scott
Justin Allgaier
Eric McClure
Robert Richardson Jr.
Travis Pastrana
Nelson Piquet Jr.
Brad Keselowski
Kyle Larson
Regan Smith
Elliott Sadler
Matt Kenseth
Mike Harmon
Joe Nemechek
Brian Vickers
Kasey Kahne
Austin Dillon
Jeffery Earnhardt
Mike Bliss
Jason White
Danny Efland
Michael Annett
Johanna Long
Hal Martin
Jamie Dick
Reed Sorenson
Trevor Bayne
Kyle Busch
Jeremy Clements
Mike Wallace
Kurt Busch
Danica Patrick
Juan Carlos Blum
Blake Koch
Scott Lagasse Jr.
Jeff Green