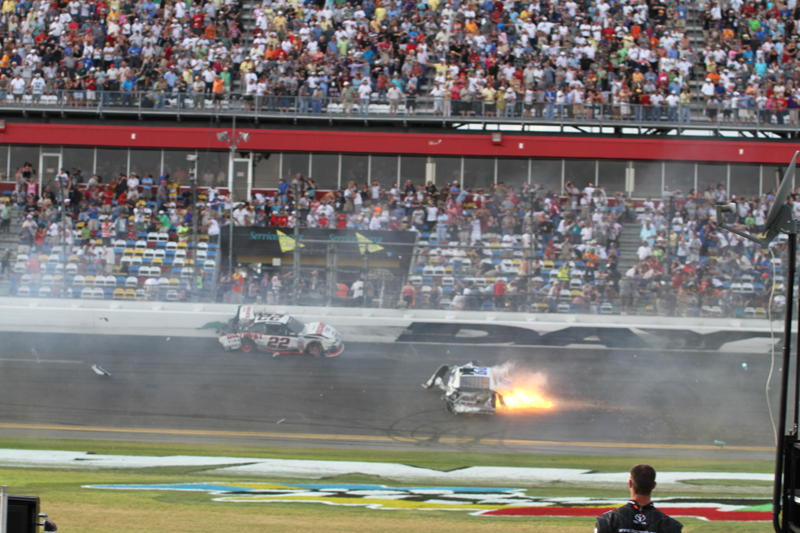 Following the last lap crash in Saturday's NASCAR Nationwide Series race at Daytona International Speedway, 28 people have been treated for injures after debris flew up into the grandstands as drivers raced for the win in the opening race of the 2013 season.
14 fans were transported to local area hospitals including Halifax Medical Center to seek treatment. The remaining 14 were treated on site at the track.
Halifax reported 12 fans were treated with two listed in critical critical condition, one suffering life threatening head trauma.
One of the two patients reported to be in critical condition is a minor.
No drivers were injured in the crash, all involved were treated and released from the infield care center at the track.
At a little after 7 p.m. ET, Daytona International Speedway President Joie Chitwood and NASCAR's Senior Vice President of Competition Steve O'Donnell addressed the media.
"First and foremost, our thoughts and prayers are with our race fans," said Chitwood.
"Following incident, we responded appropriately according to safety protocols and had emergency medical personnel at incident immediately. We transported 14 people off property and 14 were treated at our on-track care center. We are in the process of repairing the facility & will be ready to go racing tomorrow."
Repairs are being made to the catch fence at the track where the car of Kyle Larson hit in effort for tomorrow's running of the 55th Daytona 500.
According to O'Donnell, Larson's car hit the part of the fence in which the crossover gate is located, the weakest part of the of the structure.
The crossover gate won't be in use tomorrow, instead a solid weld will be made in that section of the fence for tomorrow's race.
"Certainly when you look at this incident, there are some things we can learn and evaluate," said O'Donnell.
NASCAR is conduction a full investigation of the incident.
As for fans with tickets for tomorrow's Daytona 500 in the sections near the scene of today's crash, Chitwood says there are no plans at the time to move any fans from that section.
This is an ongoing report and details will be posted when they are made available