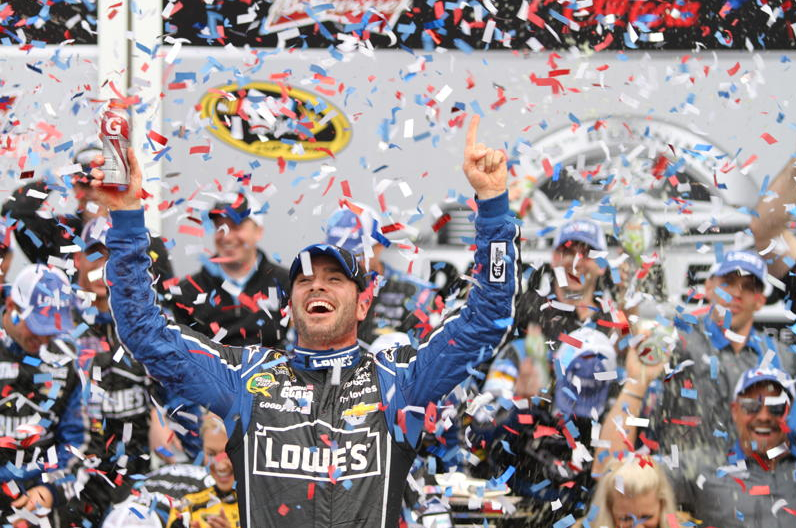 Jimmie Johnson won the NASCAR Sprint Cup Series Daytona 500 at the Daytona International Speedway on Sunday.  Johnson, making his 400th career start, held off teammate Dale Earnhardt Jr. and Mark Martin after the final restart with six laps remaining.
Johnson took the outside line, which had been faster for the entire race and it was enough for the 5-time champion to capture his second Daytona 500 win (2006) and his first win of the 2013 season.
"You have to race all day long and fight for track position. And this race car, this Lowe's Chevrolet, was so good. Chad Knaus and all of Hendrick Motorsports gave me a fast car and I could really stay up front all day long. I had a lot of confidence those final few laps leading the train because I knew just how fast this car was. It's a big credit for everybody at Hendrick Motorsports." Johnson said.
Earnhardt Jr. finished second.
"We just had a lot of help from Mark Martin at the end. We were able to lay back until the last lap on the backstretch there to get enough of a run. We got by a couple of them, but I looked up in the mirror off of four and Mark was back there racing those guys and I lost my help. So when we got to Jimmie (Johnson) we didn't have enough steam." Earnhardt Jr. said.
"We have a hard time finishing these races, boy, to run one-two man what a day. I'm so proud of Jimmie, Dale what a great move by Dale there at the end.  I'm glad." team owner Rick Hendrick said.
Martin finished third, Brad Keselowski fourth and Ryan Newman finished fifth.
"The high lane just had all the speed. It doesn't mean we weren't trying. It just wouldn't go down there eon the bottom and it made it real hard to pass. It wasn't for lack of effort. I would rather make that effort, and I did, but I kept going to the back." Keselowski said.
Danica Patrick started from the pole but dropped to second place after Jeff Gordon got a better start and was able to pull around Patrick before the first lap was complete.  Patrick ran strong all day long and finished 8th.  Patrick led a total of five laps and became the first woman ever to lead a lap under green at the Daytona 500 and also tied Janet Guthrie's career mark for a woman in Sprint Cup competition.
"Ran up front all day long and we led a little. We stayed in the top-10 all day pretty much. Had nice pit stops by the GoDaddy crew, the car was fast and it's always a little frustrating when you come through and your top three on that last lap. I will learn more for next time. I really didn't feel like I had a great grasp as to 'how do you go win this race'". Patrick said.
On lap 33, Kasey Kahne was spun around after contact from behind with Kyle Busch.  Kahne spun sideways into oncoming traffic.  Tony Stewart and Kevin Harvick were also collected and sent to the garage for repairs.
"Oh, it's crazy. I can't believe it.  I mean, I wanted to race. I didn't want to run single-file by the wall. That's what we were doing and you still got caught in something." Kahne said.
Carl Edwards' Daytona Speedweeks bad luck continued.  He was collected in another accident.
"It's so frustrating. This has not been fun.  My guys, they're not quitting and are working hard. They've already told me they're ready to go to Phoenix and dominate. We're not getting held down this year. It doesn't matter how many cars we wrecked here. We're fighting to the very end." Edwards said.
Matt Kenseth led a race-high 86 laps.  While leading the race, Kenseth he had to bring his car to the garage after a vibration was felt and smoke from the front of the car on lap 149.
"I'm not sure if it's an engine or a transmission — if it's a transmission we'll get out, but if it's an engine then obviously we won't.  Disappointing end to a great day." Kenseth said.
Joe Gibbs Racing teammate Kyle Busch also went to the garage with engine problems.
"Just broke an engine for some reason.  Just unfortunate that this whole team has got to go through this stuff.  We got bottled up back in traffic a little bit there.  I hate it that I wrecked the 5 and the rest of those guys that were racing around us.  But, unfortunate for us we broke pieces." Busch said.
The Sprint Cup Series heads to Phoenix International Raceway next weekend for the Subway Fresh Fit 500 at 3:00 pm est.