Kasey Kahne grabs a top five finish, begins to turn season around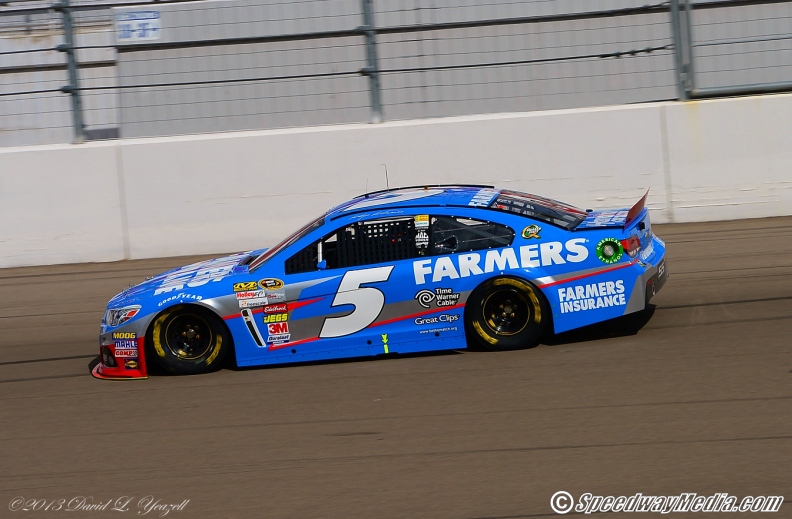 After having a pair of finishes outside of the top 15 to start the season, Kasey Kahne was able to come home second in the Kobalt Tools 400 at Las Vegas Motor Speedway after leading the most laps.
"I just had an awesome car," he said. "It felt about perfect, I think, throughout three quarters of that race."
It looked as if Kahne would take the victory closing into the final laps, but Kenseth was able to hold on after taking two tires while Kahne took four. Kahne said that Kenny Francis made the decision he did because they had two cycles on the left side tires already. Kahne was able to catch Kenseth, yet couldn't find a way past him as they worked through lap traffic.
"He did a perfect job and we came back second," Kahne said after the race. "But still a good run.  I think we were seventh maybe after that one restart and fought back to second, so we had a great car, did everything right.  We just didn't quite get there."
There were times that Kahne had thought about going down to the apron on the front stretch to get a run under Kenseth, yet Kenseth then started taking Kahne's line away so that way Kahne couldn't work his way by. Kahne said with what Kenseth did, it forced his hand to stay in the draft and follow or else the gap between the pair increased.
"It was definitely faster down there if you got a good run off Turn 4 to do that down the front straightaway," he said. "So yeah, he did that so I would have had to go through the grass, and I didn't want to do that."
Kenseth added that he was trying everything, trying to "mess with anything that I could, lift early, lift late, try it all, and just couldn't find a way past him."
"He just did a really good job of keeping his momentum up, keeping his speed," Kahne continued. "He was cutting across me off the corner.  We were kind of tight, loose, and he just put up a great battle and pulled it off on told tires, did a good job."
Some people commented after the race stating that Kahne couldn't get the run because it is hard to pass with the new car. However, Kahne argued against that, saying he was able to do things that he wasn't able to do with the Car of Tomorrow.
"I felt like I could pass, I could race underneath the car, do things that maybe I wouldn't have been able to do in the past," he said. "First time on a mile and a half with this new Gen-6 car, and I would say to have the same tires — this is the same tire, also, which we didn't have last week, which was a big part of the Phoenix deal. I think the car itself today was — I had a lot of fun driving it, and I thought it was a heck of a race.  I got to race through cars, traffic and battle for the lead four, five, six times.  I felt really confident with our Chevy SS."
Kahne added that the race was a lot of fun with the track being slicker, and having to deal with the cars being a little out of control.
"You could get a little bit loose and not have to like call it quits and get on the brakes and onto the gas and all that, you could just kind of drive through it and ease back on the throttle," he said. "It was exciting.  It was a lot of fun.  I enjoyed driving the car today and thought the pace was up.  I've never had great cars here, I've had some pretty good ones, but today I've never driven that hard for 267 laps before, either."
The second place finish for Kahne marked just his third top five on the 1.5 mile oval in 10 starts. As Kahne heads to Bristol, perhaps this year the driver of the No. 5 Farmer's Insurance Chevrolet can improve on the disaster of a start he had last year.
Photo Credit: David Yeazell/SpeedwayMedia.com